Violence marks Bangla bandh
Tribune News Service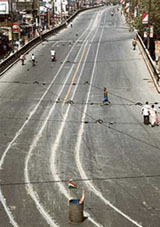 A deserted road in Kolkata on Friday during the 12-hour Bangla bandh called by the opposition parties in West Bengal in protest against police atrocities in Nandigram. — PTI
Kolkata, March 16
Life came to grinding a halt in the state as large-scale violence marked Bangla bandh today. The strike was called by opposition parties in protest against the police firing at Nandigram.
The bandh was called separately by the TMC-controlled Krishi Bachaoo Committee, the Congress, the SUCI and the BJP but the public spontaneously responded to the bandh call and made it a success.
The bandh began at 6 am and the city people gradually came out in the streets for expressing wrath against the brutal killings of poor farmers.
Activists of the political parties burnt the Chief Minister's effigies, torched buses, attacked policemen and ransacked government offices, including the BDO offices, hospitals and other official establishments. They put obstructions on the railway tracks at several places, which paralysed the train services.
Agitating people at Singur burnt the watch tower of Tata Motors and broke its boundary walls in an attempt to recover their farm lands forcibly acquired for the motor.
The enraged demonstrators burnt CPM and CITU offices in several districts. But the police stood a silent spectator. However, the police mercilessly beaten up people who were demonstrating in front of the Chief Minister's Palm Avenue residence in the evening at south Kolkata. The CPM cadres, who initially remained silent , later came out in the streets and held anti-bandh slogans everywhere and in many places they were involved in clashes with the demonstrators.
SUCI workers, who tried to march towards Writers Buildings, were lathicharged by the police and forced out from the area.
Mamata Banerjee said their agitation would continue.
CPM secretary Biman Bose, who is also the Left Front chairman, alleged that the bandh callers had been involved in vandalism in the name of peaceful agitations and burnt their party offices, government establishments, buses, ambulances, etc.
The violence disturbed "the rule of law" of the entire state. Finance minister Asim Dasgupta today presented the budget of 2007-2008 with a deficit of Rs 153 crore virtually in the empty house where only a few Left Front MLAs were present.