COLUMNS



THIS ABOVE ALL

SIGHT AND SOUND

GOOD MOTORING

AUDIO SCAN

MUSIC ZONE

WEBSIDE HUMOUR

FOR CHILDREN



CROSSWORD

RHYME TIME

ROOTS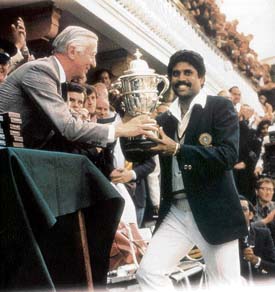 Remembering the triumph at Lordís
As Team India launches its campaign today to emulate the heroics of Kapil Devís men in 1983, savour the scintillating moments of that epochal World Cup victory in the words of writer and commentator Ashis Ray, who has captured them in his latest book.
Lordís, adjoining Regentís Park and nestling in north-west Londonís leafy St Johnís Wood area, home of the Marylebone Cricket Club, founders and guardians of the game, is widely recognised as the Mecca of cricket. It was here, in 1932, that India made their advent in the international arena and had played a Test on all visits to England since, losing every time barring 1971 and 1979.

Each film is a different ball game
So what if her first directorial venture Filhaal didnít hit the jackpot? Raakhee and Gulzarís daughter, Meghna Gulzar is fighting back with her second movie Just Married, starring Fardeen Khan and Esha Deol. Excerpts from an interview with Vickey Lalwani
You have taken nearly four years after Filhaal?
I wasnít sitting idle. I hate twiddling my thumbs. I wrote a lot of scripts, did some music videos and also a biography on my dad.

fashion
Hot íní cool harem pants
Homai Sagar
Harem pants, once the preserve of women, are no longer so. Nowadays, very often in India, we find the lads too are wearing them but with a waistcoat for pre-wedding functions.

Number play
No field of human learning can get away without contributing to vocabulary. Today, the focus is on some words that take their meaning from playing the number game.