Remembering the triumph at Lord's
As Team India launches its campaign today to emulate the heroics of Kapil Dev's men in 1983, savour the scintillating moments of that epochal World Cup victory in the words of writer and commentator Ashis Ray, who has captured them in his latest book.
Lord's, adjoining Regent's Park and nestling in north-west London's leafy St John's Wood area, home of the Marylebone Cricket Club, founders and guardians of the game, is widely recognised as the Mecca of cricket.


World Cup final
Lord's, June 25, 1983
Toss: West Indies
Result: India won by 43 runs
Man of the match: Mohinder Amarnath
India
Gavaskar c Dujon b Roberts 2
Srikkanth lbw Marshall 38
Amarnath b Holding 26
Yashpal c sub b Gomes 11
Patil c Gomes b Garner 27
Kapil c Holding b Gomes 15
Azad c Garner b Roberts 0
Binny c Garner b Roberts 2
Madan Lal b Marshall 17
Kirmani b Holding 14
Sandhu not out 11
Extras (b-5, lb-5, w-9, nb-1) 20
Total (all out, 54.4 overs) 183
Fall of wickets: 1-2, 2-59, 3-90, 4-92, 5-110, 6-111, 7-130, 8-153, 9-161.
Bowling: Roberts 10-3-32-3, Garner 12-4-24-1, Marshall 11-1-24-2, Holding 9.4-2-26-2, Gomes 11-1-49-2, Richards 1-0-8-0.
West Indies
Greenidge b Sandhu 1
Haynes c Binny b Madan 13
Richards c Kapil b Madan 33
Lloyd c Kapil b Binny 8
Gomes c Gavaskar b Madan 5
Bacchus c Kirmani b Sandhu 8
Dujon b Amarnath 25
Marshall c Gavaskar b Amarnath 18
Roberts lbw Kapil 4
Garner not out 5
Holding lbw Amarnath 6
Extras (lb-4, w-10) 14
Total (all out, 52 overs) 140
Fall of wickets: 1-5, 2-50, 3-57, 4-66, 5-66, 6-76, 7-119, 8-124, 9-126.
Bowling: Kapil 11-4-21-1, Sandhu 9-1-32-2, Madan Lal 12-2-31-3, Binny 10-1-23-1, Amarnath 7-0-12-3, Azad 3-0-7-0.
It was here, in 1932, that India made their advent in the international arena and had played a Test on all visits to England since, losing every time barring 1971 and 1979. A total of eight defeats rendered the venue a veritable crematorium of Indian cricket. Such a register incorporated the ignominy of being bowled out for their lowest Test score ever of 42 in an incredible 77 minutes in 1974, which provoked a sneering cartoon in a British paper of a man scolding his friend: 'I told you not to go to the toilet!' Even in the 1975 World Cup, England pulverized the Indians to post a record score of 334 for four as India lost by a shameful margin of 202 runs.
Only Dilip Vengsarkar's centuries in consecutive appearances in 1979 and 1982 — which was inflated to a hat trick in 1986 — had slightly lightened the catalogue of infamy. In essence, there was cause for trepidation in the Indian camp on the eve of the 1983 World Cup final.
But Lord's, hosting its third consecutive World Cup final, was dressed to kill. To complement this, it transpired to be a radiantly sunny midsummer day.
Tickets for this finale had been sold out months in advance — bought mostly by the English. They expected England to qualify for this culmination, like they had done four years earlier. So, their hopes were rather dashed by England's capitulation to India. As a result, a flood of 'returns', officially and unofficially, became available after the semifinals with Indians of all descriptions and from a variety of destinations — including India itself — the enthusiastic takers.
Ticket touts outside the ground — who in India are branded black marketers — have been commonplace at English grounds, including Lord's. It was not, until recently, looked upon as an illegal activity. On this occasion, as one approached the Grace Gates (named after the illustrious W.G.), one was accosted every few yards by such peddlers, and only the flashing of a medallion — proof of media accreditation in that age, as opposed to laminated cards with photo identities of this security-conscious era — deterred their doggedness. It was, obviously, good business, for tickets — genuine or counterfeit — were exchanging hands thick and fast and at a considerable premium.
Inside was a festive atmosphere. West Indian supporters, with their improvised musical instruments, had arrived in strength, many, perhaps, from their south London base. Correspondingly, hirsute Sikhs, generally unfailing cheer leaders for India outside the country (noticeably at Olympic and World Cup hockey championships, where India used to dominate for decades until overshadowed by the Europeans and Australia), armed with bugles, stood out in the Indian section, many, presumably, descending from west London suburbs like Southhall and Hounslow. Conch shells were in evidence in both segments.
While the galleries surrounding the immaculate turf were a kaleidoscope of sight and sound, a more subdued pavilion — a majestic, light brick mansion house, with three-tier seating and a spacious hall within known as the Long Room, where a tie and jacket are necessary to gain entry — presided over proceedings.
(Senior citizens, who used to serve as stewards at Lord's, were notorious for their failure to recognize non-white cricketers, including prominent figures like Gavaskar, who was once stopped at the main gate, following which he initially refused an honorary membership of the MCC. As for Tiger Pataudi, when he characteristically turned up at the pavilion entrance without a tie, it was pointed out to him that he was inadequately dressed. Tiger jestfully retorted: 'You can't stop royalty, can you?' and strode past a stupefied old age pensioner before he could recover from the remark.)
Those who had left home early were tucking into their egg and toast, washed down with coffee. Others wasted no time in bracing themselves with beer or, as both Afro- and Indo-Caribbeans often prefer, a dash of rum.
There was not much doubt about the outcome of the match among an overwhelming majority. India, they surmised, had had their moment in the sun, and even upset the titleholders at Old Trafford. Now it was time for the West Indians to monopolize the stage. Indeed, their form since the initial reverse suggested it was crunch time for the Indians. 'Thanks for coming,' a West Indian friend joked as I made my way through the aforementioned pavilion door. Only the blind, irrational India backer believed otherwise.
Ominously for India, Lloyd won the toss and, unsurprisingly, decided to give his commandos a crack at the Indians in lively morning conditions. Indeed, the ball seamed; and Joel Garner, with his extra height, consistently made the ball rise chest-high from three-quarter length. But it was the faster and flatter Andy Roberts who had Gavaskar caught behind in the third over, thus imprinting in this tournament the most barren phase of this gluttonous Indian batsman's career.



Mohinder Amarnath: Man of the match in the final
At the other end, though, Srikkanth, the buccaneer from Chennai, went about his task with a gay abandon. He hooked Roberts for four, pulled him for a six and then crashed him through the covers for another boundary. He was in full flow when he played across the line to Marshall to be trapped lbw for 38. I was on the air then. Little did I realise that I had just described the termination of most substantive innings of the match.
Amarnath, as usual, steadied a capsizing ship before he was cleaned up by Holding; Patil portrayed a flurry of shots prior to becoming a victim of greed against the innocuous Gomes. India's total appeared woefully inadequate. Yet, they didn't lose heart. Having traversed a distance they had not dreamed of travelling before the tournament, they had nothing to lose. The ball was still seaming, and while it required another minor miracle to defend the modest score, nothing was impossible. In between my commentary spells from atop the pavilion, I would scurry to the Indian dressing room one floor down to check the atmosphere therein. As the Indians took the field, Syed Abid Ali, a hero of India's maiden Test series win in England in 1971 as well as a participant in the 1975 World Cup, was down on his knees in prayer.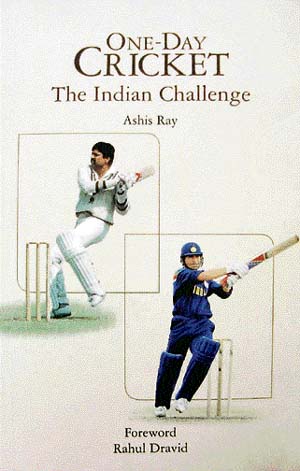 The West Indians started inauspiciously. Greenidge shouldered arms to a ball from Sandhu he expected to leave him but which instead came back to disfigure his stumps. But this setback hardly unsettled Richards, who dismissively moved to 33 with seven fours to threaten to win the match by himself. India, though, persevered with a regimented line and length. Soon, Madan Lal impelled the Antiguan to hook; he mistimed the shot and the superb fielder that was Kapil ran back towards the midwicket boundary to take a marvellous catch over his shoulder. Haynes and Gomes, too, departed, victims of Madan, as three wickets fell in 19 balls. With Lloyd handicapped by a torn hamstring, and Bacchus not lasting long either, the West Indies plummeted to 76 for six.
But it wasn't curtains yet. Wicketkeeper Dujon was joined by Marshall, who was no novice with the willow. Uncomfortably for India, they showed no signs of relenting as the score mounted to 119. Enter Amarnath with his deceptively slow seamers. The tinge of green made the ball hurry after it pitched. Marshall was caught, Dujon played on and Holding was plumb in front to reward Amarnath with three wickets for 12 runs in seven overs. India had worthily defeated the insurmountable West Indies by 43 runs.
Akin to the history of one-day cricket, the team that had acquitted themselves more capably on the day had triumphed. Yet, this was no accident, for it was the third time India had got the better of the Windies in their last five meetings over a period spanning three months.
In the BBC commentary box, some, evidently, expected me to start jumping with joy. I disappointed them. A list of 'do's' and 'don'ts' — a creation of the BBC — thrust before me the first time I commentated on a cricket match on All India Radio in 1972 had stressed the need for detachment. I have never consciously deviated from this. My job was to describe lucidly for listeners the drama unfolding before me, not to get drawn into it.
Aaj Kaal, a Bengali daily in my home city of Kolkata and a competitor of Ananda Bazar Patrika, which I then represented as its London correspondent, was generous enough to carry an editorial headlined 'Abinandan Ashis Ray' or 'Congratulations Ashis Ray'. It went on to say that while there were no Bengal players (Kolkata being the capital of the eastern Indian state of West Bengal) in the World Cup winning Indian squad, I had done Bengal proud with my radio commentaries on the event.
Thousands among the capacity crowd of over 24,000 — mostly Indians — invaded the field to obtain a close-up of the presentation ceremony, which took place on the middle-level balcony of the three-tier pavilion. A thunderous roar rent the air as Kapil lifted the trophy. It was India's day; their greatest moment till date in one-day cricket!
India's breakthrough owed much to their captain's positive frame of mind and the presence in their side of all-rounders like Kapil himself, Amarnath and Binny (the highest wicket-taker in the competition) and to the bowling of Madan Lal and Sandhu. None was express fast but of the right velocity to revel in the seaming conditions. The ball gripped even for the left-arm spin of Shastri, while, with the bat, Srikkanth, Patil and Sharma were there to be counted when the chips were down. It was an admirably collective feat.
As the magnitude of the attainment sunk in, hundreds of Indian fans waited outside the pavilion to not just catch a glimpse of their heroes, but also to usher them back to their hotel across the road, then known as the Westmoreland, to continue the celebrations. The bar and lobby of this establishment have probably never seen such crowds before or since. The inebriation and impromptu bhangra dancing lingered late into the night. The place was awash with champagne and the cricketers, having restrained themselves for weeks, finally let their hair down. A visibly tired Kapil, but still smiling, stayed up till the end, not disappointing the innumerable well-wishers.
(Excerpted with permission from One-Day Cricket — The Indian Challenge, Harper Collins)