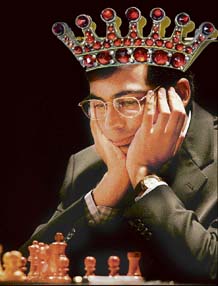 King of the world
In a country short of sporting heroes, the soon-to-be world No. 1 Viswanathan Anand stands tall as a champion player and a role model, writes Ramandeep Singh
Viswanathan Anand, who recently won the Morelia-Linares Super Grandmasters chess tournament, will become the top-ranked chess player in the world — the only Indian to be ranked number one in any sport at present — when the rankings are announced in April. Anand's achievements are not that well-known in his cricket-crazy homeland, but in chess circles he is already a legend. He is one of only four players to break the 2800-mark on the FIDE rating list and he has been among the top three ranked players in classical time control chess in the world continuously since 1997.

Anand's amazing consistency has kept him in the top bracket for over a decade
IN THE NEWS
Pace power
Spinners are likely to call the shots in the ongoing cricket World Cup, but pace bowlers also have an important role to play. In the opinion of former West Indian speedster Andy Roberts, the pitches in the Caribbean might not be as "low and slow" as expected. Munaf Patel gave an indication of the significance of pacers with a lethal spell of 4-10 against West Indies in the warm-up match at Trelawny, Jamaica. Well-supported by Irfan Pathan, Patel ripped apart the hosts' batting line-up.



Munaf Patel (left) celebrates with Robin Uthappa after taking a wicket in the warm-up match against the West Indies. Patel is set to lead India's pace attack in the mega event. — Photo by AFP
Cricket on the menu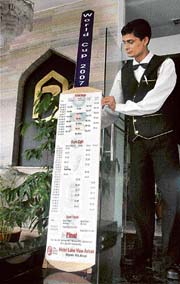 The World Cup schedule displayed on a bat at the entrance to a hotel in Bhopal. — Photo by PTI
Of beards, goatees & stubbles
The Caribbean extravaganza might be lacking Darrell Hair but certainly not facial hair, with a sizeable number of cricketers making a hairy fashion statement in this World Cup. Fashion statement is not all about just apparel, tattoo or jewellery but it can well be found perched between the nose and the upper lip, splashed along the chin or on the cheeks and this World Cup has ample of these on display.
MAIL
Useful warm-up
India showed that they are strong contenders for the World Cup by thrashing hosts West Indies by nine wickets in the final warm-up match. Nobody expected such a one-sided encounter.