Symbol of courage & patriotism
Bhagat Singh, whose birth centenary is being celebrated this year, was hanged in Central Jail, Lahore, on March 23, 1931. Historian V.N. Datta analyses Bhagat Singh's political ideology and action and tries to answer why he adopted the creed of militant nationalism.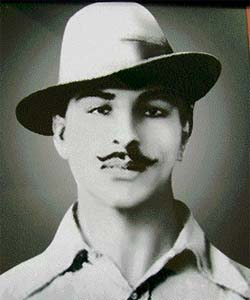 Broadly speaking, in the early twentieth century politics two approaches were adopted for promoting India's cause of freedom. The first approach was constitutional, which political leaders like B.G. Gokhale and his supporters chose to advance India's cause of self-rule. The other course was Mahatma Gandhi's non-cooperation movement which was planned with the object of paralysing the British government. None of these two approaches appealed to Bhagat Singh.
There has been an inadequate research on Bhagat Singh's ideology and on the circumstances that led to his execution on March 23, 1931. This is not due to paucity of material. There has been a general tendency on the part of historians and other writers to focus on the external aspects and accidental links for explaining Bhagat Singh's ideology without understanding the tensions and conflicts that goaded him into action.
Bhagat Singh was born in 1907, when Punjab was politically astir. Denzil Ibbetson, the lieutenant Governor, wrote that a new hawa (climate) was blowing in Punjab—Bhagat Singh's uncle Ajit Singh had been deported to Mandalay with Lala Lajpat Rai in 1907 by the British Government under the infamous Regulation of 1818 for his active participation in the Agrarian disturbances. Ajit Singh and Lajpat Rai had toured Punjab, rallied the support of the peasantry and land-owning classes, and launched a campaign for the abolition of the iniquitous colonisation bills.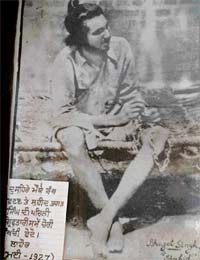 Bhagat Singh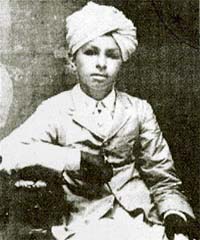 Bhagat Singh at the age of 12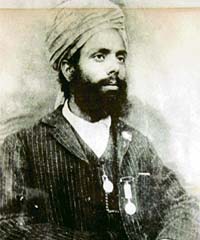 Ajit Singh, Bhagat Singh's uncle who inspired him
Bhagat Singh joined D.A.V. High School, Lahore, which the British regarded as a "nursery of seditious activities." Bhagat Singh was precocious, but not studious. He read widely. His reading was desultory. From his writings published later in Kirti it is evident that the revolutionary activities of Madan Lal Dhingra (who had killed Sir Curzon Wyllie in 1909) and the patriotic fervour of Bhai Parmanand, and his cousin Bhai Balmukund (a co-accused in the Delhi conspiracy) who was hanged, had a profound impact on his mind.
In his writings, Bhagat Singh lauded the courage and fighting spirit of the brave Ghadrities who had made Punjab a scene of revolutionary activities. Kartar Singh Sarabha was the main organiser in Punjab. He had kept a liaison with Rash Bihari Bose and N.G. Pingley who masterminded the network of revolutionary activities.
When Bhagat Singh was 12, he had witnessed the blood-curdling events such as the Jallianwala Bagh massacre on April 13, 1919, and the martial law atrocities. By merging Punjab 'wrongs' and the Khilafat issue, Gandhi launched the non-cooperation movement that electrified the whole country. It is difficult to know what was Bhagat Singh's politics in his early life, but from 1920 there is no confusion. During the non-cooperation movement, he joined National College, Lahore founded by Lala Lajpat Rai, which showed his antipathy to the British rule. He also associated with the Akalis who had organised a morcha at Guru Ka Bagh.
Due to the Chauri Chaura incident on February 5, 1922, which resulted in the death of policemen, Gandhi called off the non-cooperation movement. The years 1922-24 were marked by a spurt of communal riots in the country which embittered Hindu-Muslim relations, particularly in Punjab. Politically the country was at a low ebb. There was also a clear divide on the constitutional question between the Congress and Muslim leadership in the Muslim League and Punjab Unionist Party.
Bhagat Singh saw the collapse of Gandhi's non-cooperation movement. He also saw the spurt of communal violence in the country. He realised the futility of constitutional wrangling among the political parties. He was disenchanted with the prevailing methods which he thought were ineffective. Inspired by Marxism, Bhagat Singh took to revolutionary militancy as the only way to subvert the British rule in India. In 1923, he joined the Hindustan Socialist Republican Association. In March 1926, he founded the Nau Jawan Bharat Sabha at Lahore to infuse revolutionary ideas among the youth. He widened his revolutionary network in Punjab and Bengal. He was drawn to socialism, and it was this ideology which gave him the standard of value and furnished him with a philosophy.
The first item on Bhagat Singh's agenda was to kill Mr. Scott, the British police officer, who had lathicharged Lala Lajpat Rai when he was leading a black flag march protest against the Simon Commission in Lahore. Taking him for Mr. Scott, Bhagat Singh, Sukhdev and Chandra Shekhar killed Saunders, a police head constable on December 12, 1928. On April 8, 1929, Bhagat Singh and B.K. Dutt threw a bomb in the Central Legislative Assembly exposing the hyprocisy and mockery of the sham British device to hoodwink Indians by pious resolutions and promises of promoting India's cause of self-government.
They offered themselves for arrest shouting Inquilab zindabad! Later Bhagat Singh, Raj Guru and Sukhdev were tried, and hanged in Lahore Central Jail on March 23, 1931.
Bhagat Singh had rejected the Gandhi way. But what did Gandhi and the Congress leaders think of Bhagat Singh and his action? Jawaharlal Nehru, the Congress President, visited the Central and Borstal jail in Lahore and met Bhagat Singh and his associates on August 8, 1929. He was very impressed by their patriotic fervour, and called them 'national heroes'. He was struck by Bhagat Singh's 'intellectual face'.
In his Autobiography Nehru paid a handsome tribute to them for their bravery and patriotism. But when it came to taking a position in the Congress, he fumbled and faltered. At the Congress session in Karachi on March 27, 1931, Nehru warned the country not to follow the Bhagat Singh way as that would surely ruin the country.
Because of his deep faith in non-violence, Gandhi could not approve Bhagat Singh's action. Bhagat Singh was under trial, Gandhi was completing his commentary on the Bhagavada-Gita. Gandhi had come to the conclusion that the message of Gita was non-violence. Some critics have pointed out that Gandhi could have saved Bhagat Singh, but he did not. Obviously, saving Bhagat Singh he could not have made it a condition in the Gandhi-Irwin pact.
It is clear from Gandhi's correspondence with the Viceroy Irwin that between February 20 and March 23, 1931, Gandhi made several efforts to persuade Irwin to commute the sentence of death on Bhagat Singh because he firmly believed that capital punishment was 'evil'. He also brought other arguments in his plea. He told the Viceroy 'if commutation is granted, internal peace is likely to be promoted. In the event of execution, peace is undoubtedly in danger'. Two days before Bhagat Singh's execution, Gandhi made his final appeal for reprieve, which is evident in Irwin's Autobiography.
It has been argued by several writers, including Daniel Latif, a well-known senior advocate, that there was a secret understanding between Gandhi and Irwin that Bhagat Singh would be reprieved after the Pact was ratified by the Congress at its session in Karachi. But this secret was divulged by a member of the Congress Working Committee which infuriated the British bureacracy making it difficult for the viceroy to commute the death sentence. For long this writer too believed in the story of this secret agreement between Gandhi and Irwin on saving Bhagat Singh's life. But in the light of Irwin's Autobiography the story of the secret deal appears to be a canard.
Irwin, who became Lord Halifax later, was a man of sterling character, a devout Christian who was highly respected for his integrity. He gave up the prime ministership of England in favour of Winston Churchill on the eve of World War II because he thought that Churchill would be the right man to lead the nation in war. Lord Halifax makes no mention of the secret deal in his memoir. Nothing could have deterred him for doing so. (Fullness of Days: The Earl of Halifax, London 1957). That settles the secret deal issue.