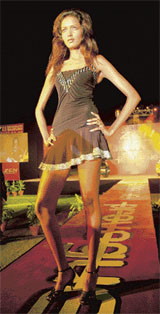 Fashion Fiesta
Fashion shows are getting innovative by the day. Now, we have cars sharing the ramp with models!
Smriti Sharma
It seems we have not had enough of style and trends. Friday night's fashion show at Hotel MountView proved it once again that when it comes to fashion shows one does not mind the wind or the chill. What made the fashion fiesta distinctive were the—models! No, we are not referring to the usual human models walking down the ramp. This one had the latest Maruti Zen Estilo models accompanying the models for the launch of Provogue Spring Summer 2007 collection.

Hats off!
Topi Basr's is a tale of pride & inspiration
Parbina Rashid
WE heard about the Galo tribe of Arunachal Pradesh when Jarjum Ete became the chairperson of the Arunachal Pradesh Commission on Women. And after meeting Topi Basr, who is teaching law in Delhi University, we realise it's time one took this tiny branch of Adi tribe seriously, rather than scoffing it off as a patriarchal sub-tribe that practices child marriage and polygamy.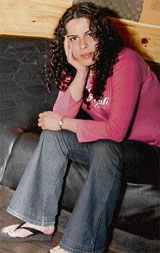 In a league of her own
26, simple & suave, Ashrafi is one of the few women DJs in the country
Smriti Sharma
She comes across like any other girl her age. Soft-spoken, a flawless visage, curly locks, very suave. But her profession sets her apart — at 26, Ashrafi Oshidar is one of the few women DJs in the country.
7 Commandments of success
'Seven Habits of Highly Effective People: restoring the character ethic' by Stephen R. Covey talks about a comprehensive programme based on developing an awareness of how perceptions and assumptions hinder success in business as well as personal relationships
Saurabh Malik
Celebrate failure — only man as successful as Gurgaon-based 'management guru' Arjun Seth can say this with philosophical authority that comes with the sweet taste of accomplishment.

Matka chowk
Of modern b'day bashes
Sreedhara Bhasin
While living in the US, I acclimatised myself with the new breed of birthday parties. The parties were outsourced to video arcades and pizza parlours, where kids were entertained in a structured and routine manner. Games were preset, food was typical and store-served, time period was fixed and everything worked clock-wise upholding the final motto of the party– maximum fun with minimum hassle (something that the overworked and maid-deprived American parents really deserve).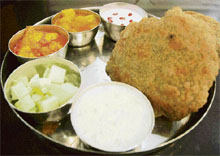 Fast FOOD
Rajiv Bhatia
It's Navratras time and starting Monday special menu with out onion and pure vegetarian is being prepared. Just drive down the city roads, through the hustle and bustle to enjoy the good food specially made for the Navratras. Go right ahead and try paneer and potato dishes prepared just for you without onion and garlic. Savour the taste of aloo chaat and tikki. Or else order the complete Navratra thali. In comparison to normal food prices, the thalis go easy on the pocket.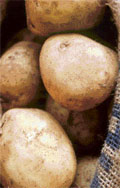 Health Peg
Now, sugar-free potatoes
If being health conscious or diabetic has prevented you from relishing potatoes all these years, there is good news for you. Farmers in Gujarat's Deesa and other northern districts have taken up cultivation of sugar-free variety of potatoes through the CIPC (Chloro Iso Profile Phenomena Carbament) method.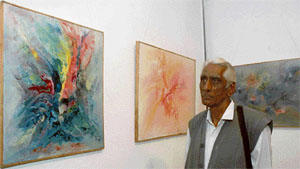 Dreamy colours
J.R. Yadava's works are fresh & full of colour
Parbina Rashid
He closes his eyes and visualises a colourful world. And when his visualisation reaches the canvass, it tells an eloquent story, where form blends with colours to create a dreamy situation. So each painting has a happy story with colour in abundance and forms bordering on abstraction. Though J. R. Yadava categorically tells us that everything comes from his imagination, one can see the roots of his imagination in nature, which often takes the tinge of a fantasy with forms appearing from nowhere and merging into nothingness, creating attractive images in the process.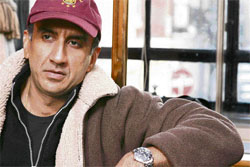 Cricket on Bollywood pitch
Director Milan Luthria of Hattrick fame, in conversation with Lifestyle
What made you choose this subject particularly? I need to feel excited about a subject because only if I am thrilled about something can I pass on the excitement to the audience. The subject of 'Hat-trick' really interested me. So I decided to take it up. How was it working with UTV Motion Pictures? It is always good to work with new people who are full of ideas and spirit. UTV has been known to create new benchmarks with each venture. I enjoyed working with producer Ronnie Screwwala.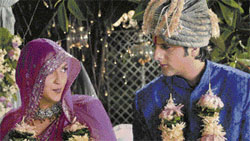 First Day First Show
A winner all the way
Produced by Ronnie Screwwala and directed by Milan Luthria, Hattrick, set against the backdrop of the Cricket World Cup, will stump the viewers with its 'googly' and match-winning narrative at a time when the World Cup cricket fever is at its peak. You get what you expect from this two-hour movie and return with a smile, happy that your money has not gone waste. It is a film that will do well at the box-office and appease fans of Nana Patekar and Paresh Rawal.
Sisterly act
For the first time in Television industry, three sisters born in Kolkatta contributing in different serials and are already craze among the viewers. Reena Kapoor, Shalini Kapoor and Malini Kapoor are carving a niche for them in serials on Sahara One.
Write to Renee
at lifestyle@tribunemail.com or care of Lifestyle, The Tribune, Sector 29-C, Chandigarh
Small town, big problem
I am a 32 year-old-woman working in a multinational. I just transferred from a big city to a small town. Here I feel like a complete alien as I do not know anybody. I am becoming an introvert. I feel rather unhappy and lonesome. How do I make my life better?
Spring a surprise!
The Go Bananas Kids Club is organising a two-week Spring Camp for children of all ages from Sunday. According to Anu Vala, club director, "This camp highlights various fun activities for little ones during their spring break like dance, theatre, martial arts, yoga and creative arts.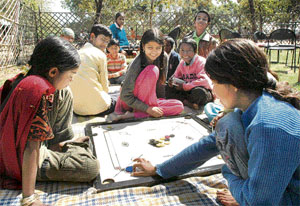 Dreams to live
Volunteers at YTTS are turning around the destinies of children who long subsisted on the margins
Aditi Tandon
Not too long ago, they were just another bunch of children subsisting on the fringes of society, only to vanish without a sign. But today they are the cherished members of an ever-growing family started in 1980 when Vineet Khanna dreamed a dream. His was a mighty mission — through the Youth Technical Training Society (YTTS), he wanted to change the lives he touched.

Born to smile: Children, studying at YTTS centres are turning around their lives by tasting the fruits of education.

the HUMBLE HELPERS...
Om Prakash, 17, was wasting his life in the slums of Rajiv Colony, Sector 38 when YTTS picked him up in one of its surveys. He was schooled and after eight years of study, he now heads a special class of 38 slum children which runs out of Sector 38 West gurdwara.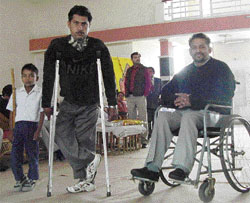 Braving The odds
It's not their physical disability but people's mindset that they find hard to cope with
Geetanjali Gayatri
Looks like we live in a 'disabled' society, which has failed to deal with its handicap of chronic discrimination and constant harassment to physically-challenged people. While the latter have learnt to deal with their physical limitations, they are yet to find a panacea for the insensitivity of the able-bodied. "People forget that our disabled bodies have a normal mind and we share exactly the same sentiments and feelings that a normal-bodied individual would in a given situation. We are as bright as the others but are always side-stepped when it comes to jobs, promotions or responsibility. But, we haven't given up.


---