Health Notes
15 minutes of football 'can halve obesity risk'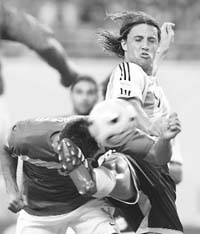 LONDON: Kicking a football around for just 15 minutes a day can halve a child's risk of becoming obese, a study has found. Even small increases in daily activity, such as walking to school instead of going by car, could have impressive long-term results, researchers say.
The official advice is that children need an hour of moderate-to-vigorous exercise a day -- long enough to put off many parents who do not have the time to take their children to the sports centre. But a quarter-of-an-hour's kickaround may be all that is needed, according to the University of Bristol team.— The Independent
The difference between fat and thin genes
London: Researchers have used a new technique to hunt for rare genetic quirks that explain why some people are extremely fat or very thin.
The researchers, led by Len Pennacchio of the Lawrence Berkeley National Laboratory in California, studied 757 Canadians from Ottawa. Half of the participants were chosen because they were fatter than 95 of the general population for their height: on average they weighed 125 kg. The other half was thinner than 90 per cent of the population, with a mean weight of 57 kg. — ANI
Calcified plaque may help determine stroke risk
Washington: A new study has found that the proportion of calcified plaque, rather than the per cent blockage, may help determine a patient's stroke risk.
The study was conducted by a team of researchers at the University of Virginia Health System led by Dr. Kiran Nandular.
The study looked retrospectively at the composition of plaque deposits in the carotid arteries of 102 patients treated at UVA.
The study group included 35 patients who had suffered a stroke or had other neurological symptoms. The remaining 67 had no history of symptoms. — ANI
Chicken and cabbage can mellow unruly kids
London: All you need to do to mellow your unruly problem child is feed him/her lots of chicken and cabbage, for a new research has revealed that aggressive or hyperactive children could be made calmer simply by changing their diet.
Bananas, apples and brassicas, such as cabbages and sprouts, are also recommended. There is no single ingredient linking these "calming" foods, according to the analysis of 50 years of diet research.
"There are not good or bad foods but rather susceptible children can react to any of many dozens of foods in an idiosyncratic manner," psychology Professor Dr David Benton was quoted by the Sun as saying.
Excess sugar is known to trigger hyperactivity in some cases, as are compounds in wheat and dairy. — ANI
New pain-killer soon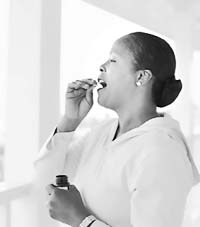 WASHINGTON: Boffins at the University of Leicester, along with those at the University of Ferrara in Italy have developed a potential new pain-killer drug that avoids many of the side-effects of morphine, currently the "gold standard" in pain reduction.
The drug, called UFP-101, was developed by a team of boffins led by Professor David Lambert at Leicester, in collaboration with Dr Girolamo Calo in Ferrara Italy.
"In a 2005 survey for the British Pain Society 975 people were questioned about pain. Twentyone per cent experienced pain every day or most days equating to 10million across the whole UK," said Prof Lambert.— ANI