Trying for a media job?
Edit and watch the verbs
Maryann Haggerty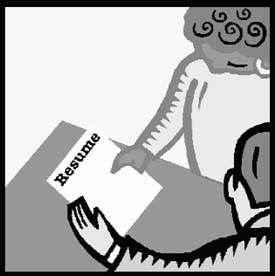 After two decades in broadcasting, most recently as a radio traffic reporter, Kenneth Forsythe is looking for a position in media relations or public information.
"Ken's resume needs to be demonstration No. 1 of his ability to craft tightly written copy that communicates quickly and effectively," says Thomas Morris, president of an outplacement firm.
Forsythe needs to do three basic things, Morris advised: "Build a more positive and powerful opening, change all the gerunds in his resume back to the verbs they were formed from"--for example, "providing" becomes "provided"-"and edit, edit, edit,"--the phrase "in addition, I was responsible for" becomes "also provided."
He suggests, "As to the opening, Ken's first words are 'To refocus my successful career in broadcast communications to...'Just drop that phrase and go right to the next (and key) words." In this case, those key phrases are "media relations," "public information" and "communications management."
The opening statement should also include relevant skills that are instead mentioned farther down, such as writing, editing and public speaking.
"Eliminate all the first-person pronouns in the resume, delete the months from dates of employment and delete the summary sections that follow the detailed narratives after each position. (Key words from those summaries should now be in your opening.) Also eliminate the phrase 'responsible for' wherever you have it. Saying what you were responsible for tells what you were supposed to do, not what you did."
Finally, Morris says, "quantify whatever you can." That means putting numbers on things like the size of the audience reached and budgets managed.
LA Time-Washington Post