Engg colleges face a faculty crunch: Assocham
Engineering colleges in the country are facing faculty crunch to the tune of 67 per cent as a result of the government directive seeking prior approval for appointment of training staff, Assocham said in New Delhi recently.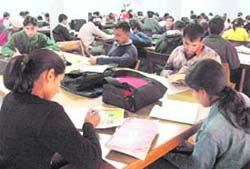 The chamber has sought withdrawal of recommendations of Expenditure Reform Commission (ERC) for over 1,600 engineering colleges seeking prior approval of government before appointment of their faculties.
"The Expenditure Reform Commission in 2000 recommended to the government not to permit fresh appointments of engineering faculties to not only curtail expenditure but also down size the faculties strength in state owned institutions of higher learning," an Assocham statement said.
This particular recommendation, in the last six years, has caused faculties shortages to the extent of 20,000. The idle capacity of faculties in aforesaid institutions should have been 30,000 against the current 10,000.
It has also sought immediate interference of the Human Resource Development Ministry for withdrawal of this particular recommendation.
The chamber projections showed that the technical education faces woeful shortage of competent teaching staff.
It is likely that the magnitude of the intake of engineering students would go up to 15,00,000 by the year 2011-12 from 5,00,000 currently.
The practice of ad hoc or daily wages teachers should be banned, Assocham President Venugopal Dhoot said, adding that the appointment of teachers should be based on merit through transparent norms and special incentives should be given to them. — PTI