Coming: New SEZ policy in Punjab with 'uproot allowance'
Ruchika M. Khanna
Tribune News Service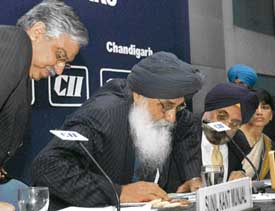 Chief Minister Parkash Singh Badal gets up to address industry delegates at a meet organized by the CII Punjab State Council at Chandigarh on Tuesday. — Tribune Photo by Parvesh Chauhan

Chandigarh, March 20.
The Punjab Chief Minister, Parkash Singh Badal today announced that the government will come up with a new land acquisition policy, wherein the farmers would be paid compensation for land acquired in accordance with the existing market rates. Besides this, farmers will also be paid an additional 30 per cent of the land cost as "uproot allowance".

The Chief Minister was presiding over the annual session of Punjab State CII Council, on the topic - Vision Punjab: The Next five Years. He said that now all land acquisition would be done by a committee headed by the Deputy Commissioner and comprising of the concerned SDM, MLA, Member of Parliament and sarpanch of the village where the land is to be acquired. "This committee will decide on the price at which the land is to be acquired," said the Chief Minister.

The move gains significance in wake of farmers agitations across the state on the issue of farm land acquisition for industrial use or for setting up residential townships.

He also came up with an innovative "Make and Implement Your Own Policy" for industry and solicited whole-hearted support and cooperation from the entrepreneurs and industrialists to help in

emergence of Punjab, as a front-runner on the industrial map of the country. "Under the new scheme, the industry could formulate its own policies and the government would provide a platform through Industrial and Trade Development Boards one each for large industry; medium and small scale industry; and trade. Each Board will have six to 11 industrialists/ traders as members and chairmen.

He asked the industry to set up Research and Development wings, help in providing employment to local youths and set up Adarsh Schools for providing quality education to poor but intelligent students.

He rued that though farmers in Punjab were under a debt of about Rs 24,000 crores, but the state was ignored by the Centre and all funds for debt relief were given to southern states.

The Chief Minister said that augmenting power generation was the priority of his government and additional 1,000 MW power would be generated in Punjab within next six months. Badal said that as far as capital investment subsidy's back log was concerned, his government had already released Rs 105 crore to the industrialists as against just Rs 50 crores released by the previous government. He also announced that industrial projects in border districts would get his government's special attention.

Earlier, Chairman CII Harpal Singh made a presentation on vision Punjab the next five years and urged the Chief Minister to evolve a action plan to develop the core sector of industry and agriculture to ensure balanced growth in the economy. Others who spoke on the occasion were past President of CII, Sunil Kant Munjal and Vice Chairman of CII Punjab State Council, Rajinder Gupta.