PUNJAB

HARYANA

JAMMU & KASHMIR

HIMACHAL

REGIONAL BRIEFS

NATION

OPINIONS

MAILBAG

BUSINESS

SPORTS

WORLD

Thursday, March 22, 2007, Chandigarh, India
Updated at 3:00 am (IST)

Woolmer death 'suspicious'
Kingston, March 21
The mystery surrounding the death of Pakistan's cricket coach Woolmer deepened today with the Jamaica police declaring that the end was "suspicious" and required "full investigation".



Bob's wife denies foul play


Sports page: 'Pak media tried to disrupt team spirit'


In video: (56k)
Another blow for farmers; wheat flattened
Chandigarh, March 21
Wednesday's hailstorm has flattened wheat crop in Morinda, Amloh, Bhadson and other areas of Punjab in the vicinity of Chandigarh.
CAST YOUR VOTE
Should India insist on full rights to nuclear reprocessing?

ADVERTISEMENT

CHANDIGARH

LUDHIANA

JALANDHAR
New

DELHI

HIMACHAL PLUS
New

AMRITSAR PLUS

LIFESTYLE
New

BRIDES WANTED

GROOMS WANTED

OTHERS

HOW TO PLACE ADVTS

E - Revolution 2005:
A Two-day IT conclave

Assembly Elections - 2005

Turbans

Chandigarh is 50

EARLIER FEATURES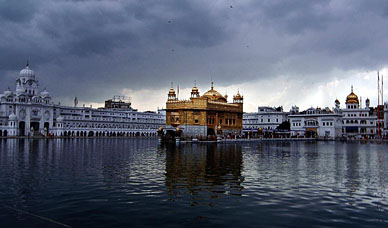 RAIN-WASHED IN AMRITSAR: The Golden temple is pictured under a brooding sky as rain fell continuously for the past 24 hours in Amritsar on Wednesday. Nevertheless, devotees still came in large numbers. — AFP

Chahal hearing bar on media
Chandigarh, March 21
In a surprising move, the Punjab and Haryana High Court today refused entry to mediapersons for covering the ongoing case of contempt involving B.I.S. Chahal, media adviser to previous Punjab CM Capt Amarinder Singh.



Punjab page: Chahal in Scotland, ill
Mufti firm on troop drawdown
New Delhi, March 21
Having taken its demand of troops reduction in Jammu and Kashmir to a high pitch, the PDP is likely to insist on a "mechanism" to force a pullout during tomorrow's meeting between its leader Mufti Mohammad Sayeed and Prime Minister Manmohan Singh.



Jayasuriya blitz sinks B'desh


Nazir sparkles for Pakistan
Playing Today

New Zealand vs Canada at St. Lucia 7 pm


Scotland vs Netherlands at St. Kitts 7 pm
Charges framed in J&K sex scam
Chandigarh, March 21
Speeding up the trial in the infamous J&K sex scandal, District and Sessions Judge B.S. Mehndiratta today framed charges against all 14 accused under the Prevention of Immoral Trafficking Act and for rape under section 376 of the Ranbir Penal Code.





India: The Tasks Ahead
SPECIAL SUPPLEMENT
125TH ANNIVERSARY CELEBRATIONS,
INAUGURAL SESSION

HOROSCOPE
We are 30.17 cr BPL
New Delhi, March 21
The government today confirmed that 30.17 crore people still live below the poverty line (BPL), but the consolation is that the poverty addressal rate has improved during the last decade.


This company is fine with fine
Continues to fell trees and gleefully pay for it
Shimla, March 21
Despite the Forest Department recommending cancellation of the MoU signed for the execution of the 192-MW Alien Dhuangan power project in Manali for over 100 violations under the Forest Conservation Act till date, the company has once again damaged 116 trees.

Rahul insulting Hindus: BJP
March 21, 2007

3 ex-civil surgeons indicted
March 20, 2007

Woolmer dies hours after Pak exit
March 19, 2007
Chahal house raided, aide held
March 18, 2007
Rs 100 bonus on wheat MSP
March 17, 2007

Naxals kill 55 cops
March 16, 2007

12 killed in police firing
March 15, 2007
Badal, kin chargesheeted
March 14, 2007
Bhattal to head CLP
March 13, 2007
Cop guns down 5 colleagues
March 12, 2007