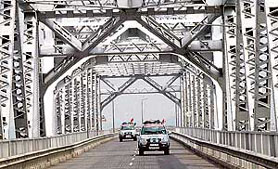 Cars taking part in the SAARC rally cross the Brahmaputra in Guwahati on Wednesday. — PTI
RS takes a break
New Delhi, March 21
Uproar in the Rajya Sabha by the BJP-led opposition over Nandigram police firing forced the Upper House to go in for a recess till April 26 today without conducting any business.
EC rejects objections on mulayam's nomination
Lucknow, March 21
Returning Officer of the Bharthana Assembly segment in Etawah today rejected the objection raised by Congress nominee Ajay Yadav pointing out discrepancies in the affidavit filed by chief minister Mulayam Singh Yadav about his properties at the time of filing of nomination on Tuesday.
CBI influenced by Lalu: Nitish
Patna, March 21
The Nitish Kumar-led NDA government in Bihar today charged the CBI with being influenced by RJD supremo and Railway Minister Lalu Prasad to dilute the DA case against him.
Kashmir report cleared by EU panel
New Delhi, March 21
The European Union's Foreign Affairs Committee (FAC) today cleared "with minor changes" the much-talked report on Kashmir authored by parliamentarian Baronness Nicholson, who had highlighted Pakistan's "failure" to check cross-border infiltration.
Karunanidhi: No talks on Cauvery
Chennai, March 21
Despite Karnataka's offer to hold talks to resolve the Cauvery water dispute issue, Tamil Nadu Chief Minister M. Karunanidhi today ruled out any talks on the final award of the Cauvery Water Disputes Tribunal and denied having discussed the issue with his counterpart H.D. Kumaraswamy at all.
BPL list: Nitish sets May 15 deadline
Patna, March 21
Bihar Chief Minister Nitish Kumar has set May 15 as the deadline to rectify the alleged irregularities in the new BPL list.
Nithari Case
CBI arrests sacked UP police official
New Delhi, March 21
The CBI today arrested dismissed sub-inspector of Uttar Pradesh Simranjeet Kaur in connection with the serial killings of women and children in Nithari.
Tipsy Mexican threatens to blow up plane
Kolkata, March 21
An Indian flight from Bangkok to Delhi with 87 persons on board today made an emergency landing at the N S C Bose Airport here after a drunken Mexican passenger allegedly threatened to blow it up.
Bank unions defer plan to strike work
New Delhi, March 21
Bank unions today deferred the proposed three-day strike from March 28, called earlier to press for their demands relating to pension, compassionate employment and outsourcing.
CPM supporters attacked, tension builds up
Nandigram, March 21
Trouble erupted here again today when CPM supporters came under attack from people opposed to the acquisition of land for industries .
Attack on editor rocks AP House
Hyderabad, March 21
The attack on the editor of a local Urdu daily, Zahid Ali Khan, allegedly by supporters of the Majlis Ittehadul Muslimeen (MIM), rocked the Andhra Pradesh Assembly today.
Miss India pageant on April 8
Mumbai, March 21
The 46th edition of the Miss India pageant will be held in Mumbai on April 8.
N-reactor miniaturised for submarine
Mumbai, March 21
Indian nuclear scientists from Bhabha Atomic Research Centre have successfully miniaturised a reactor for fitting on board the Indian nuclear submarine.



Videos
Happy birthday Rani…
(56k)
A temple dedicated to Ravana in Jodhpur.
(56k)
Parsi community celebrates Navroze.
(56k)