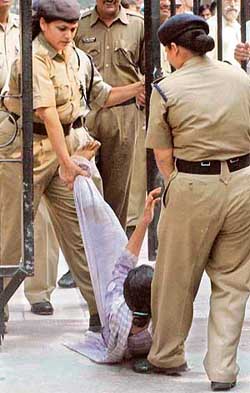 Cops drag out an activist, who was participating in a demonstration led by Medha Patkar held on the premises of Yojana Bhavan, New Delhi, on Thursday. They were demanding a ban on colas in the country on World Water Day. — Tribune photo by Mukesh Aggarwal
SAARC set to go the EU way
New Delhi, March 22
A patient in Kathmandu getting treated on advice from a super-specialty hospital in India, flood-ravaged Chittagong (Bangladesh) drawing food from a food bank in Pakistan and a common fund for the South Asian region for alleviating poverty.
Gujarat violence victims' aid on a par with '84 riots
New Delhi, March 22 Bringing compensation for victims of the sectarian violence in Gujarat on a par with that awarded to those affected by the 1984 anti-Sikh riots, the government today approved ex-gratia grant of Rs 3.5 lakh to the next of kin of each of the 1,169 people killed in that state.
UP poll: NCP seeks Cong help
New Delhi, March 22
Not taking kindly to the barbs from the Congress over its pact with the Shiv Sena for the mayor's post in the Pune Municipal Corporation, the Nationalist Congress Party today said the largest constituent of the UPA must take along its allies in the spirit of reciprocity and accommodation.
India-US talk tough over ties with Iran
Mumbai, March 22
India and the US are talking tough over reprocessing spent-nuclear fuel and energy ties with Iran, American energy secretary Sam Bodman said here today. Bodman, who visited Mumbai on the last leg of his India visit, admitted that both countries were locked in tough negotiations on both issues. Top officials in the country's nuclear establishment, including Anil Kakodkar, secretary, Department of Atomic Energy, told Bodman that India would not compromise on its sovereign right to reprocess spent nuclear fuel.
CBI to probe into pulses export
New Delhi, March 22
The government today rebutted the allegations made by the BJP on violations of ban on export of pulses and said commerce minister Kamal Nath had ordered an investigation by the CBI into the pulses export matter over a week ago.
Maathai symbol of empowered woman: Kalam
New Delhi, March 22
Nobel Laureate Waangari M. Maathai, the now-legendary mother of the green belt movement in Africa, has a new target in life--to mobilise the plantation of one billion trees across the world.


Nehru award for Maathai
New Delhi, March 22
Nobel prize winner Wangari Muta Maathai was today presented the Jawaharlal Nehru Award for International Understanding by President A P J Abdul Kalam, who called the Kenyan a symbol of empowered women of the world.


President APJ Abdul Kalam reads the citation script during the presentation of the Jawaharlal Nehru Award for International Understanding to Wangari Muta Maathai, the first African woman to win the Nobel Peace Prize in 2004, in New Delhi on Thursday. — PTI photo
Babri case
SC dismisses review plea
New Delhi, March 22
The Supreme Court today put its final seal on the validity of Uttar Padesh Government order setting up a special court at Rae Barelly for trial of former Deputy Prime Minister L. K Advani and seven other Sangh Parivar leaders in the Babri Masjid demolition case, saying its earlier verdict approving the trial there "does not require any reconsideration".
Widow breaks down at Mahajan murder trial
Mumbai, March 22
The murder trial of BJP leader Pramod Mahajan is seeing some dramatic moments with Rekha Mahajan, wife of the slain politician breaking down in open court while recounting the incident.
Bar girls to add spice to UP poll
Patna, March 22
With a tough Election Commission is in command of the coming seven-phase UP poll, it is out-of-work Mumbai bar girls from Bihar, and not criminals like in the past, who are in huge demand for election campaign this time.
Go ahead with gas pipeline, says CPM
New Delhi, March 22
The CPM has urged the UPA government to resist pressure from the US and proceed with the Iran-Pakistan-India gas pipeline project. In a statement issued here today, the CPM Politburo said the gas pipeline project from Iran was of vital interest to India and its energy security.
Petro traders threaten strike
New Delhi, March 22
The Federation of All-India Petroleum Traders today threatened to go on an indefinite strike from April 28, if their demands of increasing dealers margin by up to 5 per cent and implementation of the new Marketing Discipline Guidelinesare not met by the government.




Videos
Karunanidhi rules out talks on water sharing with Karnataka.
(56k)
India, Japan set to chart out roadmap for strategic ties.
(56k)
Adventure lovers throng Narkanda for skiing.
(56k)
Rakhi Sawant in another item number.
(56k)