Future packaging
Dr S.S. Verma
Concept of packaging starts with the origin of life itself when a baby is born in a naturally packaged (safe and secure) environment in the mother's womb. Later on skin, hairs and feathers etc, are the natural packaging provided to the body to protect it in the open environment.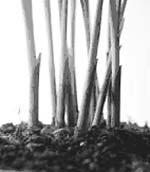 Sources of renewable and biodegradable materials
Dressing according to weather to protect the body or as per occasion to please and impress the society is also a kind of packaging. Human beings have always protected food and drink in containers, using skins, leaves, and gourds, and then baskets, pottery, and, as early as 1500 bc, glass containers. A. F. Pears, in England, launched what was to become one of the most consistently prosperous industries in the world when he established the first packaged Soap Company. Modern packaging, the technology used to contain, protect, and preserve products throughout their distribution, storage and handling, and at the same time to identify them, provide instructions for their use, and promote them. Such packaging has become an important part of our daily life. Almost every thing in the market is coming in colorful, hygienic and suitable packaging, which not only attracts the eyes of the customer but also makes its (product) self-life longer, safe and secure. Packaging also keeps the item safe from climatic changes, including light and temperature.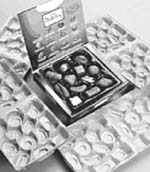 Future packaging
Packaging industry is growing very fast as it has become a marketing necessity with the changing life- style. Presently more people are working in packaging and packaging operations than any other business area. The estimated value of packaging materials and machinery used for packaging throughout the world is £270 billion. Since the coming of the supermarket, packaging has developed to allow customers to serve themselves. Some 60 per cent of all packaging is used for food and drinks, and it is also essential for cosmetics, domestic chemicals and electrical goods, pharmaceuticals, health care products, agricultural chemicals, seeds, and feeds, and industrial goods of all types, such as motor parts, and computer hardware and software. Packaging has no more remained as a simple technology. Packaging is a very complicated art with a meaning and purpose as mind starts seeing and appreciating it. Presently packaging is required for everything, which involves particular technology of sophisticated nature and specialized skills. Packaging should be accomplished with knowledge of the principles of science & technology and imitating nature.
Packaging has never seemed as important as it does now. For years, the consumer's main thought about packaging has been rapping the product in "paper or plastic?" But in light of recent bioterrorism threats, packaging — from envelopes to food storage — has taken on new meaning and new urgency. Innovations in packaging technologies and design are transforming brands, enabling new consumer benefits and enriching lives. Future smart packaging is expected to be equipped with following characteristics: innovations in user convenience; diagnostic; active and speaking packages; transforming the supply chain; deterring counterfeiting; self-heating and cooling containers; improved drug delivery and recording of use; the package as part of the product etc. Developing better packaging for food safety, however, has long been a priority but terrorism has given the added need to find new ways to protect food supply and enhance public security. Packaging that incorporates nanomaterials can be "smart", which means that it can respond to environmental conditions or repair itself or alert a consumer to contamination and/or the presence of pathogens.
Whether active and/or smart, packaging was there and will be there but once it has done its job of protecting its contents from factory to home, is discarded as household waste which accounts for around four to five per cent of all waste in developed countries and situation is coming almost same in developing countries also. Excessive packaging and packaging with non-renewable, environmentally non-friendly and costly materials is making packaging a serious business. Hence, it attracts a great deal of environmental concern. Facilitating a recovery system can minimize packaging wastes that can be achieved by the four R(s) — reduce, recycle, recover and reuse. Environmental considerations have resulted in a trend to make packaging as light as possible without impairing its protective properties. Households and communities should plan recovery of this valuable packaging waste. Today one talks of eco-friendly packaging. Thus, the consumers are seeking packaging that is recyclable and environmentally friendly. Scientists and engineers are trying to develop a number of sustainable technologies that meet the above goals whilst maintaining product integrity, value and desirability.
Instead of relying on oil-based packaging materials, current research programmes are looking at biodegradable and renewable materials that can be made with natural polymers such as proteins, starch, sugars or fatty acids.  The goal is packaging products that are combustible, compostable, renewable and carbon-dioxide neutral. Renewable and biodegradable materials not only consume less energy in their preparation, but also are less problematic to dispose of at the end of their useful life. Researchers are focusing their research into renewable materials through the work being done in plant and animal breeding and genetics, and through the research into the forestry, wool, cotton, and food industries. Biodegradable materials are substances that will decompose in a natural environment. The research covers a wide range of activities, such as: re-engineering, designing and developing materials, processes and systems, including nano- and microstructured materials; investigating methods for processing plant proteins to produce biodegradable materials to replace petro-plastics. Due to public growing environmental concerns and advances in science and technology it is hoped that future packing will be more active, smart and ecofriendly.