God of Abstract things
Purva Grover catches up with three collectors who are redefining passion-packed hobbies. Read on...
As a child, we were all gifted a stamp album at one time or the other and that would lead to a long wait for an airmail from relatives abroad. Next, with perfection the stamp was scrapped off the envelope and pasted in the album. And, if it was not the stamp bug that had bitten one, then there are chances that one had grown up admiring the huge coin collection of their grandfather.

Narinder Pal Singh — Photo by Vinay Malik

Scoring with taste!
Gayatri Rajwade
If it is the high dose of World Cup that you are living on these days, then a visit to the city's new resto-bar, Score, will indeed be an icing on the cake. With their mantra of 'Keep scoring', the resto-bar at Sector 8 is out to prove that they are "different". Interactive lasers spewing out psychedelic lights, giant screens dotting the arena and pulsating music make up an interesting ambience but it is the unusual sporty theme that sets them apart; and also gels well with the ongoing cricket fever. But it will not be just cricket assure the couple Pankaj and Anupama Bhardwaj, who own the place. For lawyer turned entrepreneur Pankaj, the project was a challenge and also a chance to work with wife.

Pankaj & Anupama Bhardwaj — Photo by Malkiat Singh




Class apart
The 37th Bhaskar Rao Nritya and Sangeet Sammelan gets underway today
S. D. Sharma
Since its inception in 1956, the Pracheen Kala Kendra has undeniably emerged as 'the centre' for performing arts, especially of classical music genre. Besides, teaching Indian classical arts through its 3,500 accredited centres in India and abroad the Kendra holds annually the Bhaskar Rao Sangeet Sammelan, a mega treat to art aficionados. The 37th Sammelan to be held on March 24 and 25 is significant being a part of the golden jubilee celebrations of the Kendra and also the presentation ceremony of third Koser awards-2007 slated for March 23 at the auditorium of the Government Polytechnic for Women, Sector 10, here.



Taal se taal mila
Gautam and Debashish Dhar are united in their love for rhythm
"Rhythm in music is nothing but a uniform progression from one note to another and articulates the meter of the performer's melody or to add variety to it," says Gautam Dhar, elder brother of Debashish Dhar, well-known tabla exponents. He says laya and taal are the most essential elements without which the music or dance will be just prosaic and adds that taal came first and music followed later. Born and educated in Assam, Gautam was initiated into the realm of music, especially tabla by his sister Ratna, who is also a singer, while Debashish was a late starter.


Rap on society
Their music has the power to sponge social evils
Saurabh Malik
Rhythmic notes flowing out of their guitars create more than just melodies. They produce ripples that wash away 'ineffective governments' to bring about a sea-change in the administrative setup for some 'good' to gush in. In fact, as Franco-Senegalsese group DAARA J played on the stage during Senegal's 2000 presidential elections, a constant stream of voters rushed through the streets for exercising their franchise.
Women on Wheels
Women rallyists of the city are zipping past the kitchens on to the racing track, says Saurabh Malik
With hands dirty in the grease and their mean machines crossing hurdles, a handful of women from the city have taken up the challenge to drive in the male domain of car rallying. Cutting along sharp curves, these women have grown up on a dose of re-runs of Biker Boyz and The Fast and the Furious and it is taking over the wheel that sends their adrenalin rushing.


Garden man
Amarjeet Singh's Bhatth's guide for the home gardener makes things easy for amateurs
Parbina Rashid
It is difficult to say which took precedence of what—his love for shooting them or planting them. But what goes without saying is that Amarjeet Singh Batth's life revolves around flowers. And his book called Indian Garden Flowers: Home Gardener's Guide is just a symbol of his love. A five-year short service in the Army did not rob this Botany graduate of his softer side. Wherever he went, he made sure that he collects a sample here and there to add colour to his life. Since he service life did not allow him to collect them permanently, he tried to build up a memory bank by clicking them with his camera. It was only the beginning. "When I moved into Ludhiana permanently about nine years ago, I worked towards a proper garden.

Smiling all the way to tellydom
Remember the amiable bhabi of Shahid Kapoor in the recently released flick Vivah by Sooraj.R.Barjatya. A charming smile and a pure reflection of Indian values, it was her friendly well-balanced appearance in the movie that brought Lataa Sabharwal the much awaited recognition. Lifestyle catches up with the actress who has her hands full with offers now. Kick starting her acting career with serials like Aarzoo Hai Tu and Woh Rehne Wali Mehlon Ki that is presently on air on Sahara One, Lataa shares that though acting is her first love she loves to shake her belly too. "I am not a professional dancer but I love to dance", she smiles. Astrology is one of her other interests that excite her.



A hint of Purav aur Paschim
Director: Vipul Amrutlal Shah
Cast: Akshay Kumar, Katrina Kaif, Upen Patel, Rishi Kapoor and Javed Sheikh.
After serious flicks like Aankhen and Waqt, Vipul Amrutlal Shah has now come up with a melodramatic love story which kick starts in the lush fields of Punjab and then moves across to London. A Rs 30-crore venture, Namaste London, stars Akshay Kumar and Katrina Kaif in the lead roles. It is said that the movie owes its inspiration to Manoj Kumar's Purab Aur Paschim and the buzz is that this Indian melo-drama is based on the cross-culture conflicts. A blend of romance and comedy, the film is likely to make an impact at the box-office.


Fortis for patients
It is oft said that more than the medicines it is the healing touch of the doctor that helps the patients recover fast. Working on the principle is The Friends of Fortis Programme that allows the doctors to interact with patients who have recently undergone medical treatment.
youth speak
Friend's the word
Raznee Deewan
Today the relationship between students and teacher is like friends. Students are free to interact with teachers in a manner that transcends the traditional teacher-student boundary. This, of course, comes from the effort, focus, and sincerity you put into your relationship with teachers.
BIG PICTURE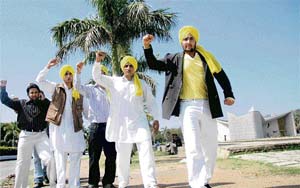 Rang De: Panjab University students get into the mood on the eve of the martyrdom of Bhagat Singh. — Photo by Pradeep Tewari
SIDELANES
Forces are a reflection of our society
Joyshree Lobo
The Defence Forces are under the microscope once again. Each verbal command, tweak of the "P" cap, salute and march step is being scrutinised for secret deals, covert codes and sneaky signals. There are bugs in hobnailed boots, microphones in flak jackets and spy worms in special rations.
FILM & FASHION
Pretty Woman goes green
Now that she's soon going to be a mom-of-three, it seems that Julia Roberts is determined to do her bid to protect the environment. The Pretty Woman star, who is due to give birth to her and hubby Danny Moder's third child this summer, is revamping her new $20 million Malibu mansion to make it an eco-friendly place.
---