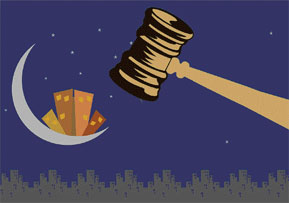 Bad ads under SCanner
More stringent actions needed to segregate black sheep, experts tell
Maneesh Chhibber
The recent notice issued by the Supreme Court on a public interest litigation (PIL) seeking stringent guidelines for advertisements issued by real estate developers and builders so as to check cheating of gullible persons has cheered the real estate experts and lawyers in the region.
Backgrounder
Taking cognizance of misleading advertisements being given by builders, developers and even land mafia on the real estate development, the Supreme Court, earlier this week, had issued notices to the Centre and all states for laying down national guidelines on regulated ads.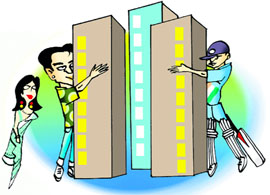 Star-spangled realty
Celebrities of all shades are endorsing real estate projects, says
Peeyush Agnihotri
Stars are descending on the real estate sector, literally. This is the least that can be said going by the flurry of real estate endorsements by the celebrities.
Yamunanagar, Jagadhri to merge
Nishikant Dwivedi traces out Plan 2021 that conjoins twin towns to make it a mega city.
Ball has been set into motion to make Yamunanagar, the second largest urban centre in Haryana after Faridabad, a mega city with wider roads, green belts, golf course, recreational sectors and other infrastructure in the offing.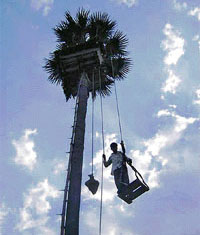 Salim Hossen Gaus, a Bangladesh citizen, uses a home-made lift to reach his tree house atop a palm tree in Jessore. Tired of trying to get a bit of peace and quiet in one of the world's most densely populated countries, Salim has hit on the perfect solution. Each day, the carpenter winches himself 30 metres (100 ft) in a precarious home-made pulley to a small wooden platform, which he calls his home, atop a palm tree. Interestingly, an anti-corruption drive by Bangladesh's army-backed caretaker government is keeping buyers at bay in the country's real estate sector. Expat Bangladeshis, a major segment of real estate buyers, have also stopped investing in the sector. — AFP
Outlet drain missing from PUDA Urban Estate
Dharmendra Joshi writes from Kapurthala
The Punjab Urban Development Authority (PUDA) has failed to provide any outlet drain for sewerage in the local urban estate where as many 717 residential plots had been allotted after a draw by PUDA in first phase of allotment in 1999.
Unitech, Appu Ghar promoters join hands
Real-estate major Unitech and promoters of India's first amusement park Appu Ghar, International Amusement Ltd, are jointly setting up two entertainment parks in Noida and Rohini with an investment of about Rs 1,600 crore.
TAX tips
Gain long-term if land sold after demolition
Q. I own land of about 2,000 square yards. There is built up area of about 2,000 sq. ft. I have sold the said property for a consolidated price and a claim for the long-term capital gain was made in the return. The assessing officer has not accepted my claim and treated the same as short-term capital gain. I may add that before the registration of the property in favour of the buyer, the building was demolished as the buyer was interested to buy the land only. Is the action of the assessing officer correct?
Indiabulls arm lists
Mumbai: Indiabulls Real Estate Limited (IBREL), the real estate arm of Indiabulls Group, was listed at Rs 380.05 on the Bombay Stock Exchange. IBREL, which recently demerged from Indiabulls Financial Services Limited (IBFSL), hit highs of Rs 414.80 per share in early trade and over 12.97 lakh shares were traded on the BSE. The face value of the stock is Rs 2 each.
A bouquet of advice on bricks
Jagvir Goyal suggests that water used during construction must be clean and free from dissolved chlorides or sulphates.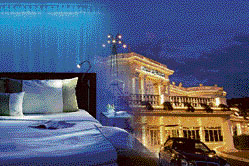 Amritsar a hospitality sector favourite
Entrepreneurs await the new urban development policy, says Ashok Sethi
After enjoying free run with large concessions and other benefits given by the previous Congress government to the mega mall projects in the state, big entrepreneurs are awaiting the fresh urban development policy of the new state government.
Price correction short-lived
S. Satyanarayanan says sagging rates may be confined to just a few overheated locations
Licensed to build
Permit for developers may be made mandatory in Hyderabad, says
Ramesh Kandula
If the Municipal Corporation of Hyderabad has its way, builders in Hyderabad will need to have a licence before they can take up any project. Till now, only architects and planners are required to register with the municipal authorities.
Cautious on Construction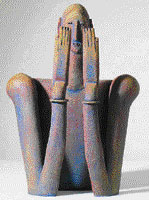 Equity fund managers trim exposure on sector stocks, says Nishant Kumar
Indian equity fund managers continued to trim exposure to construction sector stocks in March, following the withdrawal of tax breaks in the federal Budget, a Reuters poll of 13 fund houses showed. The allocation by diversified equity funds to this sector dropped to an average 6.58 per cent of assets from 8.12 per cent a month ago, with three-fourth of the respondents planning to maintain or further cut their exposure within the next three months. This is in line with the findings of the Reuters poll in February, which indicated that more than 38 per cent of the respondents were planning to cut their exposure to the sector, that includes cement, infrastructure and real estate stocks.
Estate talk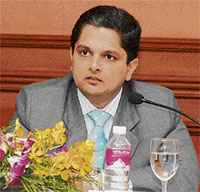 Sankalpan keen on SEZs
Bags $2 million Chennai project, writes Arup Chanda
Mumbai-based Sankalpan group has bagged a $2 million project in Chennai and plans to expand in other states of south India. The group is an integrated realty and premium infrastructure services provider having interests in architectural design consultancy, turnkey outfits, infrastructure projects and commercial real estate development. Having already executed more than 15 projects in Chennai, the company is ready for more.