This Above all
The other side of writers
KHUSHWANT SINGH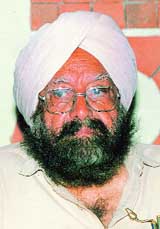 At a writers' jamboree in Edinburgh some 40 years ago, I met a lot of celebrated authors, including two who I vastly admired: Mary McCarthy and Norman Mailer. I had read McCarthy's Groves of Academe and The Company She Keeps and Mailer's Naked & The Dead. Being in the adolescent stage of my writing career, I hero-worshipped everyone who had made good in the profession. I boldly invited Mary McCarthy to dine with me. She readily accepted. She was a very attractive woman, a couple of years older than me (b. 1912) and with gracious manners. I knew she had been married to the celebrated literary critic and author Edmond Wilson and the marriage had broken up when Wilson had slapped her after a dinner party in their home. When I met her she was married to an American diplomat posted in Paris.
While we were dining, Norman Mailer came over to our table and said to McCarthy: "So Mary I see you found a new boyfriend!" Mary froze and gave him a stern look from head to foot but said nothing. I was appalled at his bad manners. When he left Mary remarked: "Loathsome creature! I can't stand him."
It so happened that the next morning Mary came and joined me for breakfast. And once more Norman Mailer came over to our table. He had a broad grin on his face. "So! had a good night both of you?" I was flabbergasted. Mary rasped in a hiss: "Off, off". She then turned to me and said: " I told you he is a loathsome bastard. Now you know."
I tried to keep in touch with Mary and wrote to her a couple of times. She replied politely. I sensed she was not keen to keep up correspondence with me. So I did not persist. But I managed to meet Norman Mailer again. I rang him up when I happened to be in New York. He invited me over for a drink in his apartment close to the Statue of Liberty.
He had a large sitting room with signs of opulance. There was a lot of coming and going of friends of different ages. He didn't bother to introduce anyone. They greeted me "how dyoo doo"; I replied: "Fine, thanks." I had a couple of drinks and asked for permission to leave. Mailer came along with me to show me round the block. Many people recognised him. I could sense he was a local celebrity.
Much later I got to know something of his private life from a few pages in Paul Johnson's Intellectuals (Harper & Row) about the most exciting debunker of literary celebrities I have read in many decades.
Mailer (b. 1923) was the eldest and only son of a well-to-do Jewish family — mollycoddled by his doting mother and worshipped by a clutch of sisters. He was a topper in school and made it to Harvard at the age of 16. He had good reason to be insufferably opinionated. He knew he was the cat's whiskers. His first wife (he married six times) said of him: "All the women in the family thought that Norman was the cat's meaow." He earned huge royalties from The Naked and the Dead. Most of it went in paying alimony to his divorced wives. It was the same with the money he made on the long essay he wrote for Harpers (March 1971) entitled Prisoner of Sex.
Mailer was a self-promoter, hard drinker, foul-mouthed and prone to violence. Once in a brawl he was badly bruised. When his second wife ticked him off, he stabbed her with a knife and almost killed her. He spent time in jail. He explained to a friend: knife to a juvenile delinquent is very meaningful. You see it is his sword, his manhood."
Kartar Singh Duggal
Before reading his auto-biography I had a look at the appendices which list titles of his works in prose and poetry in Punjabi, Hindustani and English as well as literary awards he has won. Punjabi collection of short stories 26, selected short stories and plays 15, novels 13, poetry 9, general 9, Hindi short stories 12, plays 6, one-act plays 3, Urdu short stories 3, plays and novels 4, English short stories, novels, plays, etc 41. Grand total of books to his credit 159. His awards comprise, besides honorary doctorates from universities, Padma Bhushan, Punjab Ratan and nomination to the Rajya Sabha.
If one may assume he must be a whole-time writer, one would be wrong; he spent most of his creative years as a producer in All-India Radio; and then Director of the National Book Trust. Also, if one assumed that being the author of so many books, he must be a millionaire, one would be wrong again. Though some of his books went in several editions (one is on its 19th edition from an average of three new editions every year), he is a man of modest means. Most Indian publishers believe that publishing a book pleases authors more than royalty cheques.
The subject of his eulogy is Kartar Singh Duggal. Much of the information I have about him is from the recently published autobiography Whom to Tell My tale (N.B.T.). I have known him for over 67 years. He has always led a rigorously disciplined life rising at 4 a.m. and working till late in the evening interrupted only by five daily prayers (nitnem) and listening to kirtan in gurdwaras. He is a devout Sikh without a trace of communal prejudice. His wife Ayesha is Muslim. She is the sister-in-law of the poet Ali Sardar Jafri. Half her family members are Pakistanis. When communal violence was at its worst, they got married in the Golden Temple. The story of the Sikh-Muslim romance with its happy ending is spelt out in Duggal's life-story. It is dedicated to Ayesha's sister Sultana who died a little over a year ago.
Truck wisdom
Seen written behind a truck plying in Chandigarh were the following verses in Hindi: Ram Rajya mein doodh mila, Krishna rajya mein ghee, Kaliyug mein daaroo milee, soch samajh kar pee.
(Contributed by A.S. Deepak, Chandigarh)