Punjabi Antenna
Raw deal for local talent
Randeep Wadehra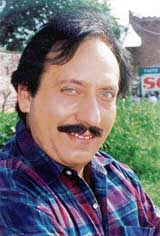 Dr Ranjit
Patriotism is passť, cynicism is in vogue. Todayís youth has hardly any time or inclination for getting acquainted with our freedom fightersí saga of sacrifices although quite a few patriotic movies in Hindi featuring Bhagat Singh were released recentlyó- most of them bombed. Now a Punjabi telefilm Fansi has hit the home video circuit. It has inspiring lyrics and excellent music. Photography, acting and direction too are good. However, apart from jingoism and didacticism Ė an acceptable part of such productions Ė thereíre some factual gaps and flaws in the narrative that diligent research couldíve taken care of.. Nevertheless, since this movie aims at regenerating patriotism, parents must encourage their wards to watch it.
Ignorance isnít always blissful. It can be pretty oppressive in market conditions, especially when the sector is as unorganisd as our film industry is. Big Bollywood producers arenít aware of the type and range of talent available in the region. So they invariably finalise most of the casting in Mumbai even for such movies as are shot here. Only minor roles are allocated to local artistes. Itís a rare actor domiciled in the region who gets an occasional meaty role in a Bollywood flick. Perhaps thatís why the likes of Gurpreet Ghuggi, Jaspal Bhatti etc have acquired Mumbai addresses. Local production houses that collaborate with the biggies are loathe to stand up for the artistes as it arguably makes no business sense to them. Itís sad to see some of the stars of Punjabi film and television industry get raw deal due to skewed preferences of film-makers. Readers can judge for themselves how local talent gets less than optimum exposure in the Hindi movies shot here recently:
The Akshay Kumar, Katrina Kaif starrer Namastey London has Dr. Ranjit, Gurkirtan, Dimple, Paramjit Pallu and Ghuggi in minor roles. Sarhad Paar starring Sanjay Dutt, Tabu and Mahima Choudhry has Dr. Ranjit. Sir Phira has Nigar Khan, Payal Rohtagi, Mukesh Tiwari, Sahil Khan and Rajat Bedi from Mumbai whereas local talent is represented by Dr. Ranjit, Satwant Kaur and Vijay Tandon. Apne has the father-son Deol trio along with Katrina Kaif and Shilpa Shetty while Dr. Ranjit, Bhagwant Mann, Rana Ranbir and Amrit Pal are locals. Similarly, 19 Minutes starring Manoj Bajpai has only Dr. Ranjit. And finally Production Number 16 starring Bobby Deol, Nana Patekar and Shreya Saran have better local presence with Dr. Ranjit, Ghuggi, Rana Ranbir, Upasna Singh and Jaspal Bhatti getting a slightly better deal than the usual. For example Dr. Ranjit plays the role of a corrupt patwari.
It isnít dearth of talent but lack of marketing infrastructure/ skills that prevents the regionís artistes from getting their due. If big production houses are made aware of the sound quality of talent here, they would certainly offer more meaningful roles to them. After all Gurdas Mann in Waris Shah has shown what Punjabi actors are capable of.