SIGHT & SOUND
Perils of cricket
Amita Malik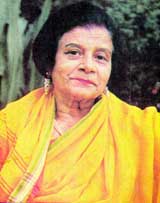 It is not pleasant for a columnist-or for that matter anyone-to have to say: "I told you so". But the unspeakable horrors said and done on the small screen last week amply proved that cricket is no longer a gentleman's game and that it is now no more glorious and not a "glorious uncertainty" that now drags down our spirits. My prophecy that just one bad patch would blow the media hype, leading to nationwide hysteria, to smithereens, came all too visibly true. So Bangladesh beat us fair and square by being a superior team of teenagers that day. Ranchi's Youth Morcha started destroying the beginnings of the house that Dhoni was building on land allotted to him by the government for his past exploits. Then they shouted "Dhoni murdabad" and burnt his effigy outside his parents' house, once the haunt of autograph seekers.
In other towns and cities, they burnt effigies of the top cricketers and stamped on their pictures before burning them. Then came the tragic death of Bob Woolmer. It seems there is no dignity even in death and one channel kept on repeating that he was found "in a pool of vomit". And while his Pakistani players wept like babies, some channels hinted at his "mysterious death" even before the postmortem had started. All praise to the Kanpur hospital where he was born, where they offered prayers in the room where he was born. And the sincere and heartfelt tributes which Woolmer was paid by cricketers from other countries added to the solemnity of the occasion.
When Sony Max gets the contract for cricket coverage of a major event, one now knows what horrors to expect, but it was even worse than last time. Big advertisements appeared on the faces of cricketers when were actually playing. These also appeared on the crease and the wicket so that one could not follow the flight of a ball and then one never saw the fate of the last ball of an over as the ads cut it off before it landed. Has the viewer no protection against this virtual sacrilege? Sony now has a sensitive chief in Kunal Dasgupta and one surely expected better of him. And then there is the infliction of the sex pot Mandira Bedi and the well-meaning but far from exciting Charu Sharma. Their wardrobes get top billing although I felt Charu Sharma's choice of white shirt with light blue stripes, beige coat and black trousers was as misplaced as Mandira's comments. While that old myth that she is there to rope in women viewers has been blown sky-high, and husbands, brothers, sons and boyfriends hopefully gloat in true voyeur fashion, we are willing to accept her as a fashion plate, although the focus has shifted from noodle straps to one bare shoulder and legs which she keeps at ugly angles as she does not know what to do with them. But she might spare us cutting into the expert comments of Dean Jones and Ayaz Memon and stick to being a telephone operator for callers and announcing the next break for whatever. Other channels wisely stick to only experts, men and women, from the West Indies or India or wherever, and misplaced fashion shows and idle chit-chat only destroy one's concentration.
Meanwhile, one welcomes the return of Sehwag, although Sony Max cut off his stroke for his long-awaited century. And while on the subject of the lack of responsibility of some channels, one must draw serious attention to a very dangerous flaw which could well lead to young people endangering their lives. It is mandatory, when showing dare-devil feats, for advertisers showing clearly the warning: "These feats are performed by professionals and viewers are advised not to imitate them". Yet only one advertisement, for Hamara Bajaj motor cycles, keeps the warning on the screen in large letters for long enough for it to register. The others give it in tiny letters which go out of sight before one can even try to read them. Surely this is a sphere where Dasgupta can step in and make the warning properly mandatory in large clear letters for enough time for it to register.