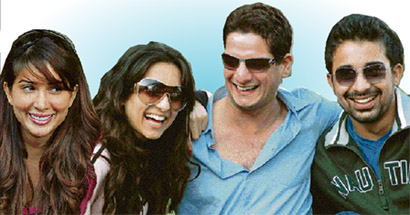 They will rock you
When the hip-n-happening brigade descended upon the city and charmed party-goers
They have one thing in common, their love for parties and their presence in almost all the hip-n-happening bashes. Perhaps that's why this party brigade qualifies to be present at the newly launched sports bar in Chandigarh. Meet the king of all remixes, DJ Aqueel, svelte MTV VJ Anousha Dandekar and Ranvijay, pretty Kim Sharma and hunk Ashish Chaudhary who shared notes on sports and more.
Picture Perfect
The city has emerged as 'the destination' for Bollywood film-makers
Lights! Camera! Action! Chandigarh is dazzling under the arc-lights with stars from the tinsel world descending on the city's horizon. Few years ago, hardly anybody who is somebody in Bollywood would come come to the city. Films were shot in and around Chandigarh, but mostly Punjabi films. But now the picture is fast changing. Thanks to the metropolitan character and culture of the city.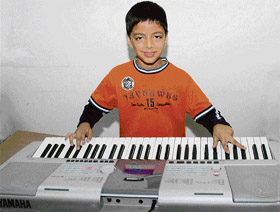 Striking the right note
He plays Pied Piper to popularity. Every time his dexterous fingers move over the keyboard rhythmically, fame comes dancing to his tunes. Other musicians also play Casio, may be even better — you can argue. But Abhishek Jain is just six-and-a-half. And that's what makes the melodic difference. It may sound music to your ears. But the young guy studying in Class II at Chandigarh's St Stephen's School has already played his way to recognition at the district-level Independence Day function in Nawanshahar.
Cool Stuff
Chill out with hot dresses this summer
This season Nautica, a leading global lifestyle brand, has launched their Spring Summer 2007 collection with a variety of pieces to keep the Nautica man and woman cool, comfortable, and fashionable. For spring 2007, Nautica combines functionality and fashion to create innovative garments.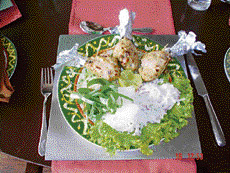 Match munchies
Though the ongoing World Cup is all about the unexpected, city eateries offer meals that sure will leave you satiated, says Rajiv Bhatia
For all those cricket buffs who have been sitting glued to the television waiting for the action, it's time to drive down to the city restaurants and savour more than just the action. Get together with friends to cheer the men in blue over a delectable meal, says the restaurateurs. With all the joints geared up for the World Cup, a mix of drinks and snacks with their names bearing resemblance to the cricket world is not very uncommon. You can dig into a Hat trick Wicket or a Catch Out Kebabs in the non-vegetarian platter.
BIG PICTURE WHAT SAY?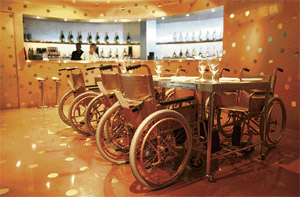 The Aurum Restaurant in Singapore serves 'molecular gastronomy', an avant-garde cooking style that uses scientific methods. The joint has a controversial theme with a dash of the morbid — gold wheelchairs and steel morgue and surgical tables seat the large number of curious guests. — Photo by Reuters
Reunion at Whisky Bar
Actress Cameroon Diaz and ex-beau Justin Timberlake have sparked off rumours of their reunion after they were spotted enjoying each other's company in Los Angeles. The pair, who broke up in January after nearly four years of being together, was seen spending quality time with each other at the Whisky Bar in the Sunset Marquis Hotel in West Hollywood recently. According to In Touch magazine, the Charlie's Angels star and the Sexy Back singer were again spotted surfing together during the same weekend at a Malibu beach.
BON APPETIT
A warm cup of cheer
Kandla Nijhowne
We seem to be having an extended winter of sorts. It's been raining fit to drown a duck, and the other day, I saw big, whacking hailstones shooting past the windows at the speed of Olympic sprinters. As the nights draw in, nothing's more delightful than sipping a steaming hot drink while snuggled up watching the idiot-box, or hibernating under the quilt.
Beauty Studio
Acne angst
Acne and spots are a part of growing up. Nobody can escape from puberty without an odd flare-up. Genetics are to be largely blamed for acne; if zits are in your genes, then nothing can stop them. Stress, hormones, environment and lifestyle also cause break outs. Acne can be very distressing, especially since it often occurs in areas where it is most visible. Before acne causes psychological stress and socially disabling, an early effective treatment is the only answer.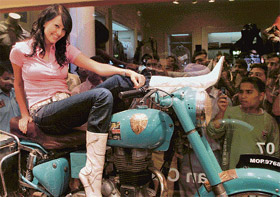 Czech-mate
After making the Indian audience dance to her rhythmic steps in sizzling 'special' numbers, Bollywood's 'biggest item bomb' Yana Gupta is creating melodious waves in the music industry by announcing her plans to release an album. Music to ears, eh! Well, the familiarly-foreign actress-cum-model is also penning down the secrets of her looks in a book on fitness and nutrition. For, the young scuba-diver-cum-bungee jumper believes in 'sharing her beauty hush-hush', openly. And though her phone has repeatedly been ringing with offers from producers asking her to lend oomph and glamour to their films, Yana doesn't plan to give up on her 'item' roles completely, or her part as a television anchor.
Go Chinese this Navratras!
No more craving for Chinese cuisine, finds Smriti Sharma
A four-course Chinese meal with your favourite piping hot soups and hakka noodles during Navratras is surely a treat for the city folks. Crafted specially for the Navratras, the delectable offering from Purple Rice, Sector 35, is making even fasting tempting.

It's all about taste
This Merchant Navy officer prefers cooking to sailing
Cooking his way to the hearts of people for four years now, Avkash is oft known as the man who is bringing an Indian touch to the Portuguese palate. The head chef at Saboar Da India (taste of India), a popular Lisbon-based Indian restaurant, Avkash left behind a career in merchant navy to pursue his love for cooking.

Dosti with Bollywood
A guitarist, cricketer, model and an avid reader, Yuvraj Siddhartha is now set to make his debut in the tinsel world. Busy shooting for Prakash Jha's movie titled 'Dil Dosti', the budding actor shares his future plans with Lifestyle. A graduate from St. Stephen College, Delhi, Yuvraj's first brush with acting happened when he performed with rock stars and theatre personalities in Europe. Back home, modeling offers poured in for the youngster who is known for his Greek-Indian looks in the film circuits now. fan of Hollywood flicks, he looks up to actors like Johnny Depp, Al Pacino and Tom Cruise.

Get lucky this b'day
If it's your birthday, then there are too many reasons to smile now! One big reason to put a big smile on your face is that BIG 92.7 FM would give you a birthday cake from Monika's with icing of affection on it. All you are supposed to do is send an sms on the birthday morning. The RJs of the morning show BIG Chai will pick one name based on a lucky draw and the winner will get a cake. According to the RJ Arsh of BIG Chai, "The aim is to wish our listeners' & we feel that it's the sweetest way to greet them on their Birthdays." — TNS
---