Time for
auf wiedersehen
Parbina Rashid
The city has had a close association with the Grathwohls. Among the initial Germans to come here, they have seen the city blossom and grown with it. They bid adieu after 10 years, with a promise to return...
The walls are bare but one can make out where the paintings used to be. All packed and ready to go. But if you ask them whether the prospect of going back home excites them, then clearly you got off on the wrong foot. "Lets not talk about it," says Dieter O Grathwohls. It's only when you look into his eyes that you see the pain. Of course, for someone who came to the city as a 28-year-old and spent most of his productive life practically growing up with the city, separation hurts. "This is my second home," says Dieter. "In fact we feel so much at home here that it will be difficult for us to adjust to the German way of life," adds wife Christina.

Mandira's magic works
City fashionistas are dressing up to recreate Mandira's charm of the last World Cup,
says Saurabh Malik
It was during the 2003 World Cup that Mandira Bedi for the first time gave cricket buffs a taste of more than the game. Viewers would sit glued to their TV sets to catch the action both on and off field. And, well in this series too the scene is no less different for even if the Men in Blue did manage to get knocked out of the cricket mahayudh, Mandira's blouses are surely bowling us over! Though wrapped in classy saris this series, her blouses continue to draw attention. While the actress-turned-anchor-cum-cricket moderator is experimenting with newer stuff, the city is trying to recreate her old charm by sporting noodle-strap tops. And if you have doubts, then drive down to the university or college grounds and you'll catch a glimpse of the changing fashion scene. Girls walking down the corridors in high-heel ankle boots teamed with skirts and spaghetti tops is a common sight on the campus. "Mandira wore them to fame and we are carrying on the legacy," says Charu, a college student from the city.




No longer upwardly mobile
City youngsters have lost the zeal to change their mobiles with every changing season
Priya Gill
Not all Chandigarh youngsters have gone gaga for gadgets. After surveying countless youths around the city, a surprising number of them are no longer crazy for flashy and expensive mobile phones. A significant portion of today's youth prefer cheaper phones with limited features and strictly use their phones for calling and messaging family and friends. The desire to change their phones with every passing season seems to have now. They will rather hold onto one phone for several years.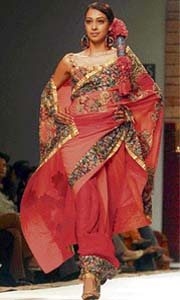 A model scorches the ramp in an Ashima-Leema creation at Wills Life Style Fashion Week in New Delhi.
Vikal's poetry on stage
Parbina Rashid
When we were told about the play the local chapter of the Kaifi Azmi Foundation would present here, we had a difficult time digesting it. With a name like Every Activist Is River… Bhagat Singh, Kumar Vikal Changing Chandigarh it was not just a mouthful, but abstract too.
Makeover Magic
Saurabh Malik
It has already helped Spanish couple Debra Hawkins and Michael Morris lose 10 years of their age. After shedding those extra inches, crisp currency notes, and the middle-age image, the two are all set to savour their salad days, once again. And they are not the only ones going in for a complete resurrection.
Haywire
Shaken 'n' stirred
Chetna Keer Banerjee
It rocked. It had its epicenter in the hinterland. And it was of high magnitude on the 'R' scale. Yes, this is about the Great Quake Rumour that bestirred almost an entire city and state out of its state of somnolence recently. It achieved nothing short of a mass awakening.
Little Interview: Suneil Shetty
If you loose, you win
Suniel Shetty aka Anna, the 46-year-old actor and producer will now be seen in yet another role. The fitness freak will be anchoring perhaps the country's biggest health show. Biggest Loser Jeetega, a reality health show will be on air on TV in May.

Matka chowk
Good ol' night watchman
Sreedhara Bhasin
Our neighbourhood has a night watchman. The neighbourhood association pays for him to walk around in the night and thoko his danda on the road intermittently to make his diligence evident. When I first arrived in the city, I failed to see any significance of having a night watchman.
write to Renee
at lifestyle@tribunemail.com or care of Lifestyle, The Tribune, Sector 29-C, Chandigarh
I am a 28-year-old girl working as a graphic designer in an advertising company. I realise that in order to grow and prosper I need to change my job, but I do not have the courage to do it. I was growing up knowing how important money was and my mother was always telling me to be happy with what I have and not constantly keep striving for more. My job is well paying and gives me security Help me.


It's getting bigger & better
In terms of sheer weight, this could be the Big Papa of all reality shows on Indian television. Where else will one be able to see 16 overweight contestants with a combined weight of a whopping 2038 kgs slugging out to shed as many kilos as possible in just four months. SaharaOne Television's 'Biggest Loser Jeetega', the unique reality show that draws its inspiration from the US show ' The Biggest Loser' , will hit the TV screen in May. It will showcase the lives of 16 obese contestants and their journey to fitness. The contestants will stay at a specially-designed house in Mumbai.

First Day First Show
Vipul-Akshay disappoint
Bollywood has delivered cross-culture films in every phase and decade. Vipul Shah in Namaste London does just that and brings up genuine problems of NRIs. But this much-hyped, star-studded bonanza turns out to be an average film. Namaste… draws heavily from films of the 80s. The story has shades of Pardes, Banarsi Babu and Abhimanyu. The story does have some twists and turns, but somehow the zing is missing. Vipul and Akshay's chemistry may be just average this time, but the locales are stunning. The film explores foreign outdoor locations and Indian emotions to the maximum. Full marks to cinematographer Jonathan Bloom for excellent camerawork.


Towards a 'greener' city
BIG 92.7 FM, got the entire city working towards a cleaner and greener city beautiful. The 'City Banao Pretty' campaign was flagged off by releasing 927 balloons by some of the honourable dignitaries of the city and moved on to cover various spots in the city.
---