Golden palki not to replace the marble one
Naveen S. Garewal
Tribune News Service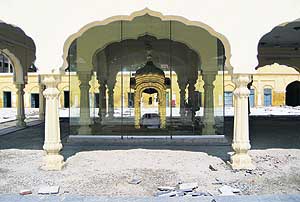 The golden palki, sent by the Delhi Gurdwara Management Committee, kept on the premises of Gurdwara Janam Asthan, Nankana Sahib. — Photo by writer

Nankana Sahib (Pakistan), March 26
The golden palki (palanquin) presented by the Delhi Sikh Gurdwara Management Committee (DSGMC) in December, 2005, to the Pakistan Sikh Gurdwara Parbandhak Committee (PSGPC) for placing it in the sanctum sanctorum of Gurdwara Janam Asthan, Nankana Sahib, has been placed in the open in the gurdwara precincts and it will not replace the original marble palki installed during the reign of Maharaja Ranjit Singh.
Placed in with a glass cover, the golden palki has been placed in adjoining "Baradari" which is open from all sides. In fact, the DSGMC never consulted the PSGPC before getting the palki made nor were the dimensions of the Janam Asthan taken into account.
The palki, made from 15 kg of gold, has the regular measurement of 4 by 6 feet, whereas the doors of the Janam Asthan are much smaller, making it impossible for the palki to get in without being dismantled.
According to Prem Singh, head granthi at the Gurdwara Janam Asthan, the PSGPC has taken a decision to retain the original marble palki for its historical reasons, keeping in mind the sentiments of the Sikh sangat.
"The golden palki has been placed outside so that every one can see it. Besides, it is bigger than the dimensions that can fit into the sanctum sanctorum. A guard has been posted to keep a watch on the palki by the Evacuee Trust Property Board (ETPB) that now owns all gurdwara property in Pakistan", he told The Tribune.
It may be recalled that the golden palki was carried in a procession from Delhi to Nankana Sahib with a lot of enthusiasm by the Sikh sangat at the behest of the DSGMC, carrying the golden palki with Guru Granth Sahib. It crossed over to Pakistan from the Wagah border on November 30, 2005, and was later taken to the Gurdwara Janam Asthan at Nankana Sahib where Guru Nanak Dev was born in 1469 A.D.
As a run up to the handing over of the golden palki, then Punjab Chief Minister Amarinder Singh and his counterpart from Pakistan's Punjab province Pervaiz Elahi had jointly laid a foundation stone for the construction of dual carriageway from Nankana Sahib to Mananwala on March 16, 2005. The two Chief Ministers had again accompanied the palki to the Gurdwara Janam Asthan
The decision to place the palki outside was taken by the PSGPC keeping in view the sentiments of several Sikh organisations, who opposed the "installation" of the golden palki in place of the historic marble palki. DSGMC president Paramjit Singh Sarna, who spearheaded the nagar kirtan that commenced from New Delhi's Bangla Sahib Gurdwara in December, 2005, had left it to the PSGPC to decide where it wanted to place the palki.
The palki was made by workers of Punjab and Benaras. Its frame has been made of teakwood, while around 15 kg of gold has been used on it under the supervision of Baba Jagtar Singh.