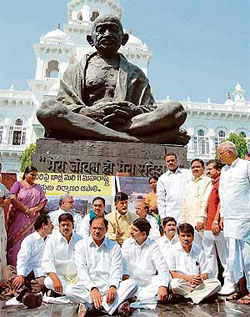 TDP president N Chandra Babu Naidu along with TDP MLAs protest in front of the Andhra Pradesh Legislative Assembly demanding a reduction in the height of the Baabli project, in Hyderabad on Wednesday. — PTI
K'taka says 'no' to sex education in schools
Bangalore, March 28
Karnataka may be vying to become the first state to make pre-marital HIV tests mandatory, but its education ministry has announced that schools need not obey the human resource development ministry's directive to introduce sex education at the secondary level in the state.
Tough norms for permanent resident status mooted
Dehra Dun, March 28
Outsiders may find hindrances in acquiring permanent resident status in Uttarakhand if the Uttarakhand Kranti Dal (UKD), a crucial partner in the BJP-led government, has its way.
Bihar, a model for Centre!
Patna, March 28
RJD ministers from the state may not agree, but Bihar is now a model for the Centre, for several 'firsts' initiated by the Nitish government during its 15-month rule.
Query answered after 18 yrs
Jaipur, March 28
It took 18 years for the Union govt. to clarify a state govt. query that whether the Banjara community is eligible for inclusion in the Schedule Tribe (ST) list.
Army begins CoI against 2
New Delhi, March 28
The Army has launched a court of inquiry against two personnel, including a Major, working with its intelligence wing, after two Ethiopian girls were found at their residence last week.
Samjhauta slowed down before blasts: Report
New Delhi, March 28
The Samjhauta Express, with a prescribed speed limit of 110 kmph, slowed down to 20 kmph near Diwana on February 18 before two blasts claimed 68 lives. This finding by the commissioner of the railway safety has strengthened the theory that the men who planted the bombs had alighted from the train.
Mulayam promises 4 saris to poor women
Lucknow, March 28
The death of his 102-year-old mother a few days ago was turned into an election issue by Chief Minister Mulayam Singh Yadav today when he declared that his true tribute to the departed soul was by ensuring "roti and saris" for millions of poor mothers in the state.
British MPs keen to raise TB profile in Westminster
New Delhi, March 28
A delegation of British members of Parliament and the Indian Medical Parliamentary Forum today signed the 'Call to Stop TB', a global campaign to raise awareness about tuberculosis.
MLA suspended for insulting deputy speaker
Mumbai, March 28
A Shiv Sena MLA, Arjun Khotkar, was today suspended for a day from the Maharashtra Assembly for insulting deputy speaker Pramod Shende. The House approved by voice vote, the motion moved by the Parliamentary Affairs Minister, Harshwardhan Patil, seeking suspension of Khotkar, who hails from Jalna in Marathwada region, after Shende took strong objection to the Sena MLA's remarks and gestures directed against him.
Karunakaran reaching out to Cong?
New Delhi, March 28
Former Kerala Chief Minister K.Karunakaran, who parted company with the Congress last year ahead of the assembly polls, created ripples in the capital's political circles when he met Prime Minister Manmohan Singh yesterday and followed it up with meetings with union minister Pranab Mukherjee and Arjun Singh today.
Troops reduction: Cong core group defers decision
New Delhi, March 28
With Jammu and Kashmir Chief Minister Gulam Nabi Azad keen on a political consensus on the issue of troop reduction, the Congress core group today deferred a decision on the mechanism to meet the demands of its alliance partner People's Democractic Party.

Videos
Theatre revives in Kashmir.
(56k)
Music release of 'Ek chalis ki last local'.
(56k)