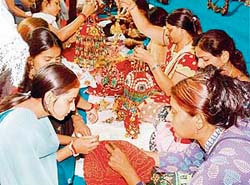 Artisans from Gujarat, Jaipur, Kolkata demonstrate their handicrafts during Karigari Craft Bazar organised in Ludhiana on Thursday. — Photo by Sayeed Ahmed
Executive engineer caught accepting bribe
Ludhiana, March 29
The local Vigilance sleuths have arrested an executive engineer of the Punjab Pollution Control Board (PPCB) on the charges of taking bribe from a local Industrialist to give him a pollution clearance report. A Vigilance team led by DSP Banarsi Dass caught executive engineer Sandeep Behl red handed, from his residence when he was taking Rs 15,000 as bribe from complainant Arun Kumar. A Vigilance official told reporters that the accused was allegedly demanding Rs 25,000 from the industrialist otherwise he would take action against him for spreading pollution.
We will go all the way to help people: Gosain


Ludhiana March 29
Even though Satpal Gosain could not make it to the cabinet once again, though he has been elected for the third term, but being the senior most legislator in the district, he is putting up a brave face. He believes that the legislators, irrespective of what responsibilities they get, are primarily elected to serve the people. "It is better to accept whatever responsibility you get", he remarked, while adding that he would continue to serve the people. At the same time he said, he would ensure transparency in the functioning of the government and proper utilisation of the funds meant for development.
Potato 'king' joins PAU management
Ludhiana March 29
Jang Bahadur Singh Sangha, better known as the king of potato cultivation, has been nominated as the new member to the board of management of Punjab Agricultural University, Ludhiana.
SGPC chief writes to PM
Wants him to disband PSB board
Ludhiana,March 29
SGPC Chief Avtar Singh Makkar has called upon Prime Minister Manmohan Singh to disband the board of directors of Punjab and Sind Bank and reconstitute it.
Legal cell backs Amarinder
Ludhiana, March 29
The Punjab Pradesh Congress Committee Legal Cell (PPCC) has criticised the SAD-BJP leadership for registration of a case in alleged 'City Centre Scam' against the former Chief Minister-Captain Amarinder Singh here yesterday.
Sudarshan Sharma is PPCC secy
Doraha, March 29
Sudarshan Kumar Sharma has been appointed secretary of the Punjab Pardesh Congress Committee from Payal. Congress leader Tejparkash Kotli while handing over the appointment letter to Sharma reposed full faith in his capabilities as a congress representative and a renowned social worker of the area.
Former Bar Association chief missing
Samrala, March 29
People are clueless about the whereabout of former President of the local Bar Association Karam Singh Dhaliwal, who is missing from Samrala since Wednesday morning.
Lover sets girlfriend on fire
Ludhiana, March 29
An allegedly dejected lover set his girlfriend a fire in Preet Nagar last night. The girl identified as one of the six daughters of a rickshaw puller suffered 65 per cent burn injuries.


Political patronage may mar HC's directive
Discharge of pollutants in Budda Nullah
Ludhiana, March 29
Political patronage may hamper the check on discharge of pollutants in the Budda Nullah as directed by the High Court a few days ago.
EO stays away from office
Ludhiana, March 29
Despite the Administrator of Ludhiana Improvement Trust cancelling the leave of Executive Officer, D.C. Garg, who is an accused in the infamous city centre scam, the latter failed to join the office yesterday.
Tributes paid
Samrala, March 29
Tributes were paid to Kartar Kaur Dhillon, sister-in-law of local former MLA Amrik Singh Dhillon and mother of contractor Manjinder Singh Dhillon at the local Bharti palace yesterday. — OC