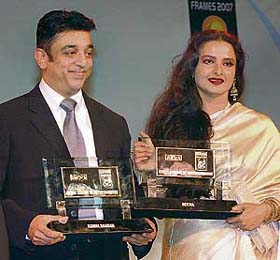 Bollywood actress Rekha and actor Kamal Hassan with the 'FICCI living legend in Entertainment Industry Award' in Mumbai on Wednesday night — PTI
V.P. for continuation of present system
Lucknow, March 29
The results of the census ascertaining the number of backward castes (OBCs) present in the country would be available by 2011, till then, the former Prime Minister V.P. Singh has favoured the continuation of the present arrangement of providing 27 per cent OBC quotas in educational institutions.
Troop Pullout
Azad hints at panel of security experts
New Delhi, March 29
Giving indications that a committee of security experts would be formed to meet the PDP's demand for troop reduction, Jammu and Kashmir Chief Minister Ghulam Nabi Azad today said the security forces in the state were not only guarding borders but also saving lives of people.
Denial of sex a ground for divorce: SC
New Delhi, March 29
Laying down 14-point parameters for determining the mental cruelty caused by spouses to each other in a failed marital relations, the supreme court in an important ruling has said unilateral decision by one of them to refuse sexual relations would be a sufficient ground to seek divorce.
Internet censorship in China: Amnesty
New Delhi, March 29
The internet, which has had an established presence in China for more than a decade, is being used as a tool to deny freedom of expression, according to a report released by Amnesty International India here today.
Khanduri retains 35 depts
Dehra Dun, March 29
Uttarakhand Chief Minister B.C. Khanduri retained major departments with himself while allocating portfolios to his council of ministers today. Khanduri will look after 35 departments, including home, finance, PWD, information, industrial development, civil aviation, power, alternate sources of energy, higher education, medical education, personnel, jails, justice, general administration, vigilance, social welfare, urban development and housing and women empowerment and child development.
BJP wins in Bazpur
Dehra Dun, March 29
The result of the Assembly elections in the Bazpur constituency was declared today, which made the BJP a clear winner. The victory has increased party's tally in the Uttarakhand Assembly. The election was postponed earlier due to demise of a Congress candidate in a road accident.
Farmers seek hike in paddy, wheat MSP
New Delhi, March 29
Demanding hike in the MSP of paddy and wheat, farmers today threatened to boycott state procurement agencies in Punjab, if the government failed to lift the anti-peasant policies.
Atwal for Fazilka-Karachi rail route
New Delhi, March 29
Favouring enhancement of people-to-people contact between India and Pakistan, Lok Sabha deputy speaker Charanjit Singh Atwal today said that New Delhi and Islamabad should work towards the opening up of rail link between Fazilka in Ferozpore district and Karachi.
Left opposes Prasar Bharati privatisation
New Delhi, March 29
The Left today sought the intervention of the Prime Minister to prevent privatisation of Prasar Bharati. "The employees and multi-crore assets of AIR and Doordarshan should be with the government and let the Prasar Bharati act independently on the lines of Indian Railways," said Hannan Mollah, CPM leader and chairman of a parliamentary committee in the Lok Sabha.
FTV banned
New Delhi, March 29
The Information and Broadcasting Ministry has banned the satellite channel FTV for two months with effect from April 1. The reason cited by the ministry for prohibiting transmission or re-transmission of the channel on all platforms across the country till May 30 this year is that it beams "programmes that are against good taste and decency, denigrate women and are likely to adversely affect public morality".

Video
Rehman inaugurates studios at Whistling Woods International.
(56k)