Vietnamese art comes to town
Amritsar, March 30
To promote art and artists of Vietnam, a three-day exhibition of 150 paintings and artworks began in Amritsar on Thursday.


Bank manager honoured
Amritsar, March 30
The Sardar Jassa Singh Ramgarhia Federation, in association with the Sultan-ul-Quam Sardar Jassa Singh Ahluwalia Memorial Society, on Thursday honoured Centurion Bank of Punjab branch manager Gurpreet Singh for foiling a robbery bid in the bank on January 25.

BRAVE ACT: Gurpreet Singh being honoured by the Sardar Jassa Singh Ramgarhia Federation and Sultan-ul-Qaum Sardar Jassa Singh Ahluwalia Memorial Society for aborting a bank robbery. — A Tribune photo.

Gobindgarh Fort to get facelift
Amritsar, March 30
With the district administration keen on playing a perfect host to tourists converging on Amritsar, the residents have been promised a detailed plan to make the holy city more attractive by developing more places of interest. "The idea is that the city should have more places of interest besides the Golden Temple and Wagah border," says the Deputy Commissioner Kahan Singh Pannu. Kahan Singh Pannu
Plea to acquire Duleep Singh's bust
Amritsar, March 30
Chandigarh based Punjab Heritage and Education Foundation (PHEF), has appealed to the Sikhs world over to purchase the rare sculpture of Maharaja Duleep Singh to be auctioned in Bonhams (London) on April 19.

GNDU reader in Marquis Who's Who
Amritsar, March 30
The biographical profile of Dr Maninder Lal Singh, Reader, Department of Electronics Technology, Guru Nanak Dev University, has been selected for inclusion in the 25th Silver Anniversary Edition of the Marquis Who's Who in the world to be published in November 2007 in recognition of his achievement in the fields of Electronics Engineering Education and Research. Dr Maninder Lal Singh



Pilgrim's progress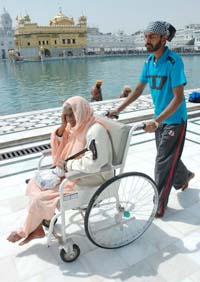 Photo by Rajiv Sharma
Popularising Sanskrit
Amritsar, March 30
The contribution of Punjab in the development of India is commendable as it is the birthplace of saints, philosophers and historians, said Ved Parkash, pro-vice-chancellor, Gurukul Kangri University, Hardwar. He was here to address a seminar on "Description of Punjab in Sanskrit literature" organised by Guru Nanak Dev University.
Education must to empower women
Amritsar, March 30
A seminar on Emerging Social Issues and Empowerment of Women was organised by the Guru Nanak Dev University.
Convocation today
Amritsar, March 30
The 101st convocation of Khalsa College would be held here on March 31. According to a press release issued to the media, University Grants Commission (UGC) vice-chairperson Mool Chand Sharma would deliver the convocation address. The chief guest would also release the news bulletin of the college, besides awarding degrees to the students.
Yoga camp
Amritsar, March 30
The Amritsar Branch of Bhartiya Yog Sansthan is organising a yoga camp in Ram Bagh. Scheduled from 6 a.m. to 7.15 a.m. the camp started from March 25 and will go till April 1. People in large numbers are participating in the camp to reduce fat with help of aasanas and pranayam.