Own and earn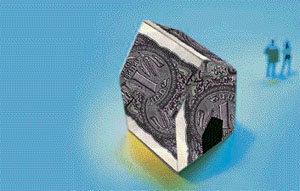 Reverse mortgage is emerging as a fiscal boon for the elderly, says Ruchika M. Khanna
Old age will no longer be a bane if you have built a small haven for yourself. The reverse mortgage scheme, announced by the Finance Minister in the Budget 2007-08, will enable the elderly property owners' surrender property with a bank for a regular monthly income. This will turn out to be a blessing for these property owners, many of whom have been abandoned by their children.
Make up on City Beautiful's face
Sanjeev Singh Bariana tells about upgradation of infrastructure in industrial area
The Municipal Corporation has drafted an exhaustive plan for the "upgradation of infrastructure in industrial area" in the wake of ongoing conversions. Definite entry of big shopping malls, hotels and healthcare facilities will not just be a facelift but also lead to a sizeable human rush in the area. The Chandigarh Administration is going ahead with the creation of infrastructure for likely requirement in the changed order of the day.
West Asia beckons
Hindujas, DLF, Punj Lloyd and the Ajmeras ink slew of pacts
In what could be called a week of Indo-West Asian realty developments, the Hinduja group plans to invest Rs 12 billion ($260 million) in building resort and commercial properties in Dubai and signed a pact for a joint venture with Dubai World for developing medicare business in both countries.




A woman leaves the offices of real estate developer DLF in New Delhi. DLF has signed a $20-billion deal with Al Nakheel of the United Arab Emirates to build two townships in India. — AFP
Realty mutual funds get finishing touch
Market regulator SEBI said it would allow registration of hedge funds but only selectively. "We will look at the merits of each case (before taking a decision)," SEBI Chairman M Damodaran told reporters in Mumbai. "There are a whole lot of people involved in hedge funds. It is difficult even to describe what is meant by a hedge fund," he said. According to him, many hedge funds were already present in the Indian market through the offshore derivatives market.
Greater Faridabad under focus
Group housing projects for the middle class are the need of the hour,says Bijendra Ahlawat
With fast development in the basic infrastructure among factors fuelling real estate boom in this industrial hub of Haryana, Faridabad seems to hold quite a promise in the group housing sector, considered the best alternative to solve the burgeoning needs of the people. Though the state government has already announced two separate multi-storied housing facility to provide affordable houses for the urban poor, it is yet to come out with fresh schemes to cater to the needs of a large number of middle-class families wishing to have a roof over their heads.
Proposal to auction land in Baddi
Opportunity aimed at investors may be misused by dealers, writes Ambika Sharma
With a view to earn a quick buck the state government is now proposing to auction land lying in the bordering industrial areas to the investors. A proposal in this regard has been finalised and it awaits a final nod from the government. Sources told The Tribune that this proposal was mooted about two months back and is likely to be cleared soon. This would make land available to the investors in Baddi-Barotiwala, Nalagarh, Kala Amb and Poanta Sahib, which constitute about 70 per cent of the state's industry.
Cask and cottage
Fraser & Neave plans entry into realty sector
Singapore beverages and property group Fraser & Neave (F&N), brewer of Tiger beer, is in talks to enter the Indian real estate sector, a company official told Reuters. F&N, which already owns a brewery in India through its Asia-Pacific Breweries unit, said it was focusing on residential and serviced apartments in Indian cities like Mumbai, New Delhi, Bangalore, Hyderabad and Chennai, but had yet to conclude a transaction.
Terminating termites
Termites are a worldwide problem and causes extensive damage to wooden work and furniture. It is estimated that the loss caused by termites in our country runs into several millions every year. Once termites enter a building, then control becomes rather difficult. Under the circumstances, the control in existing as well as new buildings is very important.
HOME DECOR
Interior psychology
Devendra Malik writes on how a design reflects the client's personality
| | |
| --- | --- |
| Interior of a space is a statement of style by the architect or, for that matter an interior designer, for the user. When a person enters a space, one starts forming an image of the personality of the owner. The way the components of the interior (furniture, flooring, upholstery, walls) are laid, their form (square, circular, elliptical, curvilinear, straight linear), colour composition (harmonious, contrasting or a mix of both) present a style statement, which depicts the psychology of the user. | |
TAX tips
Swapping loss on bourses with gain in property
Q. I sold my house on which I have earned a long-term capital gain of Rs 10 lakh. I am a private company employee and invest in shares. In the process, I have acquired a large number of blue chip shares. I sold some of my bad investments and have incurred a short-term capital loss of Rs 20 lakh for the year. Is it possible to adjust such short-term capital loss against the long-term capital gains earned on the sale of my house?
GREEN HOUSE
Parking perfection
Satish Narula discusses tree varieties suitable for vehicle stands
A lot has been said about the horticultural planning, specific to various housing needs. Parking, however, remains an area of neglect. This needs a careful and professional handling and there are reasons for it. There are many considerations while planning a parking space.
Tesco scouts for partner in India
Tesco is reviewing its real estate portfolio while raising £5 billion ($9.8 billion) from its property assets, but the world's fifth largest retailer will always own most of its space, its chief executive said.


The Nahan maze
Violators have a field day due to lack of clear-cut policies, says Vidya Rattan Sharma
Nahan, a picturesque settlement that has earned the sobriquet of being a heritage town, is losing architectural grandeur due to the congested and unregulated construction coming up on 730 hectares stretch of the town.



A labyrinth of multi-storeyed buildings that violate building byelaws. — Photo by writer
Mortgage business to remain healthy
Increase in lending rates, both by private and public banks, over the last six months has affected genuine buyers, investors, bankers and developers. The rates, which have increased by nearly 2 per cent in the last six months, are now having a telling impact on the financial condition of the employed class.




Vipin Sharma, the owner of propertyvertical.com, is soon to come out with a study report on the impact of hiked EMI on real estate
Buzz on Bourses
Hirco to park £47.9 m
London: Hirco Plc, a real estate investment firm floated by Mumbai-based Hiranandani Group, has announced an investment of £47.9 million (about Rs 400 crore) to develop a township in Chennai. Following this investment, 35 per cent of the net funds raised at the time of company's IPO would have been deployed, Hirco said in a filing on London Stock Exchange. Hirco, a close-ended investment firm set up in Isle of Man, had raised £382.6 million (about Rs 3,200 crore) in December last year from its listing on the Alternative Investment Market (AIM) of LSE.