COLUMNS



THIS ABOVE ALL

SIGHT AND SOUND

GOOD MOTORING

AUDIO SCAN

MUSIC ZONE

WEBSIDE HUMOUR

FOR CHILDREN



CROSSWORD

RHYME TIME

ROOTS

AEROBATICS
Flying colours of courage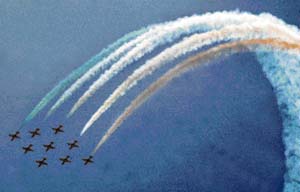 Even the winds stop to stare at their daring acts. They perform stunning gravity-defying feats at a speed that is hard to fathom. Behind the dazzling aerobatics by these IAF fighter pilots, says Vijay Mohan, lies rigorous training, diligence and spectacular teamwork
Six Kiran trainer jets of the IAFís Suryakiran aerobatics team streak barely 50 metres above the ground in an arrowhead formation.

Suryakirans paint the Tricolour
in the sky ó Photos by Vinay Malik

Solace Seeker comes calling
Music is his passion and the medium in which he voices his sublime thoughts. Komal Vijay Singh chats up rapper Jatin Puri
Once upon a time, there was the Solace Seeker. He was a rapper by the name of Jatin Puri, better known as JP. Thatís how a tale begins conventionally. But thereís this lad, all of 20 years old, who could be mighty miffed, if his story began along those lines.
Jog your memory
Exercising every day will not only help you get rid of all those extra pounds, but as it turns out, will also give your memory a boost. Researchers at Columbia University have found that exercise targets a region of the brain within the hippocampus, known as the dentate gyrus, which underlies normal age-related memory decline that begins around age 30 for most adults.
Shakira fixation
Colombian pop star Shakira Isabel Mebarak Ripoll, known simply as Shakira, left thousands of fans in Mumbai spellbound by her amazing intensity and boundless energy as she performed her maiden concert in India recently.