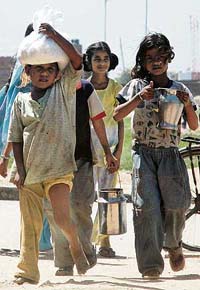 sweet burden: As schools re-open after break, students take home mid-day meals in Chandigarh on Tuesday. — Tribune photo by Pradeep Tewari
198 push-ups to world record
New Delhi, April 3
Believe it or not, but the dialogue 'Tera Kya Hoga Kaalia' which immortalised Gabbar Singh and Sholay which created cinematic historym, can actually help enhance your memory.
Exam Toll
Former MLA's son commits suicide
Chandigarh, April 3
Unable to face failure in examinations, 20-year-old son of a former MLA from Pathankot allegedly hanged himself to death at his rented accommodation in Sector 15 here this evening.
Abhimanyu arrested; out on bail
Dehra Dun, April 3
The police today arrested Abhimanyu Walia, one of the Doon School students involved in the death of a motorcyclist in an accident about a week back. He was later bailed out.
Father tries to molest daughter
Panchkula, April 3
Forty-year-old Shyam today allegedly attempted to rape his four-year- old daughter while his wife, Sheela, and three other children were out for work. In her complaint to the police, Sheela said he had attempted to molest her two teenaged daughters as well.



Garbage dump has workers fuming
Mohali, April 3
An industrial unit owner here has demanded that the garbage dump in the area be shifted to other place as it was creating a major health hazard for inhabitants and workers of Sector VIII.

Fire brigade personnel try to put out the fire at a garbage dump in Phase VIII, Industrial Area, Mohali, on Tuesday. — A Tribune photograph



Delegation meets Governor on paid parking
Chandigarh, April 3
A joint delegation of BJP-SAD yesterday called upon Governor of Punjab and Administrator UT Chandigarh General S.F. Rodrigues at the Punjab Raj Bhawan. The delegation consisted of BJP president (Chandigarh) Pramod Mahajan, Gurpratap Singh Riar, Gurcharan Das Kala, leader in the house of MCC, among other BJP councillors.


Selling headgear not a norm here
City two-wheeler dealers flouting Act
Chandigarh, April 3
Dealers of two-wheeler in the city are flouting the provisions of the Motor Vehicle Act by not providing helmets to customers on purchase of two-wheelers. The Rule 138 (F) of the Motor Vehicle Act states that "with effect from April 2006, manufacturers of two-wheeler shall provide to all its customers a protective headgear conforming to specifications prescribed by Bureau of Indian Standards (BIS), under the BIS Act, 1986."
Income Tax
Rural areas see higher returns
Chandigarh, April 3
Rural and semi-urban areas have taken a lead in the filing of returns in the Chandigarh region, where 2.57 lakh assessees filed their return before the March 31 deadline. In fact, the range V and VI, which comprise a substantial part of the rural and semi-urban population, have accounted for an increase of over 10,000 returns of the total increase of 13,524 returns over the last year.


Family alleges negligence
Emeritus professor dies of cardiac arrest
Mohali, April 3
Emeritus professor of Panjab University A.K. Prasad died at a private hospital here today amid allegations by his family of negligence in medical treatment. Dr Prasad (70) underwent bypass surgery at Grecian Super-Speciality Hospital on March 12. He died of cardiac arrest. A.K. Prasad

Life an unending struggle for him
Chandigarh, April 3
For Mehraj Deen, a 33-year-old resident of Anantnag in Jammu and Kashmir, life has been an unending struggle. Suffering from multiple diseases and undergoing treatment at the PGI, debt-ridden Mehraj and his mother are hoping against hope and facing acute financial crunch for their treatment. In fact, trauma of the mother, Sunder, is compounded by the fact at the age of over 60 years she is forced to look after his only ailing son.


Mehraj Deen and his mother in Chandigarh on Tuesday.
— Tribune photo by Manoj Mahajan




A sign of authenticity
Chandigarh, April 3
In the competitive liquor trade, a veteran player has successfully brought out a new practise of certifying the quality of every bottle sold at his counter. "I started the practise last year.



Liquor contractor Sat Pal puts his signature on a liquor bottle at his vend in Attawa village.
— A Tribune photograph



Experts dwell on 'Knowledge City'
Chandigarh, April 3
Change is imperative and the process of evolution demands it. Change can be more effective if mankind is empowered with knowledge. This was stated by Gen (retd.) S.F. Rodrigues, Governor of Punjab and administrator, Chandigarh, while delivering the inaugural address at a session on "Towards being a Knowledge City" organised at CII, here, today.
1,860 BSNL connections disconnected
Chandigarh, April 3
The mobile connections of 1,860 subscribers of BSNL in Chandigarh region (comprising of the city, Panchkula and Mohali) have been disconnected. D.R. Paul, the principal general manager, telecom, Chandigarh, informed TNS that the step was initiated after the subscribers had failed to provide their proof of residence.
Lineman devises quake warning system
Chandigarh, April 3
As there were reports of mild tremors in several parts of Punjab, including Chandigarh, an assistant lineman with the UT electricity department, Jagdish, today claimed that a system devised by him had detected the seismic activity.
Dr A.K. Prasad passes away
Chandigarh, April 3
Anand Kishore Prasad (70), former head of geology department, Panjab University, died of lung failure at a city hospital today. Awarded the honour of emeritus professor at the PU convocation held last month, Dr Prasad had guided 32 research scholars in his lifetime.
400 trees face axe
Mohali, April 3
Around 400 trees will be axed to widen a road linking Mohali and Chandigarh. The Greater Mohali Area Development Authority has planned to widen all link roads connecting Mohali to Chandigarh due to excess traffic, beginning with the road dividing Sectors 53 and 54.