Interacting with cells
Around the globe biochemistry holds great importance, says Sunit Dhawan
WHEN Dr Sunita Jain, a senior faculty member at the Department of Biochemistry, Haryana Agricultural University, Hisar, had gone abroad for some specialised training, she was required to understand a complex biotechnological matter. While discussing the matter with her, her trainer came to know that she was from biochemistry background.

Careercature
Sandeep Joshi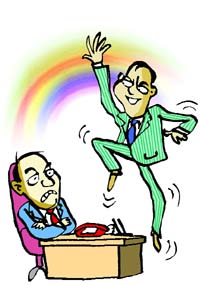 Sir, I have heard that anybody who dances to your tune gets promotion

School of Punjabi Studies
A bridge between the two Punjabs
Varinder Walia
Punjabi is still a favourite subject for students of Guru Nanak Dev University who appear in various competitive examinations, including IAS and PCS. This can be gauged from the fact that students of the School of Punjabi Studies have excelled in various fields, including civil services, teaching in India and abroad, electronic and print media.

Boost up your energies
Kireet Taneja
Everyone has ambitions. One can go to any extent to achieve these using one's knowledge and intellect. But sometimes you have to give these a boost and for that there are certain things that you must take care of.

Making inroads into US through ayurveda
Till now many Americans could have benefited from ayurveda, but now they can learn for themselves the ancient Indian science of medicine in their homeland. Ayurveda experts from Mumbai and Pune will conduct a six-week course in traditional Indian system of medicine at various medical schools, including at the prestigious Harvard and Rutgers University, in the USA from May.

Bits & bytes
Intel to develop 10 institutes into centres of excellence
IN an effort to bridge the gap between academic education and changing industry demands, Intel India has announced the selection of 10 tier-two institutes to be cultivated as centres of excellence to prepare university professors and students for a new paradigm of software development.

Career Hotline
Go in for reputed institute
Pervin Malhotra
Q Could you please tell me something about optometry and the nature of work in this field? What is the difference between ophthalmology and optometry?

Have the ability to write well

Waiting to be tapped

IIM-A offers mid-career options

Prospects in visual communication

HOME PAGE