M A I N N E W S
Duty-free access for LDCs: India
Rajeev Sharma
Tribune News Service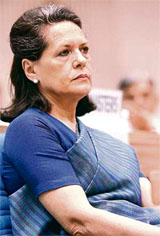 UPA chairperson Sonia Gandhi attends the opening session of the Saarc summit in New Delhi on Tuesday. — AFP
New Delhi, April 3
It was a unique 14th Saarc summit in many ways that Prime Minister Manmohan Singh inaugurated today.
Pakistan did not mention the K-word. In a subtle quid pro quo, India, which assumed chairmanship of Saarc, took care not to step on the toes of Islamabad by raising "cross-border terrorism" As a subtle difference, Manmohan Singh urged Saarc members "to root out terrorism" so as to create an atmosphere in which efforts to usher in prosperity and cooperation in South Asia could succeed.
Pakistan did not use the word "terrorism" in its inaugural presentation - a menace that afflicts all Saarc nations today except Bhutan and the Maldives. All other affected parties - Sri Lanka, Nepal, Bangladesh and the new member Afghanistan - raised the issue of terrorism.
Bonhomie and camaraderie were in the air as the 14th Saarc summit got off to a smooth, development-oriented and result-specific start. All the heads of state and government stressed the need for not carrying the baggage of their bilateral disputes to the eight-nation regional grouping.
Prime Minister Manmohan Singh recognised this fact when he made a specific reference to it. "South Asia is in the midst of an unprecedented political and economic transformation… I see signs of hope that our governments are now addressing the bilateral political issues that have prevented us from achieving our potential."
Manmohan Singh announced unilateral measures aimed at winning the hearts and minds of the peoples of Saarc that expanded itself for the first time in its 22 years of existence by including Afghanistan in its fold. Also for the first time, five major economic powers of the world - China, Japan, South Korea, the European Union and the US - attended the summit as observers.
Iran's application for an observer status was approved unanimously by Saarc leaders, demonstrating that the Saarc community stood firm and united in rejecting pressures of the western world to make Iran a pariah state.
For the first time, Saarc has got such recognition from the international community and attendance of the five observers showed that the regional body is acquiring a global character.
The 14th Saarc summit also took a first step towards improving food security as the members declared their intention to set up a regional food bank to meet shortages and losses caused by natural calamities such as floods and droughts.
Prime Minister Manmohan Singh seized the moment and made a string of unilateral announcements for facilitating greater interaction among peoples and increase trade volumes.
To make intra-Saarc travel freer and easier, Manmohan Singh announced a unilateral liberalisation of visas for students, teachers, professors, journalists and patients from Saarc countries. Besides, he announced duty-free access to India "before the end of this year" to least developed countries (LDCs) of Saarc (read Nepal and Bhutan) and further reduce the sensitive list in respect of these countries.
The Prime Minister also proposed that all eight Saarc capitals should be linked through direct flights and aimed to double the intra-Saarc flow of tourists in the next five years. In the same breath, he cautioned that the dream of full regional connectivity will not be realised merely by building roads and railways.
In this context, he talked of his brainchild - establishment of a South Asia university - as a world-class institution of learning that will be an important symbol of the connectivity of ideas. He noted that the time had come to move Saarc from a declaratory phase to action and implementation.
Manmohan Singh articulated his vision for enhancing trade in the Saarc region, which is home to 1.4 billion people or one-fifth of humanity. He spoke of an ongoing process of building an open and integrated market from the Himalayas to the Pacific, covering a vast and dynamic economic region. SAFTA could have a major role to play in this new emerging architecture. "India is ready to accept asymmetrical responsibilities, opening her markets to her South Asian neighbours without insisting on reciprocity," the Prime Minister declared.
His advice to the fellow summiteers was that the Saarc region should begin to address global issues and to consider how it could do so together. He mentioned energy security, food security and climate change as issues that impact on development strategies and needed special attention.