FESTIVE FEAT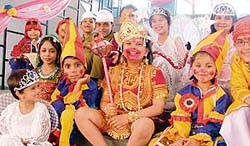 Nursery students of BCM School, Chandigarh Road, in a festive mood to mark the new session of the year. — Photo by Inderjeet Verma
Lecture shortage: varsity detains 100 students
Ludhiana April 5
Acting tough with "careless" college-going students, Panjab University has detained nearly 100 students of various city colleges this time. A majority of them are under-graduates. According to university sources, stern action against irregular students was needed to teach them a lesson.
Youth stoned to death
Raikot, April 5
The local police has booked at least six persons for allegedly killing a youth of Bassian village near here by stoning him in front of his house on Tuesday night and threatening his parents, who had tried to rescue him from their clutches. The wretched parents saved their lives by remaining inside their house for the whole night and sought police action in the morning only.
Badal's U-turn on waters Act shocking: Mann
Ludhiana, April 5
The SAD (A) has flayed Chief Minister Parkash Singh Badal for the latter's volte face on the River Waters Termination


Dharna against police inaction
Ludhiana, April 5
Activists of the Punjab Nirman Mazdoor Union today staged a dharna against police inaction in a assault-cum-robbery case.



Activists of the Punjab Nirman Mazdoor Union stage a dharna outside the SSPs office in Ludhiana on Thursday. — Tribune photo by Inderjeet Verma
City centre scam: another accused seeks bail
Ludhiana, April 5
In the infamous Ludhiana City Centre Scam, one more accused, Rajesh Singh, of Chandigarh today moved the sessions court, Ludhiana, seeking anticipatory bail.


Pet Talk


It's bath time for your dog
Ludhiana, April 5
For all pet owners who have been waiting for their pets' bath, finally the winter has ended. Questions like the age at which the pet must be bathed, how often should it be bathed and with what product have always dogged pet owners.A dog can be bathed as young as six weeks, but eight weeks is preferable. The most important thing is to remember that young puppies should be kept dry and warm as much as possible, so only bathe them when necessary.