Funds misused in UP: Sonia
Kanpur, April 5
Congress president Sonia Gandhi today asked the people of UP to seek details from the state government about the misuse of funds sanctioned by the Centre for development works. She said the state was facing severe crunch due to the misuse of Central funds. — PTI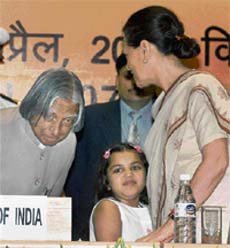 UPA Chairperson Sonia Gandhi and President APJ Abdul Kalam at the Babu Jagjivan Ram Centenary Lecture in New Delhi on Thursday. — PTI
CMs to discuss fast track justice with CJs
New Delhi, April 5
Prime Minister Manmohan Singh will inaugurate a joint conference of chief ministers and HC chief justices here on April 8. The conference is being organised to discuss the administration of fast track justice.
Air India-Indian Merger
MP opposes Thulasidas' appointment
New Delhi, April 5
Rajya Sabha Member of Parliament Sanjay Raut has written to Prime Minister Manmohan Singh opposing the move to appoint Air India chairman and managing director V. Thulasidas as the joint chairman of the new entity airline following the merger of the national flag carrier and the public sector Indian (airlines).
Most women in rural Bihar illiterate: Survey
New Delhi, April 5
Fifty per cent of rural households in India have no literate women members in the age group of 15 and above. The highest number of illiterate women in rural areas is 38 per cent in Bihar.
Bachchan does ad for money: Shatrughan
Kanpur, April 5
Launching a broadside against Amitabh Bachchan for appearing in a controversial advertisement promoting Uttar Pradesh's ruling Samajwadi Party, BJP leader and actor Shatrughan Sinha, alleged that the megastar had featured in the commercial only because of his "love for money".
SC admits plea against Shariat courts
New Delhi, April 5
After receiving replies from the Centre, some states and the All-India Muslim Personal Law Board on the issue of functioning of parallel Shariat courts in the country, the Supreme Court today admitted a petition seeking to stop and declare them illegal.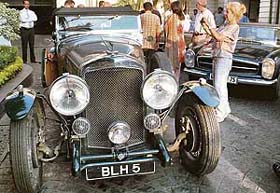 A tourist takes a snap of a 1935 Bentley Derby Special car at the final destination of the second Himalaya Classic Car Rally 2007 in Kolkata on Thursday. — PTI
Reliance Infocom to pay Rs 1 cr for breaking law
New Delhi, April 5
A fine of Rs 1 crore was imposed on Reliance Infocom owned by Anil Ambani by the Supreme Court today for violating environment laws in laying down the optical fibre cable in protected Madhav National Park in Madhya Pradesh.
Porous border will step up infiltration: AASU
Guwahati, April 5
The All Assam Students' Union, the spearhead of continuing tirade against illegal migration from Bangladesh, today raised alarm that the Government of India was running high risk by keeping the India-Bangladesh border in Assam unfenced.
Soldier, militant killed, war-like stores recovered
Srinagar, April 5
A soldier and a militant were killed and a civilian was injured while security forces recovered a warlike stores in Jammu and Kashmir overnight. An official spokesman said the Special Operation Group of Jammu and Kashmir police and Rashtriya Rifles launched joint search operation at Pnzpora, in Anantnag today following a tip off that some militants were there.
Army to receive 14 Arjun tanks
Belgaum, April 5
Chief of Army Staff General J.J. Singh today said the Army would soon receive 14 main battle tanks Arjun for training exercises. Talking to newspersons after inaugurating the reunion of Maratha Light Infantry here, he said "the minor problems in these tanks have been communicated to the Defence Research Development Organisation" and hoped that they would be rectified soon.
Lecturer demands kiss, held
Coimbatore, April 5
The police arrested a lecturer of the Tamil Nadu Agriculture University on charges of alleged misconduct with a girl student here. University Open and Distance Learning Chairman H Philip was arrested by the police today.
Epidemics theme for World Health Day
New Delhi, April 5
Dr Samlee Plianbangchang, World Health Organisation, regional director for South-East Asia, today said epidemic prone diseases, human emergencies, bio-terrorism, climate change and environmental degradation can turn into international public health emergencies.
Sea Harrier crashes off Goa coast
Panaji, April 5
Indian Navy's two-seater trainer aircraft 'Sea Harrier' today crashed off Goa coast, Defence officials said. The incident occurred at 8:50 am, when the aircraft was on its routine sortie, they said.



Videos
Wine market growing leaps and bounds.
(56k)
Asha Bhosle a singing sensation.
(56k)