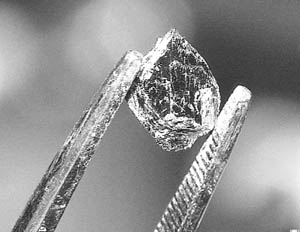 Plutonium (media always call it "deadly") was the first synthetic element which Glen Seaborg and his co-workers produced in 1941 at the Berkeley Radiation Laboratory, University of California. Scientists know very well the complex nuclear properties of plutonium. What puzzles them is the fact that it has properties of a metal or a chemical compound. Physicists at Rutgers, The State University of New Jersey recently unlocked some of the secrets of plutonium (Nature, March, 29).
Unlike many metals plutonium is not magnetic; it is not a good conductor of electricity. Further, it shows greater changes in volume when subjected to small changes in temperature and pressure.
The atomic structure of an element, especially the number of valence electrons, decides its properties. Earlier theories specified that the outer orbits in an atom of any element have fixed number of valence electrons.
Rutger's group abandoned this idea and argued that the valence electrons — those which control how atoms bond with each other — fluctuate among different orbitals in solid plutonium metal on a very short time scale.
This explains the properties that scientists observe during experiments in the laboratory.
These findings and study methods may some day help scientists create safer and more versatile nuclear materials for energy industry and medicine (EurekAlert, 2007)
Why are scientists so enthusiastic about studying plutonium? We may use plutonium to make nuclear weapons or to make fuel for nuclear power plants. People are afraid of plutonium because of its association with weapons. Whenever media refers to plutonium, it invariably uses the adjective "deadly". Besides the media, public and even some scientists continue to believe incorrectly that plutonium is the most deadly element known. They wrongly believe that a single speck of plutonium inhaled can kill a person.
In 1993, The US Health Physics Society whose mission is to promote radiation safety published a position paper titled "What about 'deadly plutonium'?" "The radiological hazards of plutonium are of the same types and magnitudes as those of such naturally occurring radioactive elements as radium and thorium,…the potential for public exposure to plutonium is negligible compared with thorium, which is found everywhere in soil and rock; it is three times as abundant as uranium and about as abundant as lead in the earth's crust," the position paper assured the reader.
Plutonium is chemically toxic. Substances such as arsenic, cyanide, caffeine have equal or greater toxicity (Uranium Information Centre, September 2006). The risks from plutonium are well known.
Once, Ralph Nader, the legendary US consumer activist claimed that plutonium is "the most toxic substance known to mankind". Prof Bernard Cohen, University of Pittsburgh, offered to eat as much plutonium as Mr Nader would eat of caffeine, to demonstrate the folly of his severe toxicity claims! Nader did not accept the challenge!
Plutonium may enter human body through ingestion, inhalation or contamination of wounds. Gastro-intestinal tract poorly absorbs ingested plutonium. Though workers have handled tons of plutonium, cases of contamination through wounds occurred only very rarely. There has not been even a single death attributed to plutonium exposure.
When I joined the Atomic Energy Establishment Training School, Trombay, in 1963, one of the jokes going round was that if anyone utters the word "plutonium" he must wash his mouth well with water at least three times, apparently to avoid the poisoning effect of plutonium!
Plutonium is a beneficial element. Over a third of the energy produced in most nuclear power plants comes from plutonium. Plutonium produced in reactors and from dismantled nuclear weapons is a valuable energy source.
India set up its first plutonium plant on January 22, 1965. Plutonium will play an important role in India's three-stage nuclear power programme.
India is one among the handful of countries that has mastered all aspects of plutonium technology. We must not allow unfounded fear of technology to come in the way of progress.