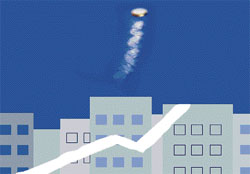 Confused Land Users
Shouldn't responsibility be fixed, asks Maneesh Chhibber
The decision of the SAD-BJP government in Punjab to withdraw the change of land use (CLU) approvals granted to mega housing projects preceded by cancellation of no-objection certificates granted to many housing projects that are in the vicinity of industrial units is sure to deliver a body blow to the ambitions of the promoters of these projects.
Iffy buyers
Recent home loan rate hike has upset the budget of those who availed it, says Ruchika M. Khanna
Your dream house may not become a reality soon, courtesy the frequent hike in home loan rates. With the Reserve Bank of India (RBI) having increased the cash reserve ratio and inter bank short-term lending rates (repo rate), it is not just the loanee, but also the booming realty industry that is sure to feel the heat.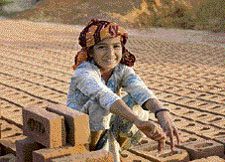 India on Wienerberger's cross hairs
Wienerberger AG, the world's biggest brickmaker, plans to open its first factory in India next year as the country's economic expansion and population growth boosts construction of new homes. The Vienna-based company aims to open as many as 10 Indian sites close to major cities or towns within five years, Chief Executive Officer Wolfgang Reithofer said in an interview in London recently.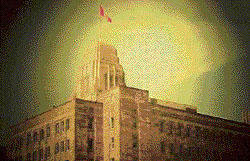 Lofty hospitality
Starwood coming with Westin, Aloft to India
Starwood group, which operates leading hotels like Le Meridien, Sheraton and Westin, plans to rollout a chain of 15 Aloft Hotels in India within next three to five years.
UK firm to park £250 m
A UK-based property investor plans to invest £250 million in India's booming real estate sector in the next five years.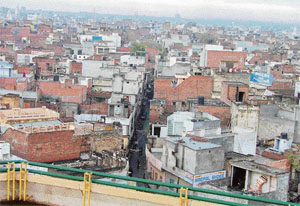 Out of common man's reach
Jupinderjit Singh reports on how prices have shattered the dream of owing a house in Ludhiana
The great middle-class dream of owning a house in a posh colony, replete with modern facilities, has gone for a six in this industrial hub of the state. More so with the recent hike in the housing loan rates. Beginning from the '70s, the government had carved and designed many colonies, especially with the middle-class segment of the society in mind.
Housing unaffordable, says Ficci
Strict monetary measures initiated by the RBI since April 2006, coupled with a sharp increase in real estate price, has shattered the dream of middle class to own a house. Policymakers should make available loan at an appropriate rate, says Ficci.

Estate talk
Make farmers partners in growth
R. Suryamurthy talks to managing director of Raheja Developers
Special Economic Zones (SEZs) has now become special exclusion zone, which have deprived farmers of their land resulting in widespread anger and protest.

Navin M. Raheja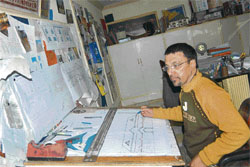 Designing the Valley
Ehsan Fazili meets an architect who has won awards for inimitable work
With the passage of time and involvement of modern technology and expertise, the concept of construction, including houses, places of public utility and commercial complexes, has witnessed a sea change in Kashmir.

Tariq has rendered services in prestigious projects of J&K

India Inc welcomes SEZ move
Leaders of the Indian industry welcomed the government's move to lift a freeze on approving new special economic zones (SEZ) and clear 83 pending proposals.
Jumping the red line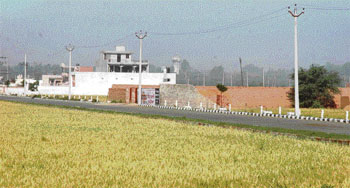 Special cell needed to monitor residential development in rural areas, suggests Lalit Mohan
The unplanned development in the rural areas is putting pressure on the public resources. The farmhouse trend in the rural areas is gathering popularity. More and more people prefer to construct houses in fields (popularly known as deras) rather than the red line area (lal dora area, earmaked for houses) of villages.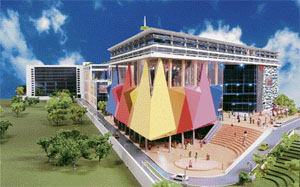 Hiring the best
Mall makers want to be a cut above the rest, says S. Satyanarayanan
Mall culture is sweeping the country and many major real estate players have hopped on to the bandwagon. With too many players, developers are focusing hard on creating concepts to carve a niche for their projects and attract the best retailers to do business with them. Besides, they are engaging top architects and planners, not only to imbibe international experience, but also to ensure that a world-class property is created.
Malls race against time
The Indian retail space is set for an interesting showdown - retailers are seeking fast completion of shopping mall projects to meet their expansion targets, but are also wary of intense competition this mall-mania could lead to.


Load factor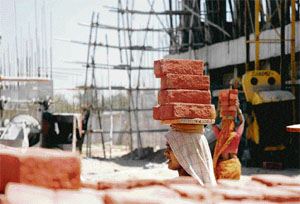 A woman carries bricks over her head at a construction site near Chandigarh. The surveys of the Labour Bureau in Punjab and Haryana found that women constitute more than 44 per cent of the total workforce in the kilns and the work is spread over 11 to 12 hours a day. Most of them are migrant labourers from outside the states. The Indian brick industry, with more than 1 lakh production units producing about 100 billion bricks annually, is the second largest brick producer in the world after China. The industry has an annual turnover of more than Rs 10,000 crore. — Photo by Pradeep Tewari
GROUND REALTY
Plot shopping
Jagvir Goyal guides on what to look for while buying a piece of land for residential purpose
Buying a residential plot is often once-a-lifetime investment. A simple house on a good plot is better than a palatial house on a poor plot.
TAX tips
Explaining indexed cost of acquisition
Q. What is meant by the indexed cost of acquisition for a long-term capital asset? For computing such indexed cost, please let me know the method of computing such indexed cost.
Buzz on Bourses
Trent-Xander agreement
Mumbai: Indian retailer Trent Ltd has said it has entered an agreement with private equity firm The Xander Group Inc. for an institutional retail real estate fund in partnership with Indian developers. Trent, a Tata group company, would have anchor tenancy rights and manage the portfolio with Xander, it said in a statement.