Punjabi Antenna
Rich talent, poor facilities
Randeep Wadehra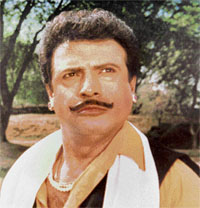 Shivendra Mahal
Those of us who used to wonder at near-similar looks of Lord Shiva and Parshuram in the mega TV serial Mahabharat didn't know then that both were portrayed by the same person – Punjabi film star, anchor and director Shivendra Mahal. Although this multi-faceted showbiz personality has impressed with such performances in Hindi serials as Jarasandh (Krishna), King of Cannanore (Tipu Sultan), Capt. Vinod (Param Vir Chakra) etc, he has left greater impact in Punjabi serials like Apni Mitti, Rano, Do Akal Garh, Chandigarh Campus, Tootan Wala Khoo, Pooran Bhagat etc. Apart from his latest Vidroh, he has starred in 27 Punjabi flicks, including the 1997 National Award winning Main Ma Punjab Di, as well as the popular Putt Sardaran De, Baghi Surme, Lalkara Jatti Da, Deson Pardes (shot in the USA), and Door Nahin Nankana (first Punjabi flick shot in Pakistan). He also directed the Punjabi movie Pachchtawa in 1996. His forays into Hindi moviedom got him meaty roles in 14 productions.
The annual ETC music awards function was held in Jalandhar's PAP grounds on March 24 after a couple of months' delay due to the state Assembly elections. Anchored by Parmeet 'Don' Sethi and Mona 'Jassi' Singh, it had the expected razzmatazz peppered with energetic song 'n' dance shows, and minor glitches like some of the prize winners failing to turn up for receiving their awards or reaching the stage after several calls. Obviously, there's a need for liaison and coordination among sponsors, organisers and award winners.
ETC Punjabi is certainly doing a commendable job by recognising performers in such varied fields of music as shabad, Sufi, folk and pop, along with comedy videos. Directors, artistes and lyricists get a chance to bask in the limelight. However, the region sorely needs certain institutions for promoting talent in an organised manner rather than depend upon individual efforts. Well staffed academies with proper and adequate infrastructure for training singers, dancers, actors, cameramen, editors, choreographers, make-up artistes, script-writers and directors etc ought to be set up and institutionalised in a big way. Many an aspiring talent in the region has come to grief simply because there're no locally available and affordable means for upgrading one's skills.