COLUMNS



THIS ABOVE ALL

SIGHT AND SOUND

GOOD MOTORING

AUDIO SCAN

MUSIC ZONE

WEBSIDE HUMOUR

FOR CHILDREN



CROSSWORD

RHYME TIME

ROOTS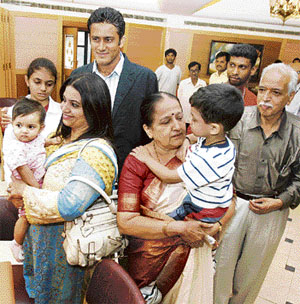 Jumbo spinner
Anil Kumble has bid adieu to one-day cricket. Abhijit Chatterjee says the cricketing world will miss the master spinner who set new bowling trends and records in one-day cricket
Determined, focused, spirited, gritty and, above all, a total team man. Even these adjectives are just not enough to describe the cricketing talent of Bangalore's Anil Kumble, who finally called it a day in one-day cricket after India's forgettable campaign in World Cup 2007. A leg spinner who rewrote a new script for bowling in one-day cricket, Kumble ended his campaign in the shorter version of the game with 337 wickets in 271 matches, a no mean achievement.
Kumble, the country's most successful bowler, is a family man to the core.
Robots with feelings
Researchers in the UK claim to have developed emotive robots that bond like human children. The 1.68 million pound Feelix Growing Project, a global partnership of robotic experts, psychologists and neuroscientists, aims to produce machines that can engage emotionally with humans.
Quest for happiness
A new research may throw some light on man's elusive quest for happiness. Michigan State University psychologists have found that major changes in life circumstances like marriage, divorce, or debilitating illness, can indeed have long-term impact on happiness levels, contrary to the earlier theory that 'happiness' is a constant and impervious to long-term change.