Jumbo spinner
Anil Kumble has bid adieu to one-day cricket. Abhijit Chatterjee says the cricketing world will miss the master spinner who set new bowling trends and records in one-day cricket

Determined, focused, spirited, gritty and, above all, a total team man. Even these adjectives are just not enough to describe the cricketing talent of Bangalore's Anil Kumble, who finally called it a day in one-day cricket after India's forgettable campaign in World Cup 2007.
A leg spinner who rewrote a new script for bowling in one-day cricket, Kumble ended his campaign in the shorter version of the game with 337 wickets in 271 matches, a no mean achievement. It has indeed been a long journey for Kumble which commenced with a match against Sri Lanka at Sharjah in the Australasia Cup in April 1990.
Not cast in the classical leg-spinner's mould, Kumble relied more on accuracy and variation than on leg breaks. He was a superb master of mixing his deliveries with googlies and flippers. But more than his ability, he will be remembered on the cricket field for his attitude and commitment towards the team, a fact highlighted by the fact that as India saw their World Cup campaign coming to an end, Kumble hid behind dark glasses. And when one speaks of commitment, one remembers the way Kumble came out of the dressing room with a bandage round his fractured jaw to bowl in a Test match at Antigua against the West Indies in May 2002. He sent down 14 overs, conceded 29 runs and captured the wicket of Brian Lara.
Selected in the World Cup squad on the basis of his wonderful showing during India's Test series in the West Indies last year (where he was the highest wicket taker for the visitors) after not being included for the one-day series, which India lost 1-4, Kumble probably decided to call it quits after the way he was handled during the three matches that India played. In the preliminary stages of the World Cup, he was not fielded either against Bangladesh or Sri Lanka, both matches which India lost, and was fielded only against lowly Bermuda. Why was he treated so shabbily by the tour selection committee after being picked up solely on the basis of his performance in the West Indies is a question somebody should answer.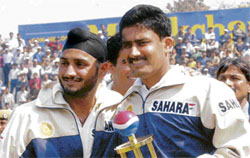 "Anil bhai is one of the greatest bowlers not just in Indian cricket but also in world cricket," says fellow spinner Harbhajan Singh
His last delivery in one-day cricket, which fetched him the wicket of Bermuda's Malachi Jones, was a classical Kumble delivery. The ball pitched in line, hurried on and crashed into the pads of the batsman. This is the type of delivery which Kumble fans will miss the most. He ended the match with figures of three for 38 at an economy rate of 4.14, fairly satisfying figures, one would be tempted to say.
The respect which Kumble commands can be gauged from the way fellow spinner Harbhajan Singh talks of him. In a recent interview just prior to the World Cup, the Punjab bowler went on record to say that "Anil bhai is one of the greatest bowlers not just in Indian cricket but also in world cricket. I am fortunate to be playing alongside him and it is my privilege." And this sentiment will probably be echoed by every member of the team that Kumble has played for over the years.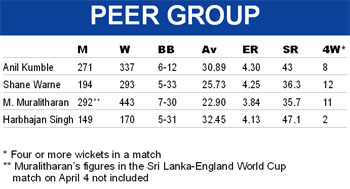 Born on October 17, 1970, Kumble, besides playing for Karnataka and India, has also played in the English County Cricket Championship for Surrey, Northamptonshire as also Leicestershire. Not only that. He is only the second bowler in cricketing history to have taken all 10 wickets in a Test match (at the Ferozeshah Kotla in Delhi against Pakistan in the tour of 1999) and is only the second player (after Australia's Shane Warne) to score 2000 runs and take over 500 wickets in Test cricket. But in all probability, Kumble should scale some more heights in Test cricket (maybe cross the 600 wicket mark) since he plans to play for the country in the longer version for some more time.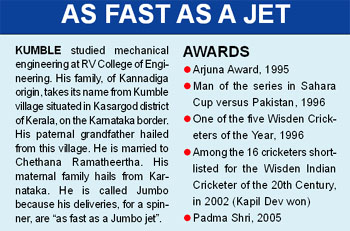 There is no denying the fact that even as he announced his retirement from one-day cricket, Kumble was not the first choice spinner for quite some time given his age. But the fact remains that during the peak of his career, it was practically impossible to tackle his lethal deliveries. So accurate was his bowling that he was pressed into attack even when the fielding restrictions were on. While the fast bowlers struggled, he was spot-on right from the first delivery and was ever willing to bowl even during the death overs, a task which most modern-day bowlers dread.
His best one-day bowling figures of six for 12, which came in the final of the Hero Cup against the West Indies at the Eden Gardens in November 1993, would be something which every cricket lover would savour for all times to come. And those who had the privilege of watching him in action in that match will always remember what a great bowler Kumble, or Jumbo to his teammates both young and old, he was. His six for 12 is not only the best bowling figures for any Indian but also signalled the start of a superlative performance with the ball by the lanky bowler. In the Hero Cup itself, he claimed 12 wickets at an average of less than 16, figures difficult to emulate in the best of times.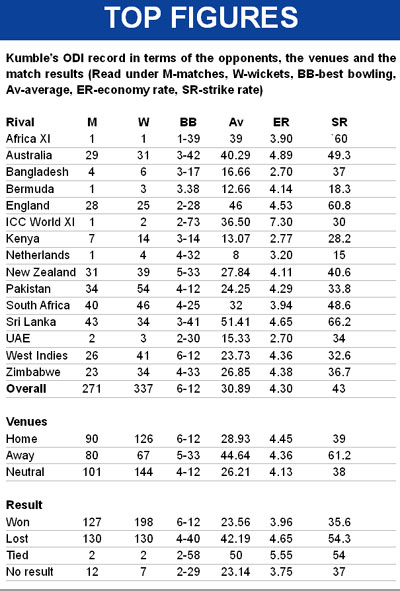 For the record books, he was the top wicket-taker in the 1996 World Cup held in the subcontinent, surpassing even Shane Warne of Australia and Muttiah Muralitharan of Sri Lanka, two bowlers whose careers have paralleled Kumble's. This was also the year when Kumble was selected as one of the five Cricketers of the Year by Wisden.
Since his Hero Cup campaign, Kumble went on to claim nearly 250 wickets at a very good average (this period also saw the 1996 World Cup) before an injury nearly brought the curtains down on his cricketing career. Playing against Sri Lanka at Sharjah, he suffered a shoulder injury. He was off the cricket field for nearly a year during which he underwent surgery and physiotherapy before returning to action against South Africa at Johannesburg during India's tour of 2001. But he never regained the form of old. His strike rate came down and his average, as also his wicket-taking ability, went down. He did try to come to terms with his bowling by sending down deliveries slower through the air and by tossing up the ball more and more but these did not fetch him the desired results in most games.
It was not surprising then to see the great leg spinner slowly not finding a regular place in the playing eleven but so great a sportsman was he that he never complained. A willing player, he would practice at the nets just as hard as anybody else even when he knew that the gameplan did not merit India with two spinners. Since his injury, Kumble missed 107 of the 170-odd matches that India played. In his last 60-odd matches, Kumble was able to claim just a wicket per match.
Kumble's home state of Karnataka has always been in the forefront as far as giving spinners for national duty is concerned. First there was Erapalli Prasanna, then Bhagwat Chandrasekhar and then it was Kumble. After him who shall take over the mantle, at least as far as one-day cricket is concerned?