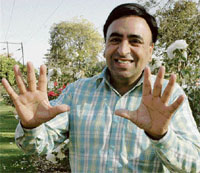 Thought-provoking cinema
Filmmaker Raj Paul Dhillon's Sweet Amerika has Gulshan Grover falling in love with a Muslim woman post-9/11. Gayatri Rajwade chats him up during a visit to the city
"An immigrant's story" is what writer, director and producer Raj Paul Dhillon set out to make. But his debut film Sweet Amerika, starring Gulshan Grover, is one "learning curve" this filmmaker hopes to share with everyone.

Short Circuit
Cut for comfort and style, shorts are soaring up the popularity charts in sync with the rising mercury. Just in case you still haven't seen teenyboppers giving a leg up to fashion in denim or even corduroy shorts laced with captivating grace, make a brief trip to uppercut café bars — the ones steaming with prevailing tastes.

Nine-year-old Zoravar Singh Thiara does the city proud at a national equestrian championship
It takes years for most of us to master over a certain skill. But there area few lucky ones who are born with it. One such born winner is Zoravar Singh Thiara.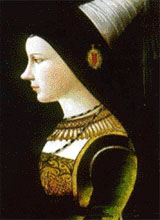 The lure of Diamonds
Branded diamonds now come with a safe investment tag
Diamonds are forever. You can dazzle the onlookers by wearing them around your chiseled fingers in rings or around your beauteous neck as pendants. And, what's more exchange or upgrade them when you get bored of the glittery rocks!
Mary Burgundy is the first known recipient of a diamond engagement ring in 1477!
Little Interview
She's got the attitude
The grace is unmistakable. As her deep poetic eyes flutter in sync with the sinuous movements of her agile hands, you realise lissome model-cum-actress Celina is more than just Vogue magazine's Indian cover girl. She is also a trained, and a qualified, kathak dancer. And, what's more, she has twirled her way to the top from streets with no names of Chandigarh.
Beauty studio
Fun in the sun
SPF 15 is the magic number in the war against the sun. It's your greatest ally. So keep it handy. Fun in the sun or playing in the rain, you need to shield your skin from the damaging UVA and UVB rays. City bakers are embracing the spirit of Easter with charming chocolate bunnies, eggs, hot cross buns and cakes, finds out Priya Gill
Blossoming buds, flower-scented air, pale blue skies, and angelic echoes of chirping birds singing their springtime songs; all symbolise the coming of Easter in city beautiful. The Christian holiday, commemorating the resurrection of Jesus, is now becoming a much-celebrated festival in the city. Easter has developed into a commercialised holiday in many parts of the world and Easter eggs, and chocolate bunnies are now icons of the day. Local Indians, who are always in a festive spirit have picked up on the holiday's mainstream traditions and visiting city's bakers to purchase special Easter treats for their family and friends.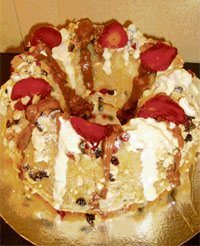 BON APPETIT
Hot-cross buns
Easter is perhaps the most important date on the Christian calendar but in our part of the country, we know as little about the crucifixion and resurrection of Jesus as we do about Palestinian politics. Easter eggs, Easter bunnies and rabbits never cease to delight the young ones who love to get their teeth into chocolate versions of all these!
First Day First Show
Sense and sensitivity
Producer-director Suneel Darshan's films are either excessively loud or too soft and sensitive. His latest venture Shakalaka Boom Boom falls in the second category. It is based on conflicts, trauma and the power-game involved in the functioning of music industry.



Provoked belongs to Ash
Filmmaker Jagmohan Mundhra has come a long way since his early days of directing skin flicks like Night Eyes, The Other Woman and LA Goddess. His latest Eros International presentation Provoked is the year's most anticipated releases. It is a true-life depiction of Kiranjit Ahluwalia, who overturned the British judiciary system.
Cool Stuff
Adding zing to the Limca 'Fresh Ho Jao' campaign is Riya Sen. The summer campaign 2007 brings with it a new burst of freshness. It involves a series of road shows and contests across all key markets. The curvy Limca Splash bottle will be used to carry forward the youthful look of the brand. The campaign has been designed to capture the whole thought of freshness in a bottle that transports you to a cool, rejuvenating, and magical world. The 'Lime n Lemoni' experience offered by the brand has been retained.
---