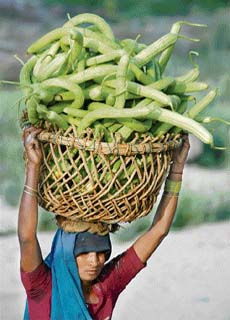 summer's bounty: A farm woman carries cucumbers to sell in Allahabad on Saturday. — Reuters
Yadav's remarks on turnout could be value judgement: EC
New Delhi, April 7
The Election Commission today brushed aside criticism by Uttar Pradesh Chief Minister Mulayam Singh Yadav that "excessive" security deployment has led to lesser voter turnout and attributed the peaceful polling in the first phase to enhanced security arrangements.
Lalji Tandon gets clean chit in sari case
Lucknow, April 7
The court today gave a clean chit to Leader of the Opposition in Uttar Pradesh Assembly Lalji Tandon in the sari stampede case of Lucknow, which had claimed lives of 21 women.
Maoists kill six in Jharkhand
Patna, April 7
In a daring act, nearly 500 armed Maoist guerrillas attacked a Central Industrial Security Force camp and a police station in Bokaro district of Jharkhand on Friday night, killing six persons, including two security personnel, and injuring five others.


Girl trapped in borewell dies
Bikaner, April 7
A one-and-a-half-year-old girl, who got trapped inside a 155-feet deep borewell at a village in the district two days ago, was found dead as armymen took out her body with the help of locals today.
PM to visit Assam today
Defers visit to Arunachal Pradesh
Guwahati, April 7
Prime Minister Dr Manmohan Singh is scheduled to arrive here tomorrow on a two-day visit to the state amid tight security. Dr Singh will lay the foundation stone of the 5th bridge over the mighty river Brahmputra on his arrival here on April 8.
Tibet is part of China, says Dalai Lama
New Delhi, April 7
The temporal head of Tibetans the Dalai Lama's dream is that Tibet should be a demilitarised zone of peace. Affirming that he is not seeking independence, he said he had made it clear that "past is past. How it is viewed is not a political decision.
CJs discuss steps to improve functioning of judiciary
New Delhi, April 7
A two-day conference of Chief Justices of High Courts that concluded here today discussed in detail steps required to be taken to reduce the burden of over three crore pending cases with them and the subordinate judiciary while assessing the progress made on implementation of decisions taken during the last year's joint meeting with Chief Ministers.
Prices of essential items rise further
Chandigarh, April 7
The prices of essential commodities, including wheat flour, have begun showing an upward trend, making the ruling Congress at the Centre pay a heavy political price. The defeat of the Congress in the Delhi Municipal Corporation elections has been linked to the failure of the Congress-led union government to check rising prices.
No VIP prisoner facilities for Shahabuddin
Patna, April 7
In what appeared to be a clear signal to the criminal-turned-politicians in the state that no one was above the law, the Nitish government has decided to stop giving special facilities to the jailed RJD MP Mohd Shahabuddin.
SPG should be interface between politicians, people: PM
New Delhi, April 7
Appreciating the Special Protection Group personnel for their professionalism in providing security to top political leaders, Prime Minister Manmohan Singh today urged the elite force to do their job creatively in order to act as an interface between political leaders and people.
My position is safe, says Apang
Itanagar, April 7
Breaking his silence over a demand by Congress dissidents that he be replaced by Power Minister Dorjee Khandu, Arunachal Pradesh Chief Minister Gegong Apang today said his position was "safe".
IIMs, IITs asked to put admissions on hold
New Delhi, April 7
With the implementation of the OBC quota stuck in legal wrangles following the Supreme Court stay, the HRD Ministry has asked all the IIMs, IITs and Centrally funded institutions to put on hold the admission process.
Student's labour lost
Chandigarh, April 7
A student of Chandigarh is keeping her fingers crossed about her impending examination. She does not know how to prepare for the examination in the absence of her books, particularly the notes she had prepared laboriously over the last one year.
CIC denies info on premature retirement of fighter pilots
New Delhi, April 7
The Central Information Commission has rejected an RTI appeal seeking information on premature retirement of fighter pilots in the Indian Air Force and said such disclosures were "sensitive" and could lead to unforeseen consequences.
SC officials told to appear before CIC
New Delhi, April 7
The Central Information Commission has directed the public information officer and Additional Registrar of the Supreme Court to appear before it on May 25.
Pune rave party:249 revellers test positive for drugs
Pune, April 7
As many as 249 out of 287 youths, most of them students, detained last month at a rave party here have tested positive for drugs.
Govindacharya hospitalised
New Delhi, April 7
Former BJP general secretary and Sangh Pracharak K N Govindacharya was today admitted to a private hospital with head injury.

Videos
Tea industry witnesses a boom in Assam.
(56k)
Mime Theatre from Assam.
(56k)