Poetic voice of the Valley
Rahman Rahi, the Kashmiri poet, who received the Jnanpith award for his collection Siyah Roode Jaren Manz (1997) and other works, talks about his life and poetry in an exclusive interview to Ehsan Fazili at his Vecharnag residence on the outskirts of Srinagar.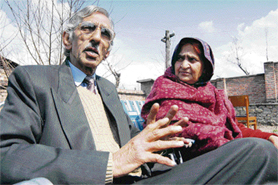 Rahman Rahi with his wife in Srinagar. — Photo by Amin War
Rahman Rahi gradually switched over to Kashmiri poetry and made it his medium of expression. As he says, "I felt it was the right medium of expression and the words helped me to express my ideas with greater ease". He felt Kashmiri lacked the ability to express and he describes it in one of his poems:
Bulbulan Doup Gulas Husn Chhoy Puur
Kyah Wanay Zev Chhay Ne Suy Chhuy Qasoor.
(Nightingale tells the flower that it was full of beauty
Alas! it lacked tongue (communication) that was his fault).
Bezaban Chheyne Yeti Zinda Rouzan
Maare Matti Ware Watte Laag Meon Paan.
(Those lacking tongue do not live here
Oh! My beloved give me the right direction).
Rahi had also received the Rashtriya Kabir Samman, Sahitya Akademi Fellowship, Padamshri, and was Professor Emeritus of the University of Kashmir. His interest in literature, particularly poetry, was strengthened by two diverse factors—the philosophical poetry of Iqbal and the ideology of the Left. While Iqbal's poetry had left an indelible mark on his mind, he had to shed leftist tendencies for "certain limitations that these imposed on expressing freely." He could not accept any limitation in the literary form. He focussed on what had not been done in Kashmiri poetry and attempted to give it a systematic poetic form. "I thought poetry should be creative and compact, and thus, Kashmiri short poems came to exist", he said. "The modern concept of short poems in Kashmiri was on a par with English poetry", he adds. "I wanted Kashmiri poetry to be on a par with major languages of the world".
Rahi believes the involvement of past experience, future ideas and translations was also necessary and this has been his "earnest and passionate endeavour." "The man I talk about should be a total human being, though in relation to my locality, so that everybody feels it as his own experience", he thinks.
For Rahi, the Jnanpith is an apt "recognition to Kashmiri language that was ignored for long". Even the identity of the Kashmiri, both the language and its people, who had been ignored, has received recognition. He hopes for a renaissance and wishes more attention should be paid to the writing and works of Lalla Ded and Sheikh-ul-Alam. Kashmir was once known as Shardapeeth or a seat of knowledge and learning. This significance should be revived, feels Rahi.
Born on May 6, 1925 in SR Gunj area of Srinagar city, Rahman (Mir) Rahi, after the death of his businessman father, Ghulam Mohammad, was brought up by his maternal uncle. After school at the Islamia High School, Rajouri Kadal, his uncle encouraged him to visit the only major booksellers, Ghulam Mohammad Noor Mohammad Tajiran-e-Kutub, in the locality. This exposed him early on in life to the world of literature.
After the Partition, academic sessions had been temporarily suspended, for a couple of years. Rahi had to appear as a private candidate for Masters degree in Persian and Arabic. Later he joined at Baramula as a clerk in the PWD. "But I was not happy because of my literary taste and felt uncomfortable" in the job, he comments. This led him to join the Urdu daily, Khidmat, an official organ of the Congress party published from Srinagar in early 1950s.
His access to the bookseller was a milestone in Rahi's life. It exposed him to the men of letters, scholars, poets and critics from Abdul Ahad Azad, Ghulam Ahmad Mehjoor, Abdul Majid Saalik, to Faiz Paracha, Moulvi Abdullah and many others.
Though he was very young, he would listen to the discussions and discourses of great men at the shop, which had virtually become a turning point in his life, he opines. "The bookseller would get books from Lahore and got a complete set of Iqbal's works he brought for me only." Moved by one of the verses from Iqbal, he chose Rahi as his pen name from the verse:
Kabhi Chhori Huyi Manzil Bhi Yaad Aati Hai Rahi Ko
Khatak See hai Jou Seenay mein Ghame Manzil Na Ban Jaye
Rahi was also influenced by Mirza Ghalib, Mir taqi Mir and progressive Russian and Chinese Poetry. He also had access to the communist literature and was associated with Progressive Writers Association of Kashmir. "So I decided to switch over to Kashmiri gradually, got oceans of words, a great wealth for my expressions", he comments. He taught Persian and Urdu at the then Jammu and Kashmir University in early 1950s, before teaching at Jammu, Srinagar and Sopore. He also taught at the Department of English, University of Kashmir, between 1962 and 1974, before taking over as the first Head of the Department of Kashmiri, when it started in the University. Though he retired in 1985, Rahi's songs continue to fill the musical world of Kashmir and his university taraana, Ye Moje Kasheeri .resonates in the sprawling lawns of the University of Kashmir against the backdrop of Dal lake and Zabarwan hills.