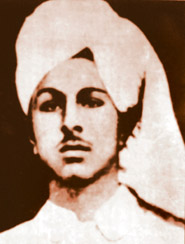 In his birth centenary year, there is a revival of interest in Bhagat Singh, leading to new revelations and perspectives on his activities. Chaman Lal presents another facet of the revolutionary as revealed by his letters to family members and friends
On march 23, 2007, Bhagat Singh, Rajguru and Sukhdev completed 76 years of martyrdom. With effect from September 28, 2006, birth centenary programmes of Bhagat Singh started nationally. This happened more at the non-government level as compared to the government level. Memorial programmes on Bhagat Singh have gained momentum since, there have been a lot of publications brought out in this period in Hindi, Punjabi, English and many other Indian languages.
Symphony in Wood
Driftwood, natureís spontaneous creations, can lend an artistic touch to your living space, says Prabhat Kumar
Our lives can yield pleasure in so many ways. It would be interesting if we had an aesthetic taste in artistic creations and natural surroundings. Art changes its style from time to time. In modern times, it has become trendy and fashionable. Oneís imagination may give birth to mind-blowing creations.
Building a vision brick by brick
Noted British-born architect Laurie Baker, known as the Ďbrick masterí of Kerala and one who built and popularised construction of low-cost houses, passed away some time back at 90. Laurence W. Baker, was born in Birmingham on March 2, 1917 and started off as a social worker, especially helping those suffering from leprosy.
Periyarís salute
Extracts are from the editorial of Periyar E.V. Ramasami in Tamil Weekly Kudi Arasu dated March 29, 1931
As far as we are concerned, let us tell the truth: There are idiots and fools in this land. They do not think of the pros and cons of a course of action, but selfishly seek their own honour.
The town that lives with history
It is known by many names: Town of Romanticism, Germansí Dream City, and Franconian Rome. Inder Raj Ahluwalia visits the German town Bamberg, famous for its museums, cathedrals, monasteries and even brewries.
TRIBUTE
Critic with a cutting edge
He always spoke his mind. Artistes both feared and loved him, the media idolised him, and readers lapped up every comment of his. Lada Guruden Singh on the legendary dance and music critic Subbudu, who has left behind a legacy of words that had the power to make or mar artistes
Boy meets girl
Twist in the tale
M. L. Dhawan
Relationships have always been portrayed on the screen in different shades and textures in our films. Generally, boy meets girl, falls in love and with or without the consent of her parents gets married.
Booking fame
Vidhi Upadhyay
If the movie is expected to do well why should the book lag behind? With the recent release of Mira Nairís Namesake, retailers are stocking up on Jhumpa Lahiriís Pultizer prize-winning novel of the same name that serves as the script for the movie.
Story of a loss in victory
In 1971 India won the war against Pakistan but a large number of Indian soldiers were held captive in various jails in Pakistan. Amrit Sagarís film 1971 attempts to capture the chilling reality. Shoma A. Chatterji reports