Story of a loss in victory
In 1971 India won the war against Pakistan but a large number of Indian soldiers were held captive in various jails in Pakistan. Amrit Sagar's film 1971 attempts to capture the chilling reality. Shoma A. Chatterji reports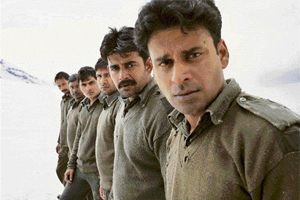 Manoj Bajpai and Ravi Kishen in 1971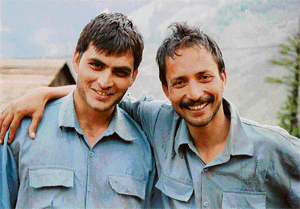 The film is a fictionalised account based on
authentic research
We know that there was a war between India and Pakistan that culminated in the creation of a new country – Bangladesh. But few of us know that there are at least 54 Prisoners of War (PoW) languishing in Pakistani jails till date. In a fictionalised account based on authentic documentation and research, Amrit Sagar of Studio 18 has made a film called 1971 under the Sagar Arts Production banner.
"Seven years ago, my father handed me a one-line story for a film about six prisoners of war he wrote in 1972. I prepared a script for an out-and-out commercial film. But no commercially famous star agreed to work in it. The script gathered dust for four years. Then, while I was writing another film, I glanced through the old script and discovered that I could make the second half of this script into a full-length feature film," says a dashing Amrit Sagar, who has trained in cinema in the US, elaborating on his motivation for making 1971.
"A newspaper article I read mentioned 54 PoWs still languishing in Pakistani jails. I wrote a completely new screenplay, finalised the cast and scheduled the shoot. I was still aiming at a commercial hit. I was optimistic about its commercial prospects. But there was this nagging feeling about the families of these 54 prisoners who are waiting for the return of their loved ones. How would they respond to their personal tragedy being turned into someone else's ladder to aesthetic, creative and commercial success? It was as if, in a knee-jerk reaction, the pieces of a giant jigsaw puzzle fell in place. I could only express it through my chosen language– cinema."
Based on an original story idea by Moti Sagar with screenplay and dialogues by Piyush Mishra, 1971, the film, is set six years following the 1971 war. Though India won the war on behalf of Bangladesh, a large number of Indian defense personnel are held captive in various jails in Pakistan. Juxtapose this against the grim reality of the Pakistani government denying the very existence of these PoWs. International pressure forced the Pakistan Government to change the manner in which they treated these prisoners. In a 'politically correct' move, the Pakistani Army was ordered to collect all Indian PoWs in various Pakistani jails and then transfer them to a secret location somewhere in the mountainous terrain of Pakistan.
"In these new living conditions in a camp, the prisoners discover that there is considerable improvement in food and other amenities. This raises hope in their minds that their release details have been finalized and that they would perhaps go home. But a small band of six soldiers are not convinced. They sense that behind this generous exterior, some kind of diabolic design is at work. They are shocked to discover that the reality behind the veneer of so-called generosity is something they did not imagine. They chalk out the most daring escape from the camp, to ensure the well being of all Indian PoWs. Their singular aim is to reach the Indian borders at all costs and to alert the Indian authorities of their findings," explains Amrit, outlining the synopsis.
In human weather conditions, the constant threat from Pakistani officials hunting for stray PoWs, and gut-wrenching moments of fear of getting caught fill the footage with the grim reality that characterizes a documentary, posing a challenge not only to the acting cast, comprised mainly of men, but also to the technicians who had to shoot the film in these terrains. The six soldiers are based on real men. They are – Major Suraj Singh (Manoj Bajpai), Capt. Jacob (Ravi Kishen), Lt. Gurtu (Deepak Dobriyal), Capt. Kabir (Kumud Mishra), Subedar Ahmed (Chittaranjan Giri) and Lt. Ram (Manav Kaul.) The only hope of success they have is the complete faith they must place in each other and their mutual dependence on each other. One betrayal could mean the death not only for these six, but perhaps, for the rest of the prisoners and metaphorically speaking, also for their families back in India.
General Yeager of the US Air Force wrote a book on his role in the Pakistan Human Rights Commission.
The book mentions his interviews with 20 Indian pilots of the 1965 and 1971 wars lodged in Pakistani prisons after the 1971 war. Mohan Lal Bhaskar detained in Fort Attock Jail wrote Main Pakistani Jasoos Tha after he was repatriated in 1974. He writes that while he was in jail, he happened to meet Pakistani Major Ayaz Ahmed Sipra who told him about 40-odd Indian PoWs in Fort Attock. Bhaskar later gave a sworn affidavit to this effect to the Government of India. Sipra was in the same prison till 1978 for the Bhutto Conspiracy case. Manish Jain, son-in-law of Sqn. Leader Jain met one Col. Asif Shafi in Minneapolis, USA in 2000. Shafi told Manish Jain that he was in Attock Jail for seven years for conspiring against Bhutto. There, he met Wing Cdr. H.S. Gill in the same cell. There were other Indian prisoners in the jail but in different cells. Mrs. Tambay, wife of Pilot
Tambay, happened to meet one T.A. Yusuf, a Bangladeshi naval officer in Jamnagar who was imprisoned at Lyallpur Jail in 1974 for supporting the cause of Bangladesh Independence. He met Pilot Tambay there who he recalls as having written his name on the wall. He saw other prisoners. One of them said that that they were Indian Prisoners of the War of 1971.
Of the 54 PoWs in Pakistani jails, 29 are from the Indian Army while 25 belong to the Indian Air Force. Though he has changed their original names in the film, Amrit has taken care to place his six soldiers against their personal histories instead of leaving them in the limbo of a no-man's land.
"I made this film for a human cause and I feel that this is my most honest work. It is not for me. It is for those 54 men in uniform and for their families who continue to wait," sums up Amrit. Let us hope it brings an end to their wait.
— TWF