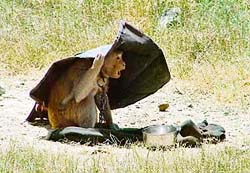 As the mercury shoots up, a monkey shields itself with a piece of cloth in Ludhiana. — Photo by Inderjeet Verma
Sandhu joins as officiating VC of PAU
Ludhiana, April 9
Gurinderjeet Singh Sandhu, financial commissioner, development, today took over as the officiating vice-chancellor of Punjab Agricultural University (PAU). He was appointed the officiating VC by the PAU board of management, which accepted the resignation of K.S.Aulakh at its meeting held in Mohali on April 6. At his inaugural meeting with scientists and officers of the PAU, he emphasised the need to focus on teaching in addition to agricultural research and extension.


9 years gone, memorial still not complete
Mandi Ahmedgarh, April 9
Nine years after Parkash Singh Badal, the then Punjab Chief Minister, announced to construct a memorial to Shaheed Kartar Singh Sarabha on the pattern of Jaillianwala Bagh at the cost of Rs 1.25 crore, the monument stands uncomplete as the work started on it during the pre-election period has come to a halt again.



a Gurdev Singh, an office-bearer of the Shaheed Kartar Singh Sarabha Memorial Committee, points out at the under-construction memorial of Shaheed Kartar Singh Sarabha at his native village near Ahmedgarh. — Photo by Mahesh Sharma
BJP workers burn Mulayam's effigy
Ludhiana, April 9
Workers of the Bharatiya Janata Party led by their district president Subash Verma today burnt an effigy of Uttar Pradesh chief minister Mulayam Singh Yadav to protest against the registration of an FIR against party president Rajnath Singh on the issue of a controversial CD which was released during the UP elections and was attributed to the BJP.
BJP workers burn an effigy of the Uttar Pradesh Chief Minister Mulayam Singh Yadav to protest against the registration of an FIR against party president Rajnath Singh. — Photo by Inderjeet Verma
BJP to protest if road not recarpeted
Ludhiana, April 9
BJP leader and former councillor of the city Pran Nath Bhatia today threatened that the BJP would be forced to protest if the Pakhowal road was not recarpeted by the Ludhiana Municipal Corporation.
Sukhjit declared 'Mr Singh'
Mandi Ahmedgarh, April 9
Sukhjit Singh Khera, a journalist, was declared "Mr Singh" at a function organised by the local unit of the SAD (Youth Wing) at Pohir village, near here, yesterday.


Pak delegation arrives for alumni meet
Ludhiana, April 9
A 10-member delegation from Pakistan has arrived at Punjab Agricultural University here to participate in the two-day international meet of the alumni association of College of Agriculture beginning tomorrow.
False hope on reviving dead child
Jagraon, April 9
Blind faith made a migrant family dig out their dead child out of the grave where was buried four days earlier.
H.L.Takoo is head of Kashmiri society
Ludhiana, April 9
H.L.Takoo has been elected the president of the Kashmiri Welfare Society, Ludhiana. The elections were held at the annual general meeting of the society at Vishwanath Mandir, Jamalpur, here yesterday.
Tributes paid to Bankim Chander Chatterjee
Ludhiana, April 9
Lord's Divine International School, Noorwala Road, Ludhiana, held a function to pay tributes to Bankim Chander Chatterjee on his death anniversary.
Akhand path organised
Mandi Gobindgarh, April 9
Students of the RIMT-IMCT organised an akhand path of Shri Guru Granth Sahib on its local campus.