M A I N N E W S
Vendetta: Capt
Clashes as ex-CM returns home
Tribune News Service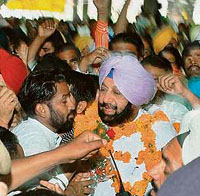 Amarinder Singh is greeted by supporters at IGI airport in New Delhi on his arrival from Britain on Monday. — PTI
New Delhi, April 9
Former Punjab Chief Minister Amarinder Singh today sought to turn his arrival from London into a show of strength, directed more at his political adversaries than detractors within the party.
His supporters and the police clashed when they tried to gatecrash to receive him at IGI Airport..
Displaying aggression against the Badal government, the former Chief Minister said the case registered against him was "political vendetta" which will not stand in the courts.
As Congress leaders from the state, including some MPs, present and former MLAs and Youth Congress workers, met him to express their solidarity, Capt Amarinder Singh said he would tour all districts of the state to galvanise the party to defeat the SAD-BJP in the forthcoming corporation and municipal elections.
The former Chief Minister drove to a farmhouse to meet his political associates after landing at the Indira Gandhi International Airport in the morning. The police resorted to a mild lathi-charge at the airport to push back party workers, mainly Youth Congress activists, who wanted to garland him.
Capt Amarinder Singh's supporters said 26 MLAs and two MPs met him today to express their solidarity and a few other MLAs sent their messages.
MLAs considered loyal to CLP leader Rajinder Kaur Bhattal, former MP Jagmeet Singh Brar and the Beant Singh group did not come to meet Capt Amarinder Singh.
Indicating his preference for a role in the state over an assignment at the Centre, Capt Amarinder Singh said he had been PCC president for four years and the Chief Minister for five years.
"It is my duty to make the party powerful," he said.
Capt Amarinder Singh said he would not be "intimidated" and the Congress would fight against the Akali Dal both in the Assembly and outside to defeat it.
Taking potshots at the Akali Dal, he said: "It was a private limited company of Badal with several ministers in the Cabinet from his family."
Standing by a former minister and officials named in the city centre case, he said they had made no mistake and the decisions on the project were totally transparent.
"We have all the documents," he said. Capt Amarinder Singh said it was tragic that a good project for Punjab was suffering due to "policy of harassment" by the Akali Dal government.
Referring to the moves of the Badal government on the mega projects cleared by his government, he alleged that these were being changed to make money. Replying to a question about his former media advisor B.I.S. Chahal, he said he was not in touch with the former official.