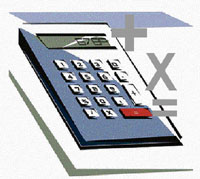 Added responsibility
Usha Albuquerque
As the financial year draws to a close, the busiest people have been the chartered accountants, performing audits, filing income tax returns, and providing tax consultancy and other financial services. But it is not only at this time of the year that chartered accountants are busy, with the financial sector boom, and the growing importance of financial parameters in all aspects of business, chartered accountancy is a much sought-after career.

Careercature
Sandeep Joshi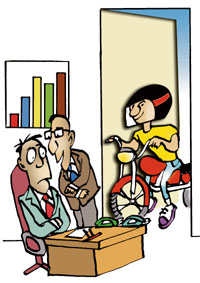 Sir, he has just joined our company under the campus placement scheme.

Now, law firms queue up to hire IITians
Seeking to tap the multi-billion dollar growth prospects in the legal process outsourcing business, law firms are exploring all possible avenues in their bid to attract talent, including IITs, that are better known for churning out engineers. The LPO business in India is expected to grow to $ 5 billion in less than five years, though it was nearly non-existent till a few months back.


Work but donít get worked up
I.M. Soni
You may want to improve your personality to be successful in your career chase and also to create a lasting impression on the people you meet in life. For this, follow the golden principle: no law of success works unless you do. Work invests life with significance. You spend half of your life working, so you might as well do it well. Common sense, ethics and duty demand it of you. Any attempt at success, must thus embrace your work.



ISBís Class of í07 graduates with flying colours
The Graduation Day of the Class of 2007 held recently at the Indian School of Business (ISB), Hyderabad, saw 416 students receiving certificates for the Post Graduate Programme in Management.


Career Hotline
Let your talent bloom
Q I am a BA-III student. I have a piece of land on which I would like to grow flowers. Should I go for some courses? Am I eligible for them? Can you please suggest me some courses that would equip me with the necessary knowledge? Are there any in Chandigarh or Himachal Pradesh? Also, please guide me with some names of books or websites that would solve my problems regarding infrastructure, species of flowers buyers.