Fund Diversion
Maj-Gen Loomba censured
Chandigarh, April 13
The Army has awarded a censure to a major-general for diverting funds meant to construct safety aids and allied facilities at an ammunition depot in Hisar. The funds were used to construct a swimming pool adjacent to the flagstaff house.
Now, HIV testing at blood banks
Chandigarh, April 13
All major blood banks in India will now have an additional role to perform. As per the latest directions of the ministry of health and family welfare, blood banks will now also serve as counselling and confirmatory testing centres for HIV positive donors. The policy will apply to all licensed blood banks which collect more than 3,000 units of blood per year.
Baisakhi fest gets off to a colourful start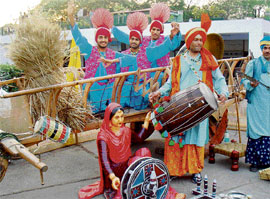 Chandigarh, April 13
Governor of Punjab and UT administrator Gen S.F. Rodrigues (retd) today asked the Chandigarh administration to commission a coffee-table book depicting different moods of lake. He was speaking at a special function at Sukhna Lake, here, today.



Artistes present a cultural programme at Sukhna Lake during Baisakhi celebrations in Chandigarh on Friday. — Tribune photo by Manoj Mahajan

'Land owners want to be part of development'
Chandigarh, April 13
In an open letter to the Administrator regarding the news report "No respite, says General" that appeared in the April 13 edition of the Chandigarh Tribune, Kultar Singh Nat, secretary, Mani Majra Farmers Welfare and Environment Protection Association, has joined issue with him.
RTI query on playing coach during office hours
Chandigarh, April 13
In what could cause serious trouble for certain central government employees who are allegedly doubling up as cricket coaches in a city-based coaching centre, a young cricket enthusiast has sought information from their respective departments as to whether these officials are permitted to do so.
Identify TB patients in slums: General
Chandigarh, April 13 We are losing the battle on the health care front as poor people are unable to reach hospitals due to financial constraints, ignorance and superstitions. This was stated by Punjab Governor and UT administrator General (retd) S.F. Rodrigues, here today.
Jean Rodrigues meets artisans
Chandigarh, April 13
Jean Rodrigues, wife of Punjab Governor and UT administrator, today interacted with local women artisans of Bapu Dham Colony at the Anganwari Centre in Sector 26, Chandigarh.
Ludhiana woman alleges rape; inquiry on
Chandigarh, April 13
A Ludhiana-based tea vendor today levelled charges of rape against four persons, including two politicians and their driver.
Missing father, daughter
Police looks for signs of accident
Panchkula, April 13
The Panchkula police today began investigating into the disappearance of chartered accountant Sanjiv Trikha and his six-year-old daughter Aakriti.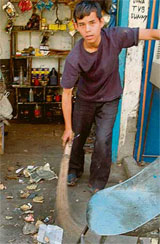 Child Law Aborted
Single challan in 6 months
Chandigarh, April 13
Ten-year-old Muzammil works at a teal stall near the district court complex in Sector 17. And he is not alone at work. There are 25 others - all below 14 years - from Muzammil's village in eastern UP, where the fear of dacoits still forces parents to send their wards to safer havens like Chandigarh.





In spite of a ban on employment of children below 14 years, child labour continues to thrive in Chandigarh. — Tribune photo by Parvesh Chauhan

Councillor in spot over payment to investor
Mohali, April 13
A resident of Phase X has complained to the police that a municipal councillor and her husband were allegedly not returning his money, which he had invested in the two societies being run by them. Instead, the two of them were allegedly intimidating him.
Mohali
Watering of lawns banned
Mohali, April 13
The water supply and sanitation department has imposed a ban on watering lawns and washing of vehicles during morning hours from April 15 to June 30.
Water tank 'no hazard'
Zirakpur, April 13
Residents of Kalgidhar Enclave in Baltana have welcomed the construction of a water tank in their locality.
MPLAD scheme
Bansal reviews works
Chandigarh, April 13
Member of Parliament Pawan Kumar Bansal today held a review meeting to monitor the progress of MPLAD scheme in Chandigarh. The meeting was co-ordinated by deputy commissioner R.K. Rao.