AUDIO SCAN
Tabla magic
Taalworks
(Times Music)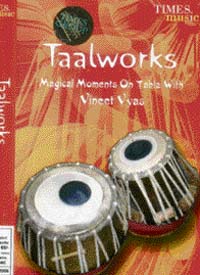 IT will be a rare Indian classical soiree — whether vocal or instrumental — where the tabla will not be present. The magic it creates is so overpowering that even top-notch singers give their tabla companions a chance to display their talent as solo in between their performance.
Among the younger crop of tabla wizards is Vineet Vyas, a disciple of the legendary Pt Kishan Maharaj of Benares. He has performed with some of India's eminent artistes such as Ustad Amjad Ali Khan, Pandit Rajan and Sajan Mishra, Ustad Shahid Parvez and Ustad Aashish Khan.
But the tabla is not just an accompanying instrument. It can easily fit into the lead role also, as this album by the talented Vyas proves. The uthhan, the peshkaar and the chalan that he presents here are mesmerising. But the USP of the album lies elsewhere. He weaves into it some intriguing melodic textures, including Beethoven's 'Moonlight Sonata' and 'The Swan' by Saint Saena.
You see, Vyas was raised in Truro (Nova Scotia) but is now based in Toronto and New Delhi and brings the best of the two worlds together. If he cut his teeth in Benares under Pandit Kishan Maharaj in the traditional guru-shishya parampara, he has also been awarded scholarships by the Canadian Government in recognition of his musical talent. He has featured on Canadian radio and television.
Along with the sarod, flute, the sarangi, dilruba, cello and piano, Vyas' tabla weaves a profound tapestry. The piece de resistance is 'Flight of the Swan'. The tabla beats conjure up images of the swan. Beginning with the calm and serene beauty of the swan floating on the lake, the song gathers energy in step with the fluttering and paddling of the elegant bird in preparation of flight. Once it lands, it is back to a sense of calm.
In 'Moonlight Sonata,' David Braid improvises on the piano with Vyas. But even the Indian sounds are wonderfully delineated. In 'Benares Dawns on Me' set to Raga Bhopali, everyday commotion merges with mysticism.
Super Girl
(Venus)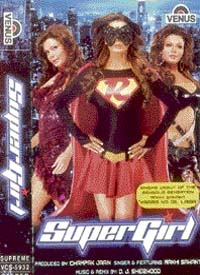 Real or staged, that infamous Mika kiss has brought Rakhi Sawant the thing that she craved most---recognition. She does not care if this 'popularity' is seen by many as 'notoriety' and feels smug that people can identify her.
Now is the time to cash in on that saleability. She is on numerous TV shows, besides her bread and butter stage shows. To take the whole tamasha a step higher, she has also turned into a singer through this debut album. Well actually, she has crooned only one song but, wonder of wonders, she can actually sing.
Yaara na dil laga is loud but which 'pop song' these days isn't? It is also in a dhol mix; so take your pick.
That is the start and end of Rakhi. The rest of the album is packed with songs from other even lesser known artistes such as DJ Sheizwood, Nisha and Tarannum. Most of these are "retro mixes" of various film hits such as Yeh mera dil pyar ka deewana, Yeh zameen gaa rahi hai and Shola jo bhadke.
Altaf Raaja has also chipped in with one contribution: Haseenon se tum dil`85Thankfully, it sounds different from his trademark Tum to thehre pardesi style. — ASC