FASHION
Ghagra-choli hallmark of spring
The ghagra-choli is all set to replace the traditional salwar-kameez this spring. Top designers are giving this dress form an Indo-western mix, writes Madhurika Ravi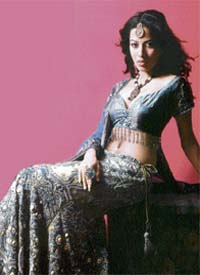 WINTER is gone and spring has set in. The drab winter dress can now be replaced with bright silks, linen dresses and the all popular cotton ensembles, to replicate the colours of spring.
The indications are that this spring the flamboyant ghagra-cholis will oust the ever popular salwar-kameez. One can expect heavy embroidery to rule the roost, than the glitter of silk, zari, sequins and pearls to enliven the dresses. But the informal dresses would have the assistance of lighter embroidery to keep them attractive.
The ghagra-choli is also coming out in newer forms. Dress designer Rajiv Saxena has brought in lot of Indo-western mix, with wired ghagras and blouses coupled with capes instead of the traditional cholis. He has also created a novel adaptation, by combining the long skirt with a kurta, with a saree serving as a dupatta!. Double dupattas are also in the vogue in this variation, with materials used being chiffon, crushed chanderi, tussar and kota silk.
Not to be left behind is the dress innovator Dolly Sagar, who prefers to use fine net lace or velvet with sequin beads with a dash of delicate zardozi work. In this ensemble, the ghagra is matched with a hip-length blouse, with pleating, layering and crinkling of the fabrics being the focus.
Other master designers are betting on changing the trend of the choli, innovating it with varying
shapes and lengths. You can either have it short like a saree-blouse or have it extended below the waist like a loose shirt. Another adaptation is making choli in the variations of kurti or kanjari look, coupled with a backless tie-up choli design.
The traditional odhni/dupatta, the necessary accompaniment of the ghagra-choli, is also the object of experimentation. It can be plain, printed, embroidered and need not compulsorily match with the main garments.
Some of the dress designers have begun to decorate the ubiquitous salwar-kameez ,too, with silk thread embroidery, beadwork and have the kameezes fitted with puff sleeves. Another innovation is the use of tapestry motifs on the yoke of the kameez.
Ramani Misra has brought in two fabrics---the silk gazar and silk jersey to make trench coats and thus obviating the necessity to use the dupatta. The subdued colours of silver, silver and gray blue make these tailored dresses accentuate the feminine form. Fashion experts like Anita Arora have come out with some innovative ideas that will give the ghagra-cholis a run for their money. It is to embellish salwar-kameezes with fine embroidery borders of velvet decorated with zardozi.
Without having to worry about the discomforts of cold winters, in western wear also, linen/silk outfits are the flavour of the day. Here too fusion fashion has taken over by Capri pants matched with long kurtas and Baluchi salwars paired with understated embroidery.
If you prefer light weight cottons, then you have a variety of choice with skirts, shorts and palazzos teamed with tops that are cool/transparent. If you opt out for white, then you can keep it either pure/ivory white or off-white. — MF