Master
of the game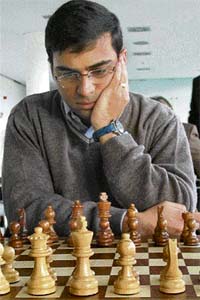 At 17, he became the youngest Grandmaster in the world. Now at 37, he is the king of the game. He planned his brilliant moves with patience and a steely determination to recently emerge as the world's No 1 chess player. M.S. Unnikrishnan traces the phenomenal career of the genial and low-profile Viswanathan Anand
QUITE early in life, Viswanathan Anand proved that he would not be just another pawn in the hands of his opponents on the chequerboard as he firmly believed in the dictum that "your rags are equal to the robes of any monarch". With his self belief in place, Anand just had to rely on his amazing intuition and inherent talent to make a mark, enabling him to be way ahead of his times and peers. He climbed the ladder of success in a quiet, unhurried manner which, even he thought, would take a very, very long time to come.
His peers erroneously rated him as a player without fire but Anand has proved them all wrong with his sustained focus and steely determination to keep on shifting the goal posts at regular intervals.
Anand has created a virtual chess renaissance in the country through his exploits as his successes have inspired legions of young and not-so-young fans to take to the game with amazing passion and determination. At 37 years, Anand has reached the pinnacle of glory, after having just been declared the World No I by the FIDE (the World Chess Federation) with over 2800 Elo rating points, to become only the sixth player — and first Asian — to occupy the exalted position. He was also the first non-Russian to win the Chess Oscar four times— 1997, 98, 2003 and 04 — to be bracketed among the all-time best in the game.
Though Anand has the unique distinction of becoming the youngest Grandmaster in the world, and the first from India, at the age of 17 and emerging the world champion in 2000, he had to wait till the end of March, 2007, to be declared the numero uno. (India now boasts of 15 Grandmasters and 47 International Masters). A country shorn of sporting excellence, Anand's feat has come as a whiff of fresh air, and is a great inspiration for youngsters.
No 1 player
The genial Anand remained in the shadow of the Russian genius, Gary Kasparov, till his retirement in 2005. So long as Kasparov was around, no one else could stake claim to the No I slot. Though Anand's chances of taking a shot at the top spot brightened after Kasparov called it quits, following his defeat at the hands of Kramnik, the Indian Grand Master faced quite an unexpected challenge from Bulgarian Grandmaster Vaselin Topalov.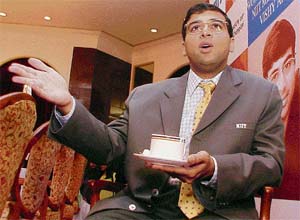 It took Anand an emphatic title win at the Morelia-Linares Super Grandmasters' Tournament in mid-March to pip Topalov from the perch with a lead of 14 points, which he hopes to widen in the coming months and stay on top as long as he can with a consistent display. Anand knew that he was closer to the target when he was ranked fourth in the world by jumping to 2800 Elo rating points last year, and the Linares victory finally put him on a pedestal.
With the year's major tournaments over, Anand's rivals will have much catching up to do in events such as the Dortmund Championship in August and the World Championship in Mexico City in May. (The major chess events in the world are held from January to March and Anand has done well to reach the top of the heap in ranking).
The one plume missing from Anand's crown after he became the world champion in 2000 was the No I position. Anand beat Alexei Shirov of Russia in Tehran (Iran) to become the World Champion. He then went on to annex the World Cup, the World Rapid and World Blitz titles as well, but the top ranking eluded him as Kasparov was firmly entrenched in that position.
Though Anand had beaten Kasparov in the race for the top rank, the Russian had always maintained his edge till his pride was dented by Kramnik, and this hastened his retirement in 2005.
But after Kasparov quit the scene, the mantle of the No I player fell on Vasile Topalov, and Anand's quest to become the World No I remained unfulfilled until the Linares tournament where Topalov finished seventh out of the eight participants. (Hungarian-born American physics professor Arpad Elo had devised the ranking system for chess players and hence it is known as Elo rating). Anand was expected to hit the 2800-point Elo rating in 2001 but he suffered a setback and could not realise his dream, though he had kept on improving his position after he was bracketed among the 10 best chess players in the world in July 1991.
Thorough gentleman
Anand is not the typically dour and serious chess player who keeps a brooding countenance. He's pleasant and cheerful, and his immaculate dress code puts him among the best dressed, though he does not flaunt his celebrity status and carries himself with quiet dignity. Anand and his vivacious wife Aruna make a handsome pair and complement each other brilliantly. Aruna takes care of every aspect of his life, giving Anand all the time in the world to focus on chess.
Anand's matchless achievements are adrenalin-boosting examples for others to emulate. With Anand at the helm, and a brilliant role model at that, there need be no better advertisement for the game to be popular with one and all.
Rich and famous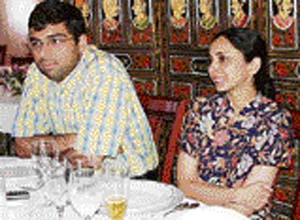 WINSOME PAIR: Anand with wife Aruna
Anand is considered the richest Indian sportsperson with a reported worth of over Rs 100 crore, sans commercial endorsements. He commands an "appearance fee" of Rs 46 lakh per tournament, which is over and above the prize money he wins. For example, his Linares victory earned him around Rs 1.8 crore in prize money alone. Yet, he shows no tantrums of a superstar. His jovial behaviour and rooted-to-the-ground attitude has earned him countless fans across the globe.
Perhaps, chess' universality could make Viswanathan Anand the best known Indian sportsperson ever, though tennis legend Vijay Amritraj and now Sania Mirza have hewn out special places for themselves among the pantheon of sports icons, too.
Chess has a smaller, but more rabid, following in around 150 countries, though in India cricket may surpass chess in popularity. But Anand has a unique place among sports stars as not since Bobby Fischer has the chess world seen an icon like him. Fischer, however, was temperamental, and a recluse.
Lightning kid
Anand is the kind of player who can put even a computer to shame, and no wonder he's called the "lightning kid" of chess, who, as the legend goes, remembers each and every move of every game he has played.
He is fond of playing different varieties of chess and particularly enjoys the advanced kind, wherein computers are at hand for calculations and database searches. He has won three editions of the Leon Advanced Chess Tournament in Spain (1999-2001) to prove his point.
Anand, who has a fine sense of humour, once said that he was like any other young player who talked about "birds and bees" whenever he hung around with like-minded players at leisure time and even during breaks. A keen follower of other sports and world events, and subjects such as astronomy and economics, Anand is also a fitness freak who keeps himself in shape with biking, long walks and yoga. He is also a polyglot who is fluent in Spanish, French, German and, of course, English and Tamil. He enjoys the challenge of learning new languages, and unwinds himself by listening to music. Though he holds a degree in commerce, he's best known as the one with a "Doctorate in Chess".
"Chess is not just about winning and losing and making the right moves. It's about building concentration, analytical abilities and the competitive spirit among GenNext. It's a sport whose learnings extend beyond the chequerboard — spilling over right into life," Anand had once said. His book My Best Games of Chess, which has been released in English and German, postulates his chess credo. The charming and articulate genius has managed to remain humble and simple, to truly live up to the boy-next-door image, despite all the adulation. This Chennai lad mostly lives in Collado Mediano, 48 km from Madrid, and was named among the 40 most important people in Spain. Being fluent in Spanish, Anand has been adopted as Hijo Predelicto (famous son of Spain) and was awarded the Jameo de Oro, one of Spain's highest civilian awards.
Indian chess is indeed poised for a giant leap with Koneru Humpy taking the No 2 position among women in the world and Krishnan Sasikiran all set to emulate Anand after becoming the No 25-ranked player among men, being the only other Indian Super GM.


Anand's cupboard is full of prestigious awards. He was the youngest recipient of both the Arjuna Award and the Padma Shri, the first recipient of the Rajiv Gandhi Khel Ratna Award (the highest honour conferred on a sportsperson by the Government of India), Padma Bhushan and the K.K Birla Foundation's "Living Legends Award". Anand is also the only Asian and non-Russian apart from Bobby Fischer to win the Chess Oscar, that too four times. The Chess Oscar award winner is voted by chess journalists from across 75 countries, and the award is held in very high esteem.



Anand, who was born on December 11, 1969, learnt his early lessons in chess at the age of six from his mother Susila Viswanathan. By 14, he was truly the wizkid of Indian chess. He became an International Master at 15, youngest national champion ever at 16, Grandmaster at 17, the first Asian to win the World Junior Championship at Baguio City in the Philippines in 1987, the FIDE World Cup (Shenyang, China) and the FIDE World Championship title (Tehran) in 2000 and the World Cup (Hyderabad) in 2002.
One of his finest years was 2003 when he bagged six titles in nine major events. This included his fifth world title — of World Rapid Chess Champion — when he beat world classical champion Cap D'Agde of France. Earlier in the year, he won the title ahead of Kramnik at the Corus GM Classical Chess Tournament (40 moves in two hours) held in Wijk Aan Zee (The Netherlands), to establish himself as a premier player in all forms of the game — rapid, blind and the classical.
In 1991, he won one of the strongest tournaments — the Reggio Emilia title in Italy — ahead of Russian legends Gary Kasparov and Anatoly Karpov. He became the first Indian — and 15th overall — world champion in Tehran on December 24, 2000. Anand remained unbeaten to win the world chess title to end the Russian domination of a game that traces its roots to India. He represented India at the Chess Olympiad in 2004 after a 12-year gap. Though India finished sixth overall, Anand said "I enjoyed the experience and the boys came up on tops, though we deserved to finish third".